10-yr-old boy sells kesong puti to support family
- Netizen Analee Rodriguez wrote her experience upon meeting Prince, a 10-yr-old boy selling "kesong puti" on a street in Makati
- At a young age, Prince has learned to work in order to help and provide for their family
- His story that inspired netizens makes him worthy of praise and admiration for all the hard work
READ ALSO: Dead baby miraculously comes back to life after Pinay doctor prayed to St. Teresa
Facebook user Analee Rodriguez shared on Saturday, September 17, her encounter with a 10-year-old boy she met in Filmore Street, Makati.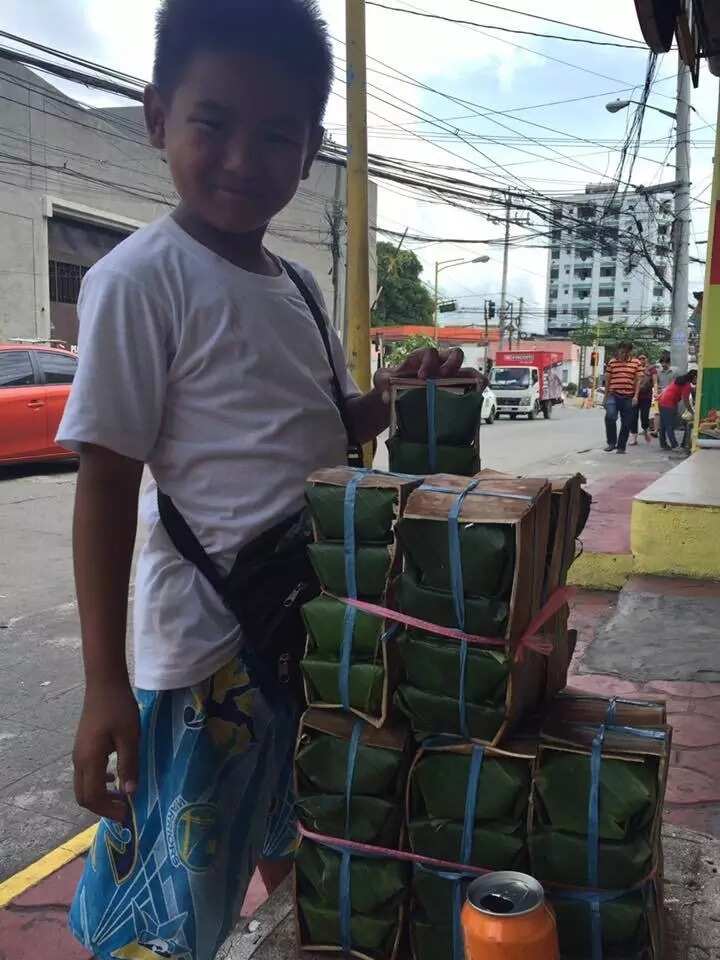 His name is Prince. He sells freshly made kesong puti (cream cheese) for 120 pesos per pack.
While some kids of his age would enjoy playing, studying, and staying at home with their siblings, this little prince prefers to earn a living.
READ ALSO: Kawawa: Poor child fell asleep on the streets while waiting for father's return
Before the light even breaks the darkness, this young child would take a bus at 4am and would usually reach his spot at 6am. His routine includes attending school from 6 am to 12 noon. By 12, he must start doing his small business until all of his products are purchased. This is how his day goes every day.
He would commonly close his shop when the clock strikes 9 pm during normal days. He would be home at 11pm if everything goes as expected.
Meanwhile, on lean days, he is obliged to stay up selling until the next school day to be able to sell the last pack.
READ ALSO: Ang tapang niya! First PH transgender lawmaker stands up against LGBT discrimination
Rogriguez wrote a Facebook post about Prince as a way of showing support to the boy. She revealed that her meeting with Prince made her cry.
"I was in tears when were chatting. He asked if my eyes were hurting coz they were turning red. I said the sun was really strong and I think the dust got into my eyes," Rodriguez told one netizen.
Inspired by Prince's hard work and perseverance, she encourages everyone to support the child's business if they can. With that small act of kindness, Prince can go home early and spend time with his family whom he misses a lot.
READ ALSO: Poor Batangas baby with anencephaly breaks hearts of emotional netizens
Below is the original Facebook status made by Analee Rodriguez.
"I met a new friend today, his name is Prince and he is 10 years old. He stands beside Amber in Filmore Street, Makati selling fresh kesong puti at Php 120 per pack.
"He takes a bus ride at 4am everyday to get to his spot at 6am. He heads to school from 6 am to 12noon then starts his business from 12noon onwards until he sells the last pack.
READ ALSO: Kawawa si Kuya: Young boy suffers from severe burns after his 'vape' exploded
"During good days, he closes shop at 9pm and gets home by 11pm. On lean days, he stays up selling until the next school day.
"If you get the chance, please support his business so he can spend more time at home coz he also misses spending time with his siblings.
"I hope you can share this around. For now, he is on his way home ready to spend his Saturday with his family."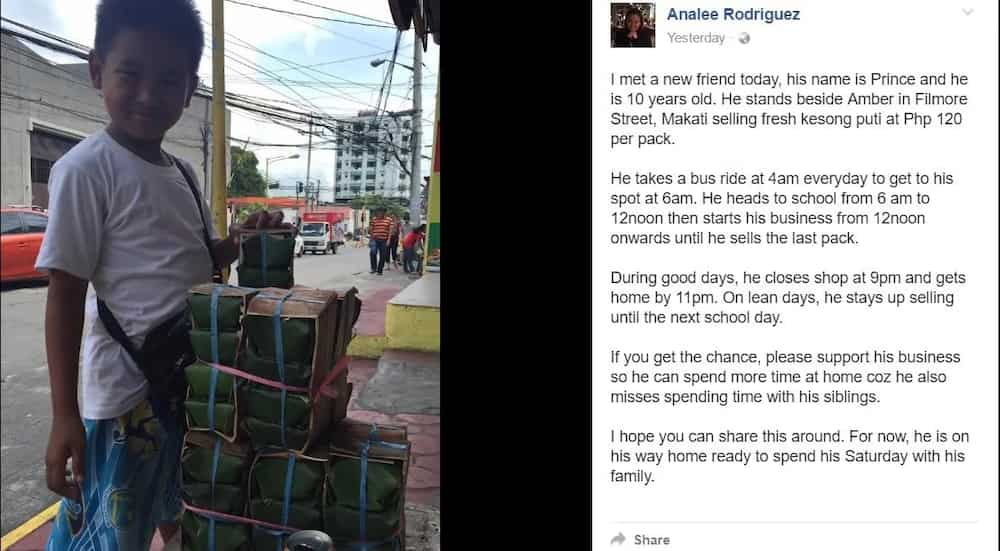 RELATED: Huwarang Pinoy: Poor janitor returns lost P19,500 to appreciative Cebu congressman
Source: KAMI.com.gh