Netizen bashes Dyoga Girl after 'inappropriate' challenge
- A Facebook post of a netizen criticizing "Dyoga Girl" went viral on Facebook
- A certain Dane C. Bonifacio posted on her Facebook page and slammed Dyoga Girl after encouraging girls to do the Dyoga Challenge
- The Facebook post already gained more than 37,000 reactions and more than 9,500 shares
The internet sensation Kaysee Gregorio also known as "Dyoga Girl" was slammed by a netizen who criticized her way of catching attention through flaunting her breasts and even encouraging girls to do the boob twerk challenge.
A certain Dane C. Bonifacio posted a status on her Facebook account attacking Dyoga girl. She wrote: "This girl (Dyoga Girl) seemed to catch men's attention by her massive breasts covered with lots of paddings or I don't know what kind of sorcery she has done to make it huge and obviously deceiving."
Bonifacio said that one should not consider doing such thing in order to be appreciated. She added that what Dyoga Girl is doing  "is beyond inappropriate already".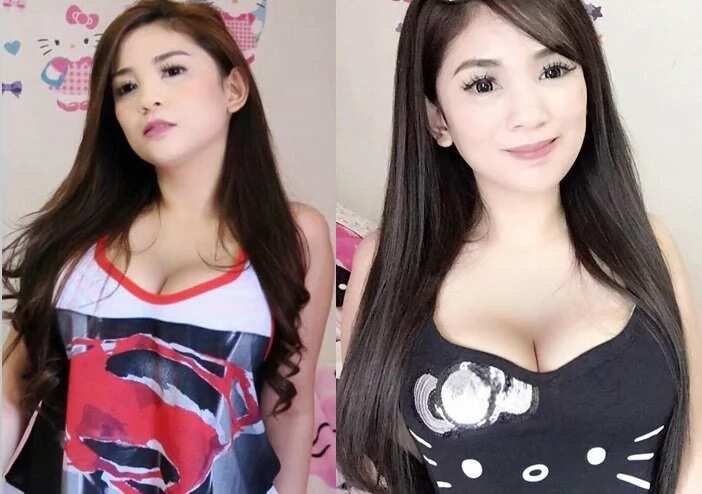 READ ALSO: Watch Pak! Ganern! Bakla and Dyoga Girl versions go viral
According to Bonifacio, she pities Dyoga Girl and said that she actually has an angelic face and there is no need for her to show off her breasts and the so-called Dyoga Challenge. She added:
Bonifacio added: "Do you know what's more disappointing? Proclaiming yourself as "Dyoga Girl". Do not beg for respect from others because that first starts with you. How can you earn one from us if all you did is to just jiggle that breasts of yours in front of the camera and even encourages girls to do the same just for the sake of entertaining the eyes of men? Yes, it's your choice, but being a bad influence is another story and shouldn't ever be tolerated."
Dyoga Girl became an internet sensation when her video doing the Dyoga Challenge went viral on social media.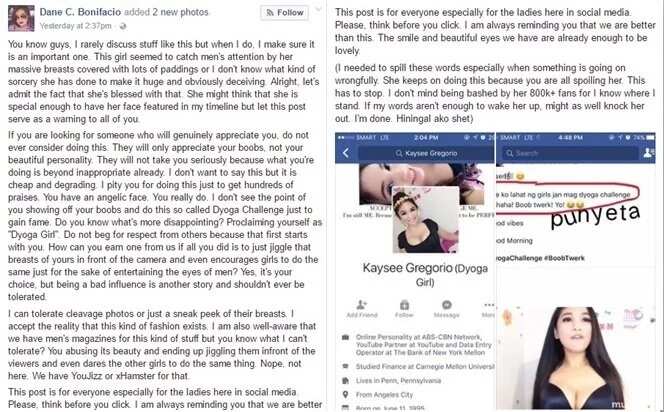 READ ALSO: This guy's choreography for 20th Century Fox's soundtrack will make you laugh so hard!
Bonifacio ended her post, which gained more than 37,000 reactions and more than 8,500 shares, by reminding netizens to think before they click: "This post is for everyone especially for the ladies here in social media. Please, think before you click. I am always reminding you that we are better than this. The smile and beautiful eyes we have are already enough to be lovely."
READ ALSO: Husband and wife plays "Pak Ganern" game and seals it with kisses
Source: KAMI.com.gh