Pregnant woman nabbed for using shabu
- NBI's Anti-Illegal Drugs Division arrested a married couple after using their house as a drug den in Pasig City
- The wife was expecting her 7 child, and remains to be ignorant of the possible effects the drug could cause to her baby
- One of their daughters have been even repeatedly molested by customers to attract more patrons
Police officials arrested a husband and wife after being caught in the act of using shabu in a drug den in Pasig City on Friday, September 9.
The married couple even consists of a woman, identified as Alma Castañeda, who is already 7 months into her pregnancy.
A report made by GMA News showed a brief clip of the pair, accompanied by other patrons of the drug hideout, in the process of using the prohibited substance during surveillance operations.
READ ALSO: Pampanga baby with deformed head breaks hearts of Pinoy netizens
When the National Bureau of Investigation (NBI) Anti-Illegal Drugs Division entered their home which houses a number of customers, the two did not resist being nabbed by the officials and openly admitted of their involvement with the drug.
Alma shared that she is expecting her seventh child – with the other six being a witness to the couple's daily intake of shabu.
Although the mother of the seven children denied of being a drug pusher, she was honest that she and her husband, Marcos Castañeda, use shabu to keep themselves entertained.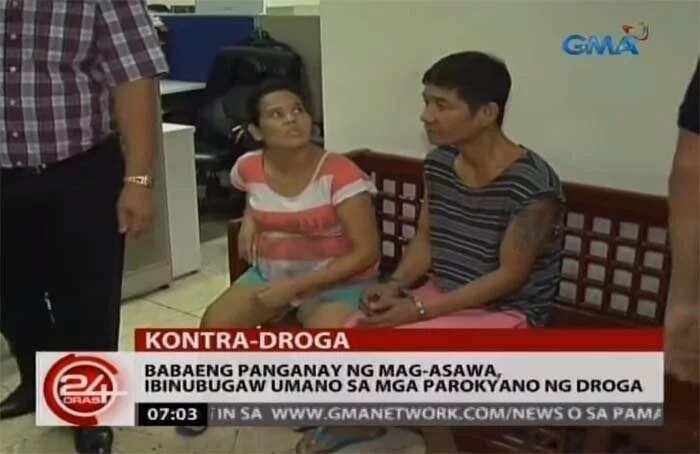 READ ALSO: 'Budol-budol' woman caught stealing in Isabela violently attacks eyewitnesses
Moreover, it was not the first time Alma had shabu while in the middle of a pregnancy. When the media inquired if she does not worry over her baby's condition due to her drug involvement, she replied that she does not see any problem with the intake as it would not affect the little one in her womb.
What further shocked authorities was that one of their daughters has been repeatedly molested by their patrons in order to attract more buyers to their business, according to NBI's Anti-Illegal Drugs Division Chief Atty. Joel Tovera.
At present, the NBI is considering turning over the couple's children to the DSWD after learning about their disturbing family lifestyle.
READ ALSO: He noticed his wife acted as if she was pregnant, they were very surprised when found out why
Netizens were appalled with the Castañeda pair, especially towards Alma as to how she remains to be ignorant of the possible effects of shabu to her body – particularly her child. Most were pointing out how Duterte's intensified campaign against the illegal drug trade proves to be a necessity in the country.
The news report has gone viral since posting, with over 13,000 shares and 11,000 reactions.
Source: KAMI.com.gh