Single Filipino mother shares life story on 'Wowowin'
- 'Wowowin' contestant named Hanna, went viral after sharing her story while on the game show
- Hanna has five children, all from different fathers
- Amidst being a single mother, she is proud to raise all her children in the best way she can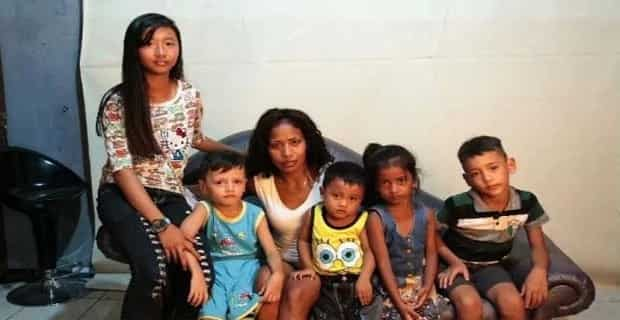 READ ALSO: VIDEO: Heartbroken father hugs and kisses his DEAD baby before burial
An inspiring story of a pole dancer contestant of the game show 'Wowowin' has stormed the social media world just recently.
Hannah, who resides in Cotabato City, shared her heart-wrenching story and became emotional while narrating what she has been going through.
The 'Wowowin' contestant revealed that she is a single mother to five children.
When the host Willie Revillame, popularly known as 'Kuya Wil', inquired about the father of her children, Hanna had a short moment of silence and then laughed eventually.
READ ALSO: What this officer did for a little girl will make your heart melt
The single mom revealed that her five kids came from five fathers of different nationalities. Her first child came from a Korean father, the second is from a Canadian father, the third is of Indian father, her fourth child has a British father while her fifth kid has a Filipino father.
Kuya Wil disrupted the laughter, and to make a lighter air, he said in his most comforting way: "Yan ang buhay eh." (That's life.)
Hanna continued with her story. She admitted that the fathers of her children left them and all are now nowhere to be found. The abandonment from the five guys she fell in love with does not only give her emotional scars, but also wounds from public scrutiny every time they find out her story.
Hanna leaves her kids to her mother while she works as a pole dancer, to earn a living and to make both ends meet for her family.
Despite the judgment from people, Hanna remains strong and is still full of courage to go on with life. Seeing her five children is more than enough of a blessing for her.
READ ALSO: LOOK: These 7 women were about to give birth; what they did during labor will shock you!
The show also affords her the chance to thank her mother for taking care of her five children.
Her story continues to go viral on different social media platforms, living impact on the lives of fellow Filipinos, and reminding everyone that when life gets tough, have in mind that you are tougher. - Kami Media
RELATED: Top 5 breastfeeding celebrity moms we should aspire to be
WATCH  HANNA'S WOWOWIN APPEARANCE HERE:
Videos from GMA Network
Source: KAMI.com.gh