Crime war detainees pack insufficient PH jails
- President Rodrigo Duterte's war against crime and drugs has added in the already challenged situation inside the prisons in the country
- Philippine's penal system has the third most congested situation in the world according to the University of London's Institute for Criminal Policy Research
- Duterte ordered authorities to triple their efforts in their operations to eradicate illegal drugs and crime 
Authorities have arrested more than 4,300 and are continuously hunting suspects who are allegedly involved in illegal drugs, resulting to crowded jails in the country.
According to the University of London's Institute for Criminal Policy Research, Philippines' penal system falls under the third most congested in the world.
Government data shows that jails in the country have almost 5 times more inmates than its capacity. Quezon City Jail, for example, has 3,800 inmates but was built six decades ago to accommodate only 800.
READ ALSO: Relatives of killed student in Pangasinan speaks up
Mario Dimaculangan who has been detained in Quezon City Jail for 14 years because of murder and robbery charges shares a toilet with 130 inmates.
"Many go crazy. They cannot think straight. It's so crowded. Just the slightest of movements and you bump into something or someone," Dimaculangan told reporters.
The prison has scarce toilet and beds, the inmates taking turns to sleep in an open-air basketball court, steps in the staircase, and hammocks made out of blankets.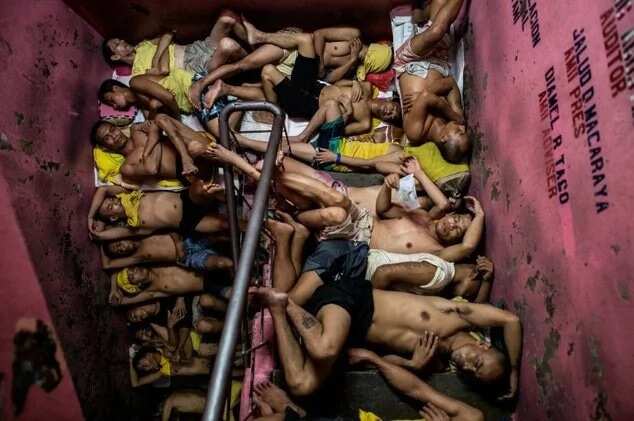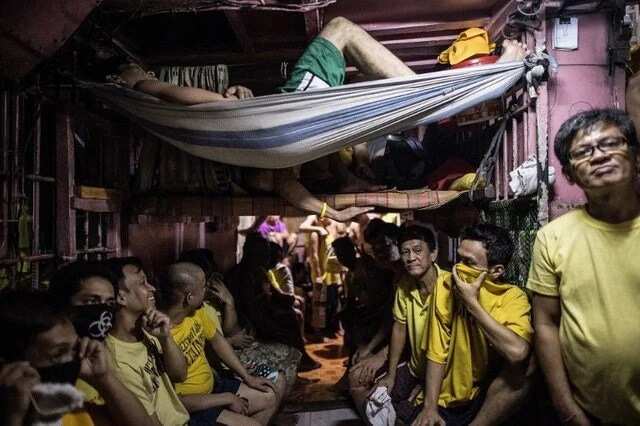 READ ALSO: LOOK: Bato proves that the police do not kill all drug criminals
The national government has a daily budget of only P50 for food and P5 for medicine for every inmate. Quezon City Jail inmates, with a bulk of supplies, have soup, vegetables, and meat to eat. The jail conducts dance competitions and other activities for additional funding. The inmates said that the food and rehabilitation programs have gradually improved in recent years.
Since President Rodrigo Duterte's operations against illegal drugs have assumed, Quezon City Jail's inmates that are still on trial but are not yet convicted has grown by 300. The president has not said much regarding his plans on fixing the overcrowding problem in the country's jails.
Duterte meanwhile ordered the authorities to triple their efforts in hunting illegal drug traffickers in the country and eradicating such illegal activities that according to him, is threatening to turn the country into a narco-state. - Kami Media
READ ALSO: DOJ Sec tags religious group involved in drugs, prostitution
Source: KAMI.com.gh