- Jennie Gabriel, an impersonator of Angel Locsin, joined 'Tawag ng Tanghalan'
- She then engaged with Vice Ganda who requested her to speak with her spot-on Angel voice
- When asked about her feelings towards ex-boyfriend, Luis Manzano, she confessed to still being in love with him
- Jennie defeated the defending champion with 93.8% support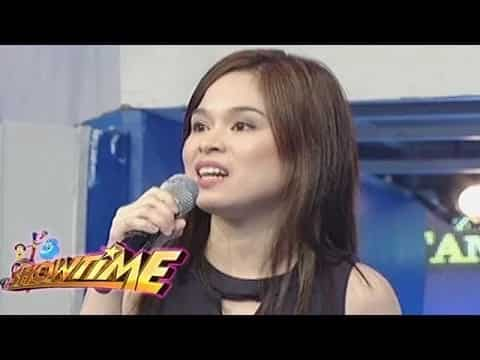 In a segment from noontime show 'It's Showtime' on Tuesday, July 5, a contestant from 'Tawag ng Tanghalan' impressed the judges, the madlang people, and even hosts themselves with her spot-on Angel Locsin impersonation.
After Jennie Gabriel showed off her singing prowess, Vice Ganda shared that he is familiar with the contestant and introduced her to the audience. Turns out, Jennie is a comedy bar singer and has been a reliever for a long time already at Punchline and Laffline. The Showtime host also said that Jennie was well known for impersonating actress Angel Locsin.
When Vice requested the contestant to greet the audience with her Angel Locsin voice, the crowd erupted into laughter and applause, with co-host Anne Curtis agreeing that she had perfectly copied the actress' movements as well.
READ ALSO: Walang Forever: 8 painful celebrity breakups so far this year
They continued to have a playful banter with Vice asking 'Angel' about her back condition, to which she replied that she was improving and feeling better. She also quipped that 'Darna' would be pushed through with her playing the role.
Following their controversial break-up, the comedian asked for the impersonator to deliver a message to ex-boyfriend, Luis Manzano. Jennie was game throughout and even joked how she still loves her former flame, adding that it would never go away.
The singer admitted to being an avid fan of the actress as an inspiration of her impersonation. Apart from Angel, Jennie is also able to copy the singing voice of local singers Jessa Zaragoza and Jaya.
READ ALSO: Luis Manzano and Jessy Mendiola, spotted on a movie date
Jennie ended the four-day winning streak of 'Tawag ng Tanghalan' defending champion, Ronald Rosalita. The farmer from Davao del Sur was one win away from landing an automatic spot in the semi-finals, with only 0.2 of difference in their scores.
The comedy bar singer performed her rendition of 'Halik' by Aegis, earning her a 93.8 percent from the judges, while Ronald's performance of Tom Jones' 'I Who Have Nothing' fell short with only 93.6 percent. - HB, Kami Media
RELATED: Angel Locsin gives her piece on the Keanna Reeves-Luis Manzano sex issue
Source: Kami.com.ph