Guests receive Duterte commemorative coin
- Duterte's commemorative coin given to inaugural guests
- Coin collectors and netizens ask BSP if the coin will be available for the public
- Duterte chose some of the Philippines delicacies for inaugural reception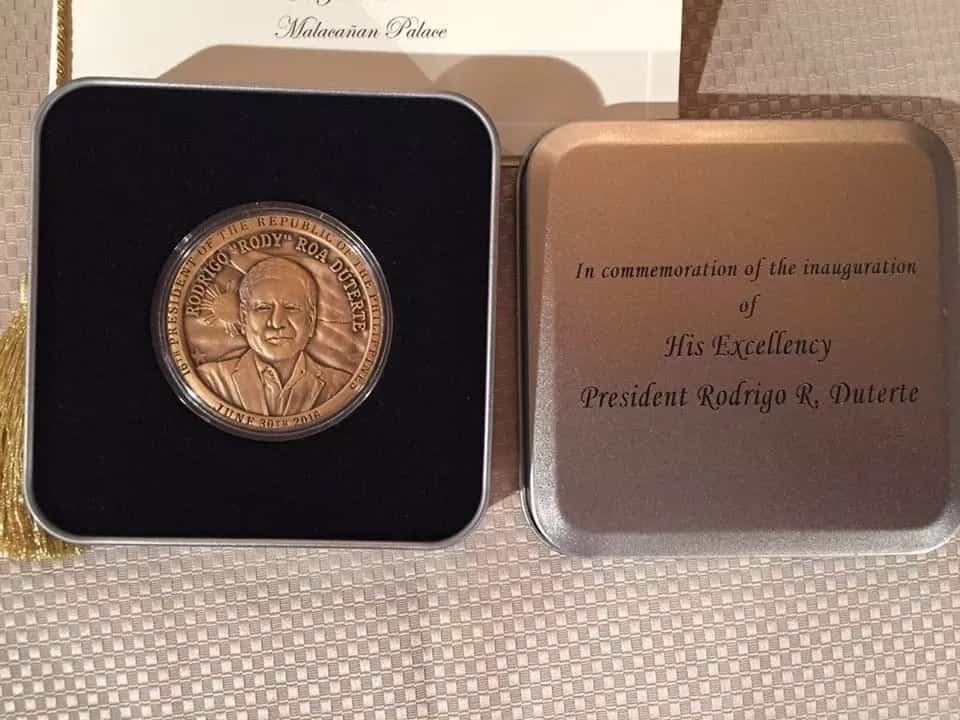 President Rodrigo Duterte's commemorative coin was distributed to the guests who witnessed the new president's inauguration yesterday, in Malacanang Palace.
The coin is enclosed inside a white box with blue and red ribbons that displayed Duterte's face with the Philippine flag on the background. The words "RODRIGO 'RODY' ROA DUTERTE 16th PRESIDENT OF THE REPUBLIC OF THE PHILIPPINES JUNE  30, 2016" are also written around the coin. Another side of the coin shows the words "SAGISAG NG PANGULO NG PILIPINAS" with a sun in the background and a lion with a fish tail inside a triangle. Tree stars can also be seen at the corners of the triangle and at the lower part of the coin.
The coin is said to be bigger than a regular peso coin. Some coin collectors and curious netizens are hoping that Bangko Sentral ng Pilipinas (BSP) will make the coin available for the public but BSP has not yet responded to the request.
READ ALSO: Rift between Duterte and media widens; here's why
Meanwhile, Duterte's team has fulfilled the promise of a simple fare during his inauguration but contrary to what was expected, it still showed class. The president has insisted to keep the event simple from the ceremony at the palace to the reception held at Rizal Hall.
The reception featured some of the delicious dishes for the particular celebration prepared by catere Via Mare. The menu includes turon, pandesal with kesong puti and meat filling, durian tart, vigan longganisa, rice cakes, fried saba, and monggo soup with smoked fish and alugbati.
The Presidential Inauguration program started with the Philippine National Anthem followed by ecumenical prayer, musical number, reading of the Resolution of Both Houses No.1 by Senate President Franklin M. Drilon, administration of the Oath of Office to the President-elect Rodrigo Roa Duterte by Supreme Court Associate Justice Bienvenido L. Reyes, signing of the Oath of Office, inaugural address by the president, oath-taking of the incoming Cabinet Officials, full military honors for the president at the Malacanang palace grounds, and inaugural reception.
- AA, Kami Media
READ: Duterte gave PNP a warning; find out what he said to them
Source: KAMI.com.gh