The other side of People Power
With the re-entry of a Marcos in nationwide politics, the political landscape has been filled with mudslinging, conspiracy theorists and tense standoffs between those who support the deposed dictator's actions and those who do not.
EDSA People Power Revolution  went down in history as one of the greatest accomplishments of the Filipinos. They had finally unified against  tyrannical president Ferdinand Marcos Sr., and overthrown him through peaceful means.
This is the narrative that is found on textbooks and studied in schools. But like all stories, there is another side to this - one that is not as widespread.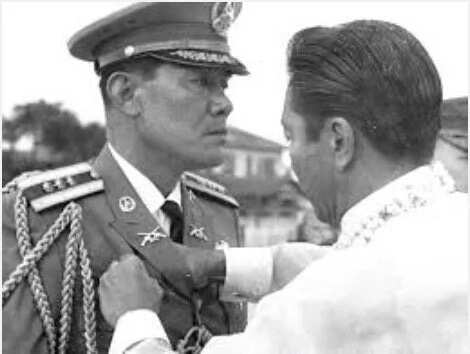 Irwin Ver, former chief of the presidential guards and favored son of feared General Fabian Ver, Marcos' chief of staff, provides a fresh perspective to these turn of events. He paints a picture of a president who - though a monster in the eyes of his own people - chose to peacefully lay down his arms instead of using it to subdue them. A president of morals, acts of kindness, and a solid sense of social responsibility. A commander-in-chief he is proud to have served.
The date is February 25. The uprising's fourth and final day. Victory was so close, the people could taste it.
The palace was buzzing with final, desperate attempts at negotiations - all of which failed as the time they had left flew by.
Gen. Ver was willing to secretly meet with the rebels, who, according to Irwin, had requested his father come alone.
Ikaw ang gusto nila. They want to talk to you.
What they meant and what they wanted were not specified. Irwin revealed that his father had told him that Enrile - or some people from the man's camp - wanted to talk. He suggested that the meeting be held in a neutral public area, such as a hotel, a restaurant, or even outside the country.
The feeling of displeasure was mutual between Gen. Ver and the officers of Enrile and Ramos. The officers believed that the chief of staff had started this all along, the division of the military between personal loyalties. Benigno Aquino Jr's assassination in August 1983 - Gen Ver had been one of the accused - was what set the countdown for Marcos' downfall.
The meeting never pushed through. Now, Irwin looks back at the crucial moments leading up to the outburst of people power and genuinely believes that room for compromise could have been made before the 25th. However, defections in the military soared at an all-time high. Backed by an increasing amount of military personnel, the morale of the people rallying in the streets soared as well, because they thought the turn of events was nothing short of a miracle. Army units switching sides all over the country refused to open fire on any civilians.
If the meeting did push through, and negotiations did happen, Irwin had already prepared some arrangements for Hong Kong, but planned to tell the RAM rebels at the last minutes that the rendezvous would be at Singapore instead.
The young man's head was high in the clouds, envisioning a scenario where he'd walk into the negotiating area with an expensive Americana suit, and an attache case with secret defense mechanisms. He wanted to accompany his father, but his father had different plans.
No. I want you to stay here.
All these plans were set aside when the telephone rang. It was Mr. President, asking for Gen. Ver's presence in his private quarters. Irwin tagged along.
And it is this he remembers with clarity - how, on the fourth day of the revolt, when they were already struggling to keep their heads above water, they hurried up to the second floor of Marcos' private quarters, and the president ordered a strategic withdrawal.
Irwin refused to accept this.
Mr. President, maybe we need a couple of hours to prepare our movement to the north so we can protect our route.
No, that won't be necessary.
He recalled Marcos' words to go something like, "We need to leave Malacanang, so we can avoid shooting at our own people and make our way to the North, where we can negotiate our position clearly."
This was the moment he remembers most vividly from the flight from the palace. He had looked directly into his President's eyes - an act he usually dared not commit because of the disparity in positions - and saw that Marcos knew exactly what to do. He had known this was coming, and had plans to set in motion. It was clear that the moment he'd leave the palace, he would no longer be the President.
Irwin's eyes welled with tears. For a man who many believed was a monster, he had refused to use the tremendous amount of firepower at his disposal to fight his way out.
He was secure in the palace, but now, when it came down defending his presidency, he had chosen to leave. Marcos had refused to fire back at those ready to shoot him down. He had referred to them as "our people". He had taken the peaceful route.
At that moment, Irwin recalled, he felt a deep reassurance that he had served the right commander-in-chief.
Everything has been arranged.
Irwin's father tugged at the back of his shirt as an unspoken reprimand.
That's enough from you. When the commander-in-chief speaks, no more questions need to be asked.
But neither Irwin nor his father had an idea of what "has been arranged". An aide on duty revealed that boats will be arriving. No-one knew from where, but everybody assumed they would be big enough to accommodate all the Marcoses, the aides, and the nurses.
Everybody was propelled into action. People rushed to and fro, carrying bundles and boxes, arranging and packing piles of documents and cash. Soon they were enveloped by the quiet and dark of the night.
Where were all of these people meant to go now?
No Last Stands
They stood by for the boats. Pressing calls had to be made. Orders were thrown here and there.
The President was leaving. He was helped down his palace quarters in a wheelchair. He had changed out of a Barong Tagalog and now sported a shirt with a cream-colored jacket, and a brim hat he was fond of wearing while playing golf. The First Lady accompanied him, in one of those pants suits that used to be the cutting-edge fashion of those days.
Suddenly, there was a change of plans - helicopters, not boats, would be escorting them away from Malacanang.
-
Irwin never considered that they would be exiled. They were still thinking of hunkering down, and holding the fort.
We were going to Paoay and we'll tell the others when they'd follow, but then there was this feeling that once we leave...that's it. It's over.
Irwin thought of how the palace in Ilocos Norte would act as their fortress. He looked around and saw his thoughts reflected in everyone else's faces: this was the end.
In the defeaning silence of the night, he glanced at his president's face.
He knew it too. He's leaving the presidency behind.
His eyes had a tint of sadness. I was a bit emotionally unstable, and I didn't want to face that moment. If I did...I might have wept. My voice might have betrayed me.
Throughout that night - three times, to be exact, - he remembered how the president asked about his family. Irwin regarded this as private, tender moments that only they shared. Marcos heavily implied that the Vers should rendezvous with him in the north.
It was at this point in their conversation that Irwin learned the choppers were on their way.
As they approached, he identified them as American helicopters, and took this as a sign of hope. Turning to Bongbong, he whispered,
Kasama pala natin ang mga Amerikano dito? They're with us?
[We're being accompanied by the Americans? They're with us?]
Shh, be quiet.
Bongbong was dressed in fatigues. He had been ready for battle as soon as the event on the balcony, when his father had declared his election victory earlier. There is a picture of the Marcoses on that stage - the son geared up for a fight, the mother and daughter's faces lined with worry, the strongman pumping his fist but wavering.
The choppers didn't land on the ground - they hovered in the middle of Malacanang Park's golf course for instantaneous getaway. The president was lifted up on board one helicopter, with daughters Imee, Irene, and adopted Aimee. The First Lady and Bongbong clambered up the other.
Bongbong swerved wrong, the helivopter's landing bar striking his chest. Irwin hurried to his side.
The helicopters -  they were hovering about three feet from the ground, tilting usnteadily to the left and to the right. I offered Bongbong my right thigh to step on and help him up.
Gen. Ver got on a helicopter as well, with Rex and Wrylo - Irwin's brothers who were also with the presidential guards. Irwin stayed behind with the nurses, waiting for two more choppers that were on their way to collect the others who remained, him included. The nurses were of prime importance - they carried milk and diapers for the children of Irene and Imee.
However, Irwin was unaware of a second flight. He informed the nurses that he would personally arrange their transport for Ilocos. The loyal soldier had chosen to stay behind to supercise the movement of the remaining troops to the north himself.
But he reflects, with regret, that he would have stayed for a bit more. He'd have placed the nurses on board, and then stayed.
He would have had time to move around, giving instructions to guards, briefing them on the positions they needed to take to defend Malacanang.
I was in a guardpost phone, arranging for a hospital ambulance and some vehicles to take the nurses to Ilocos, around half a kilometer from where the helis where, when the second batch of helis came. I hurried back to the golf course, and helped them load the bags of diapers up the hovering helis. 
When one of the nurses informed me that 'sir' was looking for me, I thought she meant the President, and I jumped in.
The president's chopper had departed at around seven in the evening. Irwin left with the second round roughly an hour later.
He immediately took the ride because he thought the president was asking for him. Later, he discovered that it was only his father, and he deeply regretted having taken the flight.
I was the last one to board. When we were already 1000 feet above, I realized it was just dad waiting for me to joing them. I felt awful. I'd been talking to the other officers, calling the armory, the motor pool, the companies, making sure they were ready to move anytime.
Half an hour later, Irwin found himself landing in Clark Air Base, on the outskirts of the capital. Not in Ilocos Norte. Definitely nowhere near Paoay. They were with the Americans.
I feel that the existing printed history of President Marcos and Gen. Ver is grossly imbalanced, and my father unfairly demonized.
Source: KAMI.com.gh