Jinkee Pacquiao, sumang-ayon sa post ng isang netizen ukol sa mga taong hinihila pababa ang mga nagtatagumpay
- Jinkee Pacquiao indicated she agreed with the post of a netizen when she reposted it on her own social media account
- The said post talked about the penchant of some people to pull others down to their own level because as the netizen claimed, such people do not want to see others become successful
- The netizen also said that those who can't bear to see others succeed will never encounter their own success
- The wife of the Pinoy boxing legend has been posting recently about forgiving others and calling out some people for their alleged jealousy
Jinkee Pacquiao indicated her agreement to the post of a netizen when she reposted the same on her own social media account.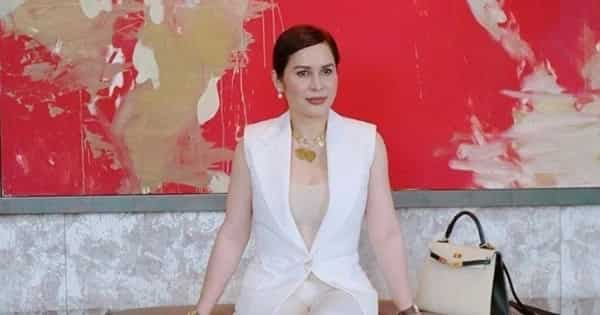 The wife of the Pinoy boxing legend also included a couple of smiling faces with heart emojis, as if showing that she loved what the netizen said.
In the original post, the netizen posted a photo collage of Pinoy boxing legend, Sen. Manny Pacquiao and his wife Jinkee.
The netizen then captioned her post, lamenting the penchant of some to pull others down, particularly if they are getting successful.
"People always try to pull others down, to their own level," the netizen wrote in her post.
The netizen also provided her own explanation of why some people do that.
"Because they don't want anyone to become successful because they were not able to do so. That's not human nature. That's a cheap nature to peep into others' lives," the netizen said.
She also pointed out that throughout the successes and failures of Sen. Manny, his wife Jinkee had always been there to support him.
"#jinkeepacquiao was there through ups and downs. That kind of support, love and belief makes @MannyPacquiao become successful," the netizen further wrote in her caption.
The original poster then asked everyone to be just happy to witness the successes of the likes of Sen. Manny and his family.
"We must be happy instead," she wrote.
The netizen also gave a warning for those who cannot bear to see others succeed.
"People who can't stand to see the success of others will never experience their own," the netizen wrote in her caption.
Jinkee must have been very pleased and agreed with every word the netizen said in her caption because the wife of Sen. Manny took time to repost the same on her own Instagram account.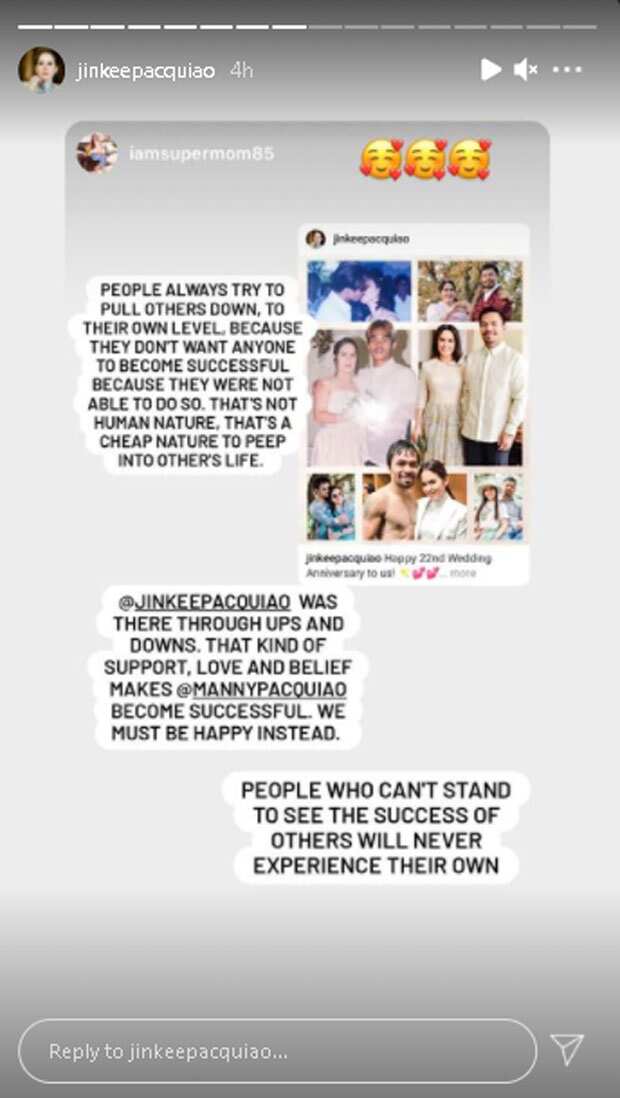 Jinkee Pacquiao, the wife of Pinoy boxing legend and legislator, Sen. Manny Pacquiao, is a former Pinay politician, occasional film producer, media personality, and socialite from Mindanao. She was born on January 12, 1979 to Nestor Jamora and Rosalina Capeña in General Santos City. Jinkee has a twin sister named Janet. As film producer, she produced documentaries for her husband and other box-office titles. The wife of Sen. Pacquiao once served as Sarangani province's vice-governor from 2013 to 2016. She served only for one term for the reason that she wanted to focus on taking care of her family, as well as her business.
Recently, Jinkee was slammed by Cristy Fermin for showing off her luxurious clothes, items, jewelry, and lifestyle. Amid the controversy, Jinkee has posted messages about the power of forgiveness. Being able to forgive people who hurt her frees her from the poison of bitterness, Jinkee posted. She added that she chooses to forgive because it is how God wants her to respond to the imperfections of other people.
She also posted a biblical quote about those who are fond of seeing faults in others while they can't see their own mistakes. The biblical quote post of Jinkee, which calls out hypocritical persons, made many wonder if the wife of Pinoy boxing legend, Sen. Manny Pacquiao, is directed to someone or several persons. Recently, Jinkee also posted on her Instagram account calling out people who are jealous of her after some personalities criticized her for allegedly showing off amid a crisis. On the other hand, her husband, Sen. Manny, who had launched a crusade of identifying government agencies whom he alleged to be involved in corrupt practices drew a sharp rebuke from the President himself, who also called out some things about the senator.
Source: KAMI.com.gh