Bato Dela Rosa bio: wife, age, career, net worth, career
Bato Dela Rosa had been living a normal life without so much public attention. The freedom didn't last much after he was given prominent roles in the government.
Bato Dela Rosa is a former police officer and currently serving as a politician in the position of Senator of the Philippines since 2019. Previously, he served as the Chief of Philippine National Police and as the Director of the Bureau of Corrections.
Bato Dela Rosa profile summary
Full name: Ronald Marapon Dela Rosa
Celebrated name: Bato Dela Rosa
Date of birth: 21st January 1962
Place of birth: Santa Cruz, Philippines
Bato Dela Rosa age: 58 years
Birth sign: Aquarius
Nationality: Filipino
Ethnicity: White
Bato Dela Rosa height: N/A
Marital status: Married
Profession: Filipino police officer, politician
Net worth: $1.2 million.
Bato Dela Rosa biography
Dela Rosa was born on 21st January 1962 as Ronald Marapon Dela Rosa at Barangay Bato, Santa Cruz in the Philippines. He is the son of Teodoro Diamaton Dela Rosa Sr. (father) and Anesia Cruspero Marapon (mother). He came from a humble background where his fathers earned little from serving as a tricycle driver. Bato worked as a bus conductor and fish market porter when he was young.
Bato Rosa attended Bato Elementary School before joining Sta. Cruz National High School. Later on, he enrolled at the Mindanao State University (MSU) where he studied for a Bachelor of Science degree in public administration.
In 1982, Rosa left the Mindanao State University and joined the Philippine Military Academy (PMA). He graduated from PMA in 1986 as part of the PMA Sinagtala class.
In 1998, he earned his Masters of Public Administration and in 2006, he attained his PhD in development administration. He attained both his masters and PhD degrees from the University of Southeastern Philippines in Davao City.
READ ALSO: Nick Jonas bio: Wife, brothers, net worth, baby, health, photos
Bato also undertook several military courses as follows:
Police Intelligence Officer Advanced Course
Scout Ranger Orientation Course
Police Safety Officer Course
Police Officers' Comptrollership Course
FBI Academy training course
U.S Army Ranger School
Air Marshal Instructors course
Bato Dela Rosa wife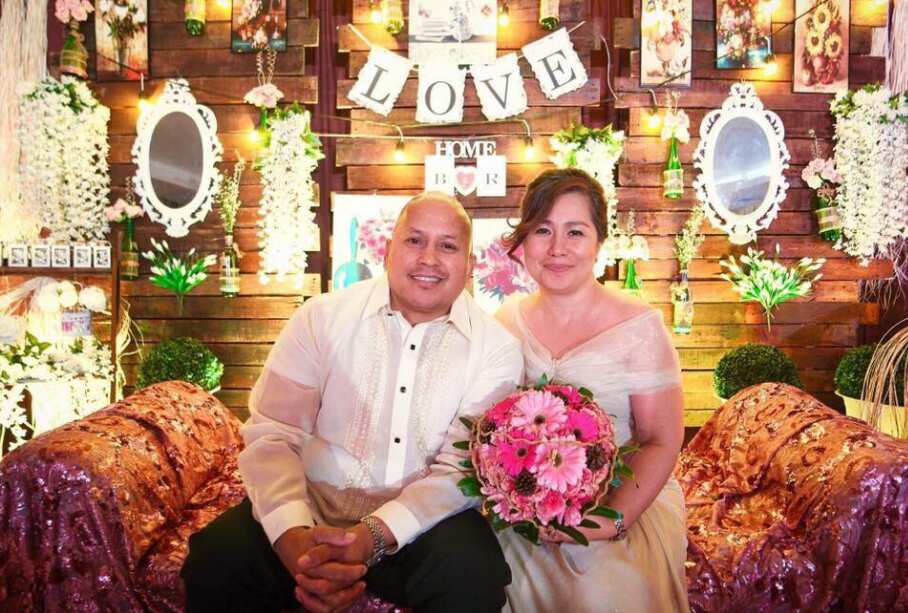 Behind every successful man, there is a woman. Nancy Dela Rosa is the woman behind Senator Bato Dela Rosa's greatness. Bato Dela Rosa has been married to Nancy Johnson Comandante since 1989.
The pair has three children together, two daughters and one son. Bato Dela Rosa children names and details are some of the things the couple has chosen to keep private.
Bato Dela Rosa career
Bato has served the country in the military as well as in the political arenas. Here is a breakdown of his career in both sectors.
Military career
1986 - Lieutenant of the Philippine Constabulary in Davao City.
1992 - Chief inspector and one of the staff members at the Police Regional Office (PRO)-Davao.
1997 - Police provincial director of the Compostela Valley province.
1999 - Police director of the Philippine National Police (PNP) at the Camp Crame in Quezon City.
2001 - Deputy Chief of the Office of the Regional Personnel and Human Resource and Development Division (ORPHRDD) of Region XI.
2003 - Police Superintendent and was assigned to Camp Catitipan in Davao City.
2004 - Head of training at the Directorate for Human Resources Doctrine and Development.
2005 - City personnel at the Davao City Police Office (DCPO).
2005 - Chief of the Regional Intelligence and Investigation Division (RIID) at the Police Regional Office (PRO)-Davao.
2007 - Director of the Compostela Valley Provincial Police Office (CVPPO) as its police chief.
2008 - Senior Superintendent at the - Director of the Compostela Valley Provincial Police Office (CVPPO).
2009 - Director of the Davao Del Sur Provincial Police Office (DSPPO) at the Davao del Sur.
2011 - Chief of the Regional Logistics and Research Development Division (RL-RDD) in PRO-Davao.
2012 - New Director of the Davao City Police Office in Davao City.
2013 to 2014 - National headquarters of the Philippine National Police in Camp Crame serving with the PNP Intelligence Group.
2015 - Member of the PNP Board of Inquiry which was responsible for investigating the Mamasapano clash.
2015 - Executive officer of the Directorate for Human Resource and Doctrine Development (HRDD).
2016 to 2018 - President Rodrigo Duterte appointed him as the Chief of Philippine National Police.
2018 - Director-General of the Bureau of Corrections.
READ ALSO: Sonny Angara bio: wife, age, family, Instagram, net worth
Political career
30th 2019 to date - He took the office of the Senate with more than 19 million votes during the 2019 Philippine Senate elections.
Ronald Bato Dela Rosa achievements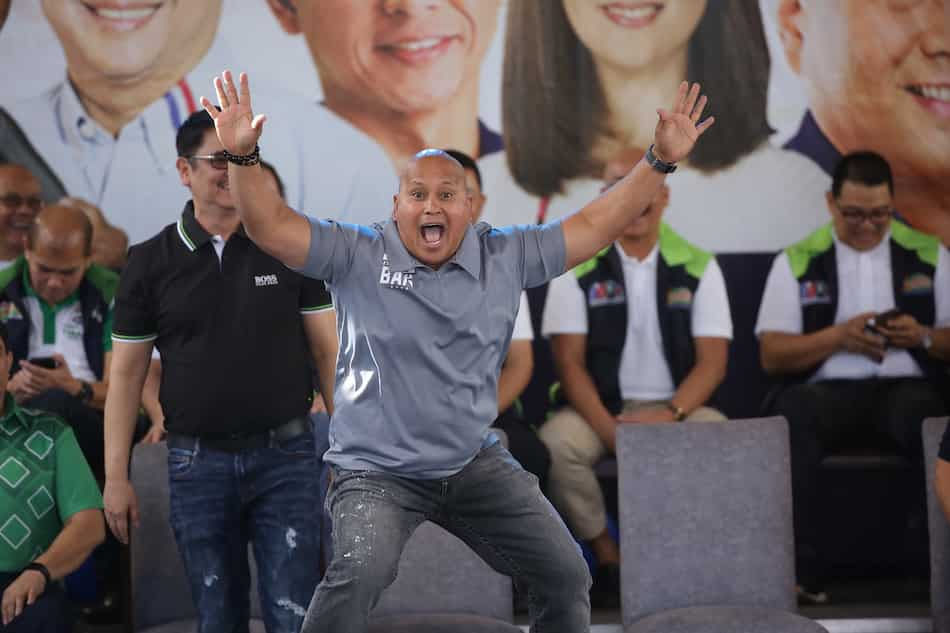 Some of the notable accomplishments in his name include:
1998 - PRMG of the Year.
1999 - PAOCTF Satellite Office of the Year.
2012 - PNP Senior PCO of the Year for Operations.
2013 - PNP Achievement Award in the Field of Operations (PCO Level).
2015 - PMA Alumni Association Cavalier Award for Outstanding Performance as Police Professional in Police Operation.
Bato Dela Rosa movie
In December 2018, Bato expressed his desire for Sharon Cuneta and Robin Padilla to act as his wife and him respectively if ever a movie was made. He was interested in the film focusing on his biography as opposed to his romantic life and partnership with his wife.
True to his wishes, a Filipino biographical film titled Bato (The General Ronald Dela Rosa Story) was created. On 27th December 2018, Robin shared a teaser through his Instagram account.
On 22nd January 2019, another version of the teaser was released arousing lots of curiosity among many individuals across the world. The full trailer of the film was released on 23rd January 2019 with the official poster coming out on 24th January 2019.
The film premiered on 30th January 2019 at the SM Megamall in Ortigas Center, Mandaluyong with Rodrigo Durtete the Philippine President in attendance.
Bato Dela Rosa net worth
According to the list ranking Philippine senators based on their latest declared net worth, Senator Bato Dela Rosa is at position 19 with an estimated value of P28, 258,908 which is equivalent to $1.2 million.
Latest updates
The recent news revolves around Bato Dela Rosa US visa cancellation. The visa cancellation took place as the United States was strengthening its crackdown on the violators of human rights.
Bato Rosa had been the mastermind behind Duterte administration's bloody campaign against the illegal drug traffickers. This took place when Bato was serving as the chief of Philippine National Police.
Bato Dela Rosa is a force to reckon with not only in the military endeavours but also in politics as well. He has continually enacted remarkable changes, especially in his fight against drug abuse, among other positive changes in the country.
READ ALSO: Andre Iguodala bio: Wife, current team, trade, age, net worth
Source: KAMI.com.gh