Hair color for Morena in 2023: 30+ top ideas (with photos)
There is much to look forward to regarding brand-new trends and styles. If you have always wanted to rock a new look and dye your hair a different color, this is your chance to achieve that vibe. Choosing a shade to compliment gorgeous caramel-toned skin can be tricky for Morena girls. What is the best hair color for Morena girls?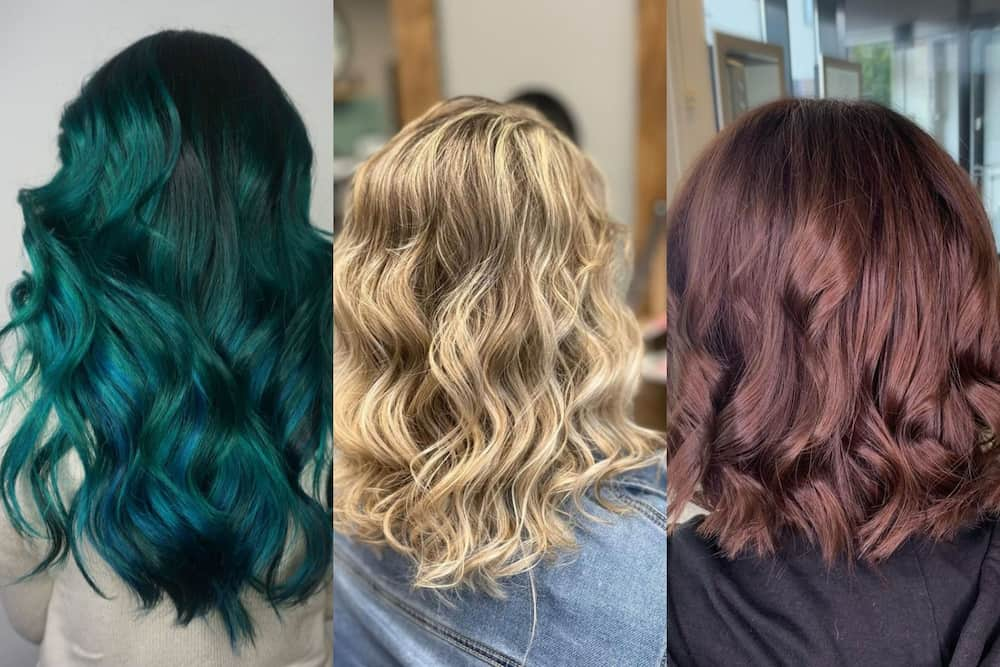 Unlike the fair and light skin of mestizas, Morenas have darker brown skin, which ranges from caramel to a light coffee complexion. Although deep brown skin tone is undoubtedly gorgeous, things can get challenging when choosing a suitable hair color that matches it.
Best hair color for Morena
Are you looking for the perfect hair color for Morena skin? Many dark-skinned Filipina celebrities flaunt their newly dyed hair. Check out these top flattering hues that suit brown skin the best.
1. Shoulder-length brown
The many shades of brown can be a Morena girl's best friend. Although it is not too out there, it enhances style and brings dimension to hair. It is a simple yet gorgeous look that you can flaunt with confidence.
2. Chestnut
Chestnut hair color for Morena skin adds depth and allure to locks. The brownish-red hue looks magnificent and adds a simple yet striking appeal to your overall look.
3. Light brown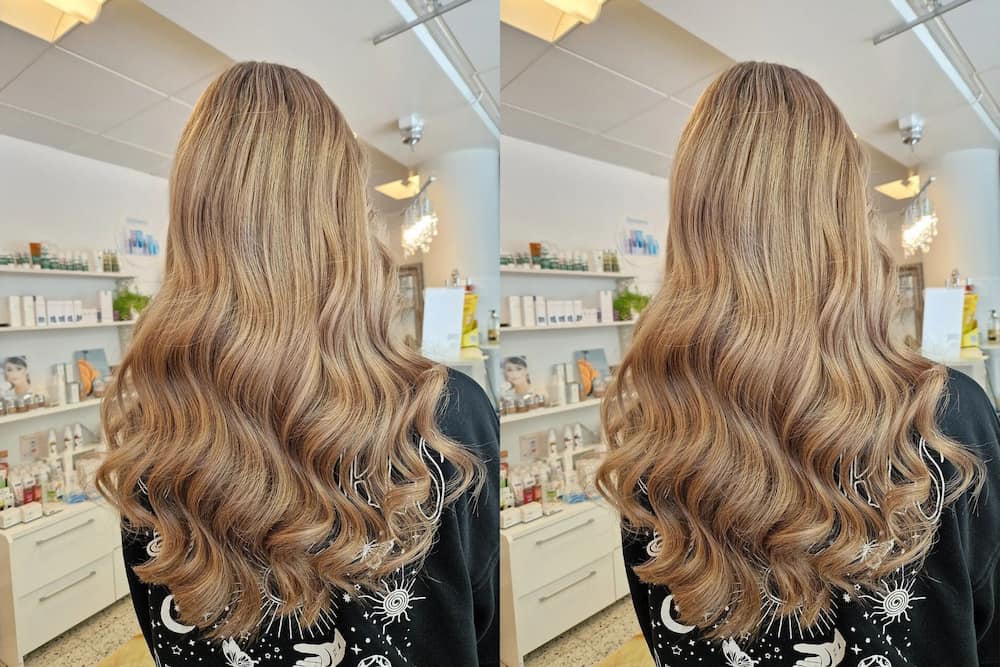 Aside from darker shades, light hair color for Morena girls is also a big hit when dyeing hair. Choosing a lighter brown tone is simple yet inviting to the eyes simultaneously. It also complements caramel-colored skin very well. Too hesitant to go full bright and blonde? Start with light brown instead.
4. Ash brown
Merging ash and brown hues give a stylish, multidimensional look that perfectly matches a Filipina's tan skin. The muted ash elevates the brown shade and works well together without being too drastic.
5. Mahogany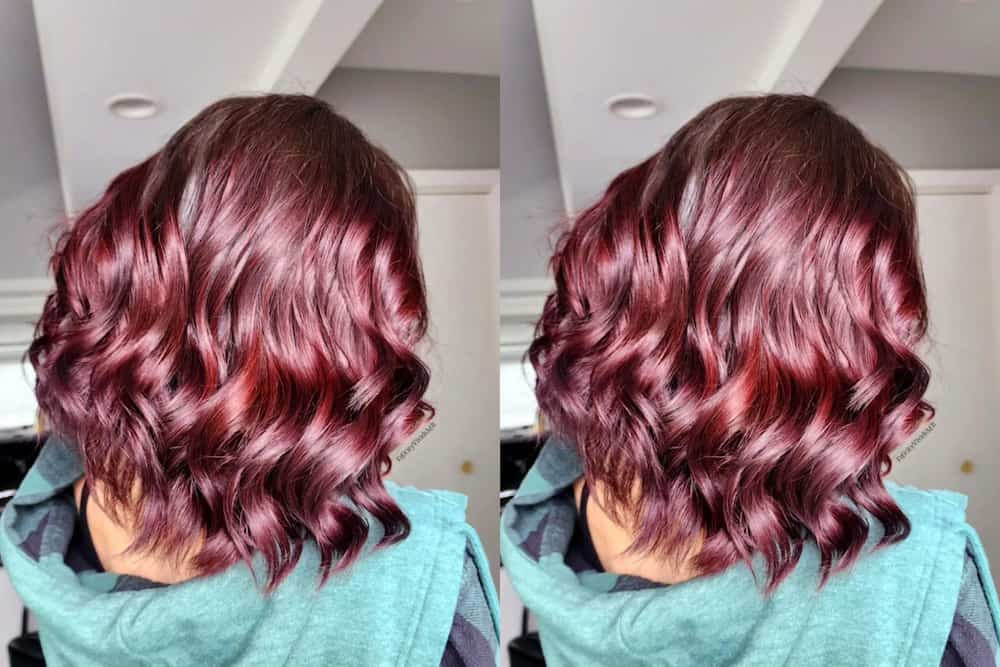 When achieving a luxurious reddish-brown look, this color based on timber hardwood is perfect. Mahogany hair color for Morena skin tone pairs well, adding a deep warm glow to your overall look. Additionally, a mahogany ombre gradient works amazingly with black hair.
6. Burgundy hair color for Morena
Aching for a brighter tint similar to some lipstick shades? Then the red-purplish hue of burgundy is the ideal choice. Whether you go for a muted burgundy-black tone or an all-out bright dye, the end product is always chic and fashionable.
7. Wine red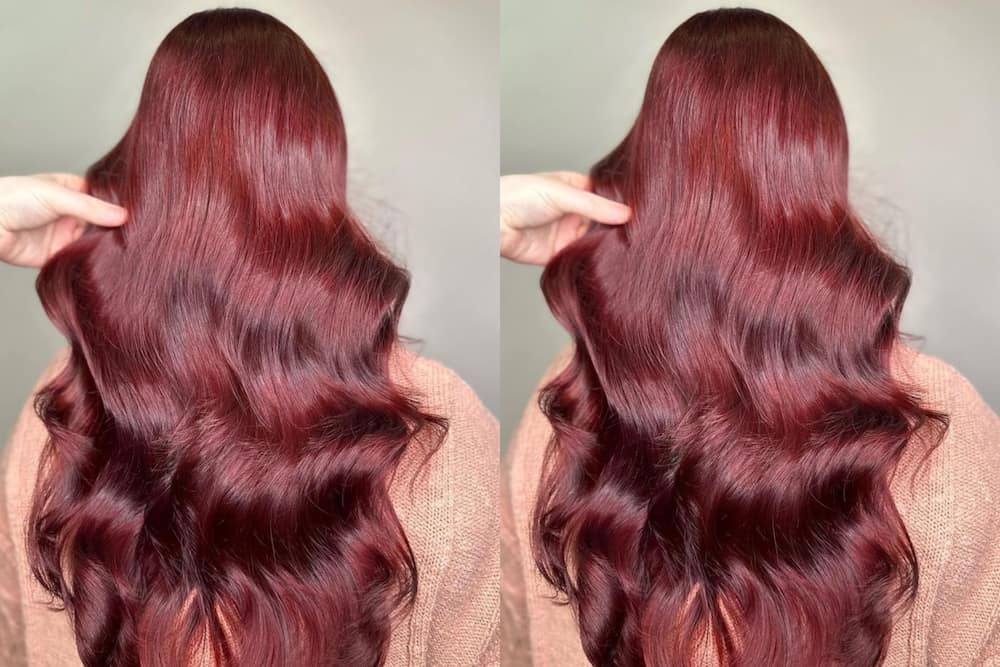 Wine red hair color for Morena gals is a decadent, beguiling look that adds spice to naturally dark locks. The natural red glow bounces off beautifully on caramel-colored skin, especially under the sunlight.
8. Bronde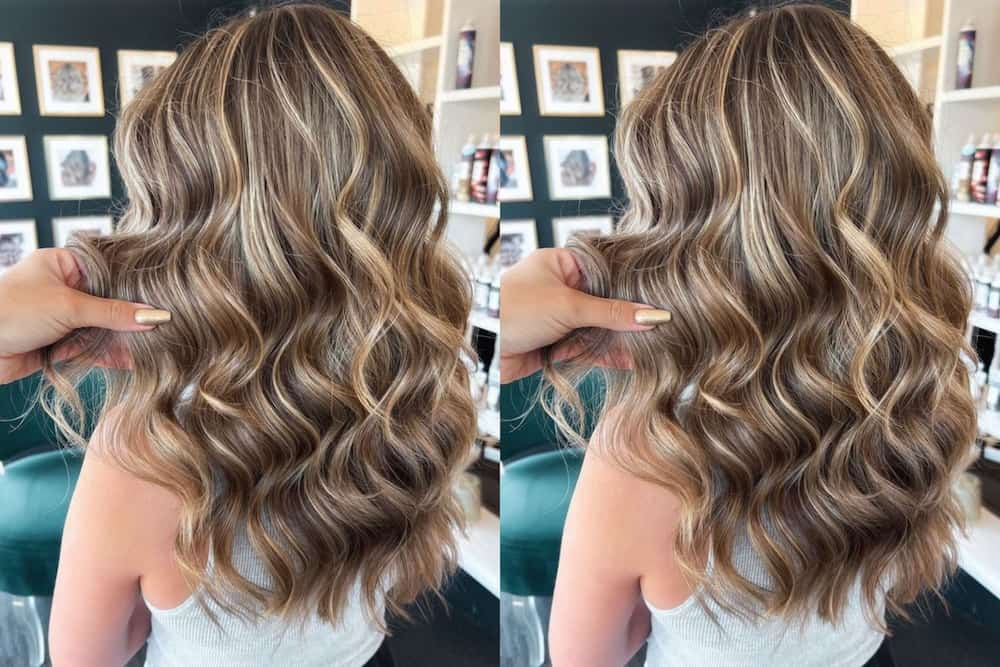 What is bronde? The unique shade is a mix of brunette and blonde and is a popular dye choice for girls with tan skin. Going bronde gives your tresses a light yet trendy appearance that complements that Morena glow.
9. Caramel
Get that golden look with caramel hair color. Unlike shades of light brown, caramel brings a gleaming shimmer to locks with its yellow-gold hues. Getting caramel hair works best in gradient styles and looks even more defined with curled or wavy hair.
10. Copper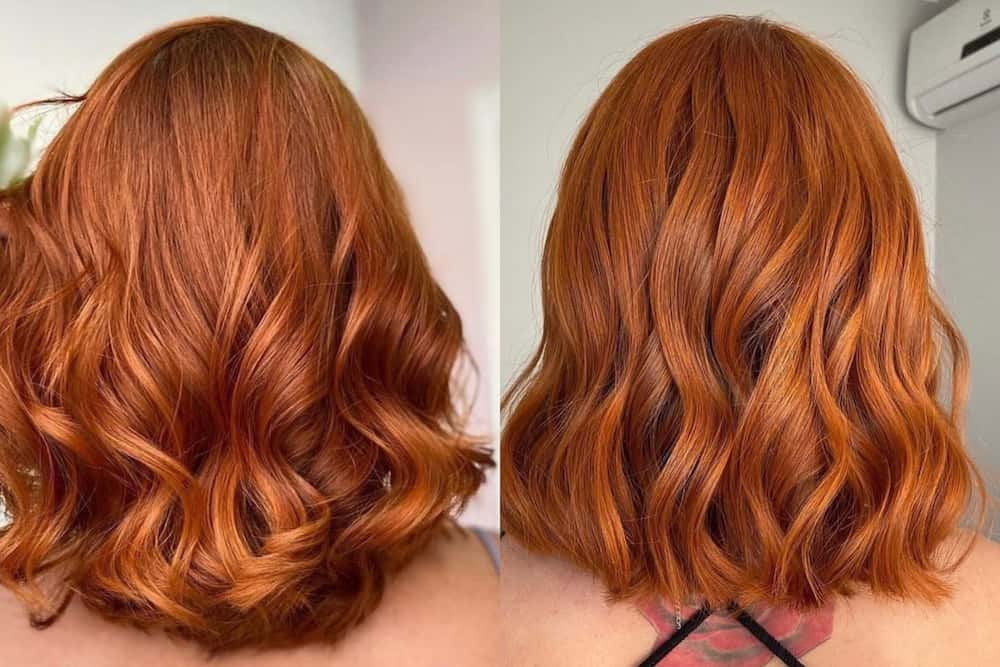 Another reddish-brown shade to try is copper. Unlike caramel which is a golden yellow, copper is closer to deep orange. Its metal shade gives tresses a brightness boost which looks glamorous with bronze skin.
11. Blonde hair color for Morena
One fashionable look for girls with brown complexion is blonde hair. Its a great choice if you want to keep it simple and classy.
12. Platinum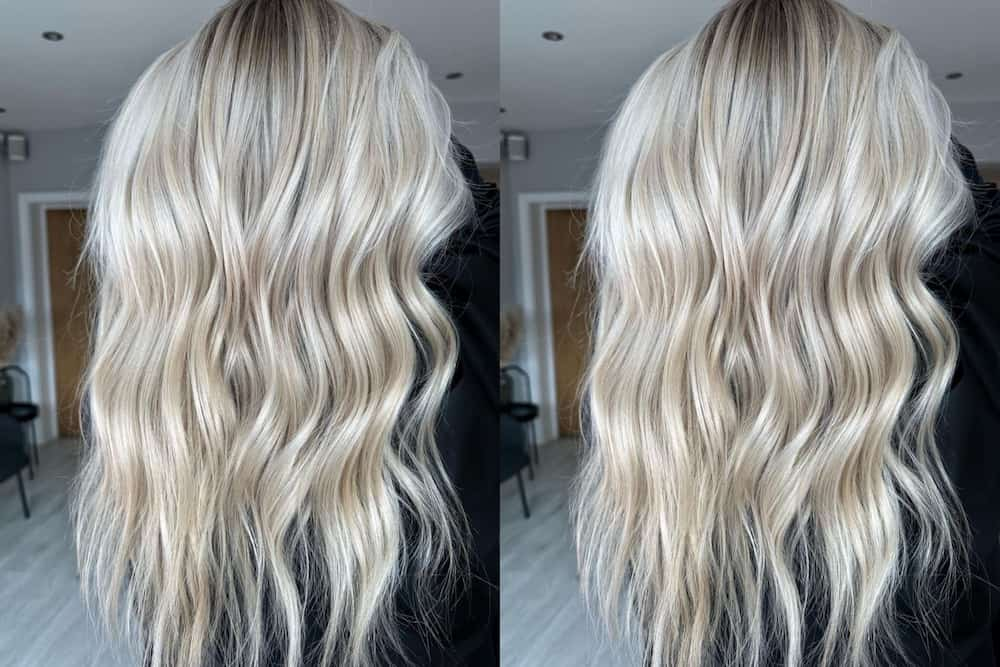 If you want to take it all the way when it comes to getting lighter hair, there is no topping going platinum blonde. The hue's grey undertones and silver look give off a white and icy vibe. However, several bleaching sessions are needed to achieve this light and edgy color, so be prepared.
13. Pink and rose gold combination
One shade that is all the rage right now is rose gold with its lovely soft pink tones. Aside from being a treat to the eyes, it matches nicely with tan skin.
14. Mauve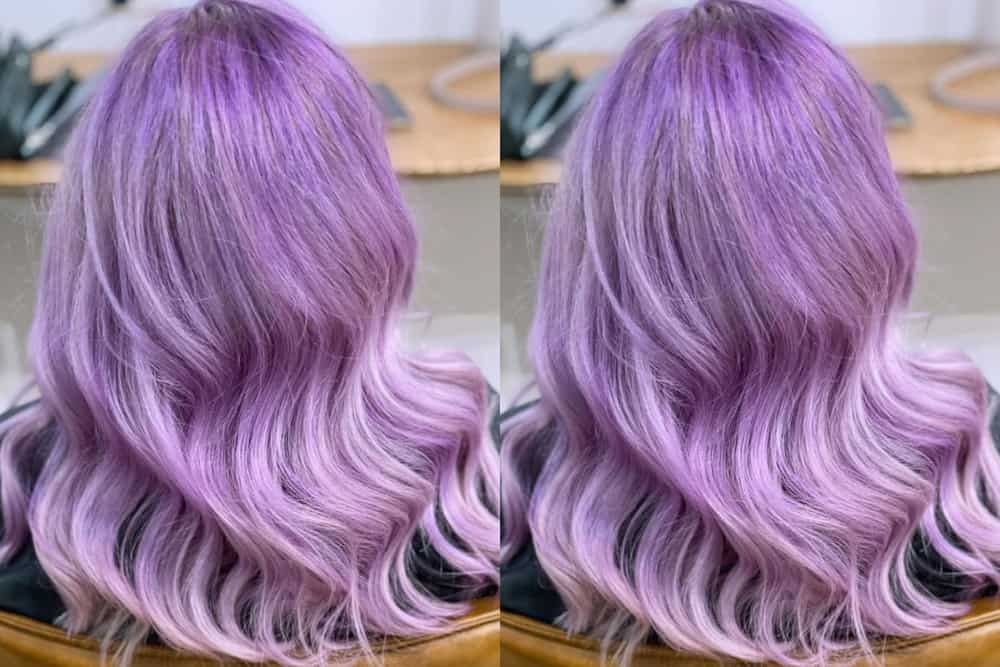 This unconventional dye choice is stunning and dramatic on Morena skin, similar to rose gold. Mauve is a dreamy color that screams light purple with hints of grey and, sometimes, even pink.
15. Icy blue hair
An icy, pastel blue dye is a heavenly color choice that adds coolness to the warmth of dark complexions. Going icy blue brings a subtle yet adventurous style to natural dark tresses.
16. Dark teal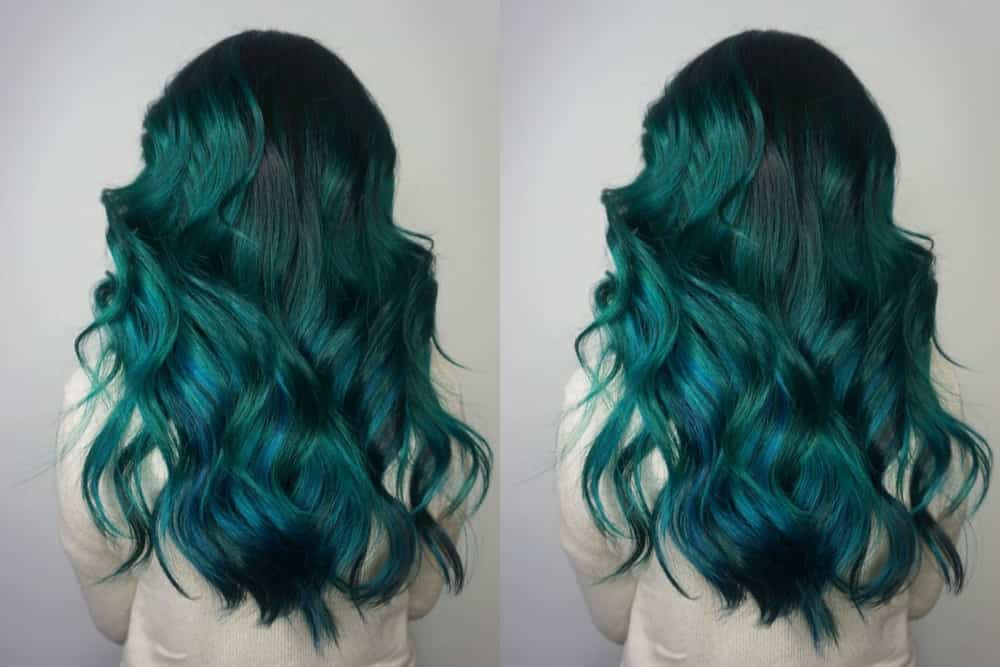 Teal lies in the middle of blue and green, and when matched with dark locks, it almost seems to be glowing. This bright shade is very out-there, but despite being out of the ordinary, it partners well with bronze complexions.
17. Smokey lavender
Another option for bronze-skinned ladies who want unique-colored hair is the shade of smokey lavender. The grey tones blended with lavender add a soft and mellow feel to darker hair. Plus, mingling the two colors adds dimension to your locks, especially when curled.
18. Ombré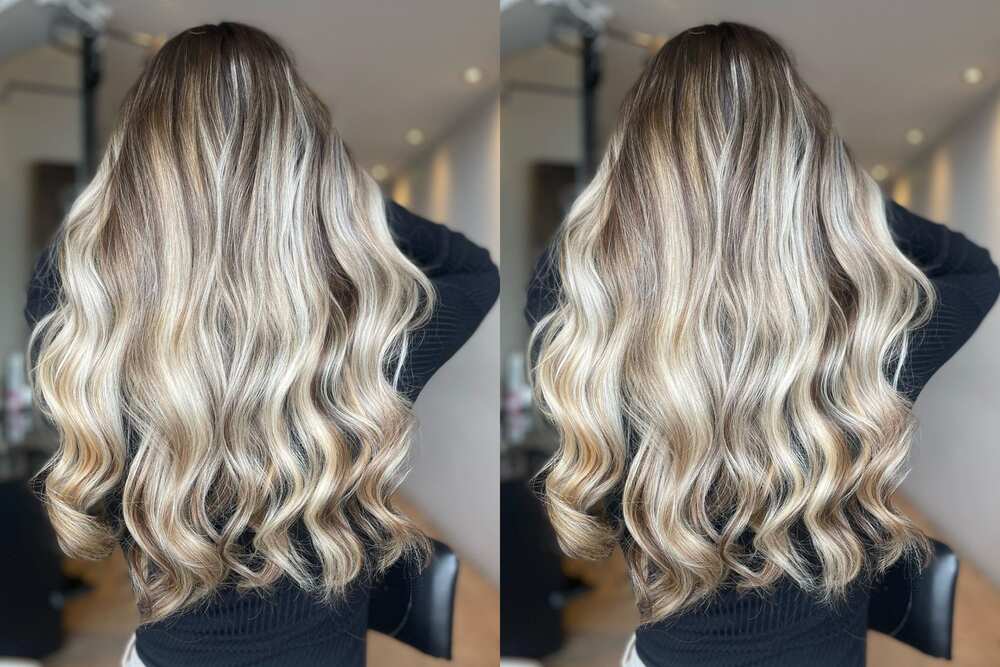 Nowadays, the ombré coloring technique has been taking over hair trends. Ombré is a French word that means shadow or shade, and the style fits its name very well.
Getting this style means dyeing or lightening the end parts of your locks and leaving your roots all-natural. The effect is a gorgeous blend of dark roots and lighter ends which can be any shade you want.
19. Golden Balayage hair color for Morena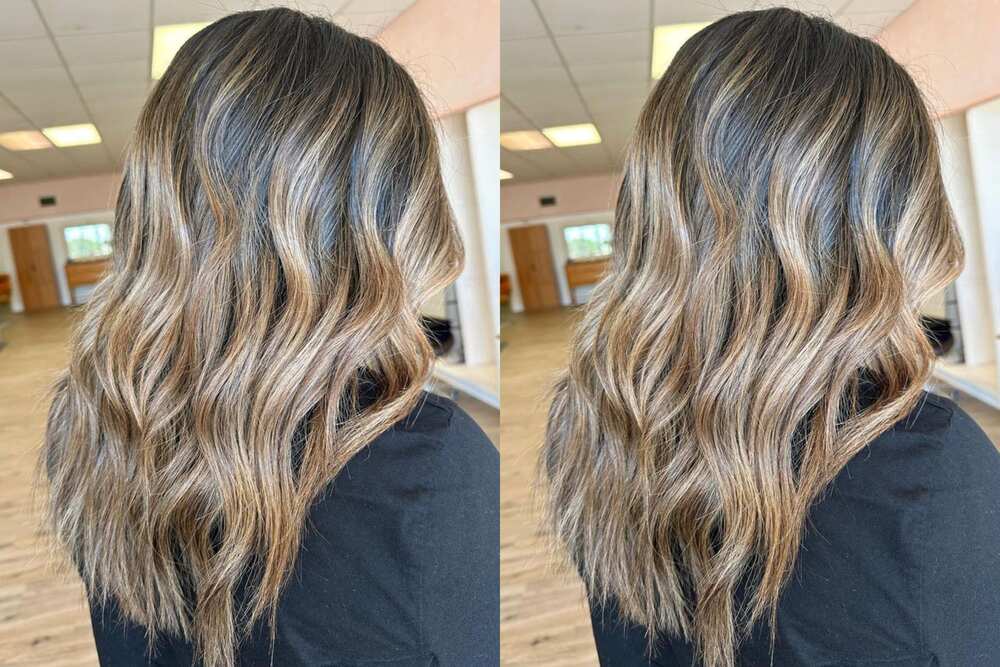 For Morenas, getting a Balayage dye job adds more depth and effect than getting a solid color fix. In French, balayage means sweeping, and the hair coloring technique gives a soft gradient impact to tresses.
The natural-looking results and highlights complementing the darker hair underneath are perfect for bronze-skin beauties.
20. Beige highlights
Saying goodbye to your natural hair color can be challenging, so adding highlights is another option. With a bronze complexion and naturally dark hair, the highlights wonderfully add contrast to your look.
Some people prefer thicker sections of highlights than scattered ones, but either way, the look stays fashionable all the same.
21. Chocolate brown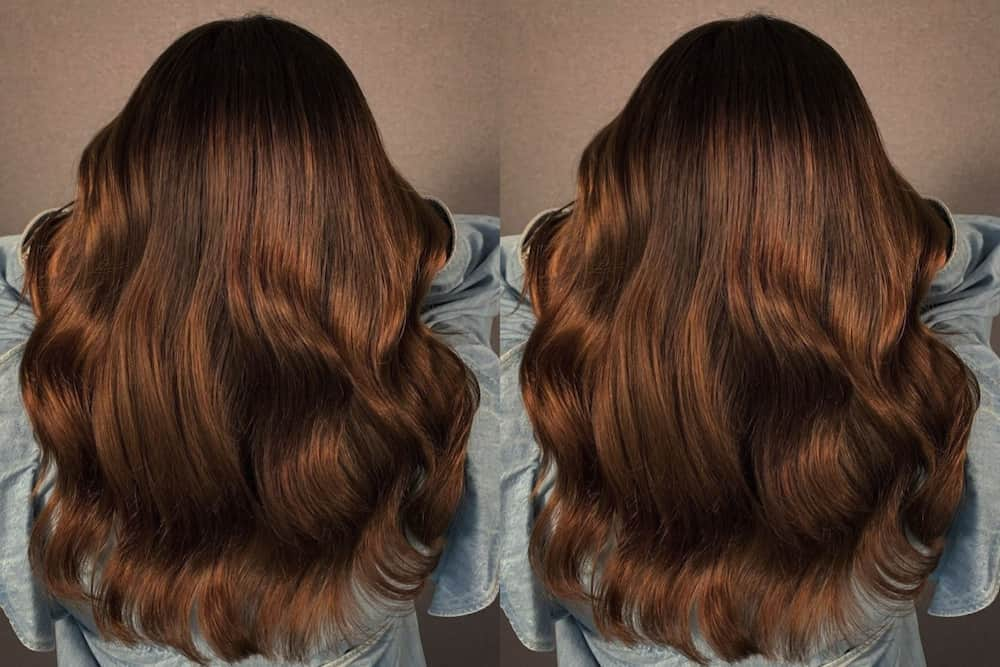 This hairdo features a tinted, gorgeous shade of chocolate brown fashion. The color appears as if to melt on the hair, and even if the chocolate brown hair is fairly popular, you cannot deny that it has a certain allure on Morena skin. It automatically transforms you into a highly stylish and refined individual.
22. Classic black pixie cut
Black is the most beautiful color, but what colors look good on Morena? The classic black pixie cut is another hairstyle that comprises solely a plain black style, with the hair clipped into a voluminous pixie cut. No streaks get highlighted or the hair dyed, but it is one of the most popular hair color ideas for Morena skin.
23. Deep pink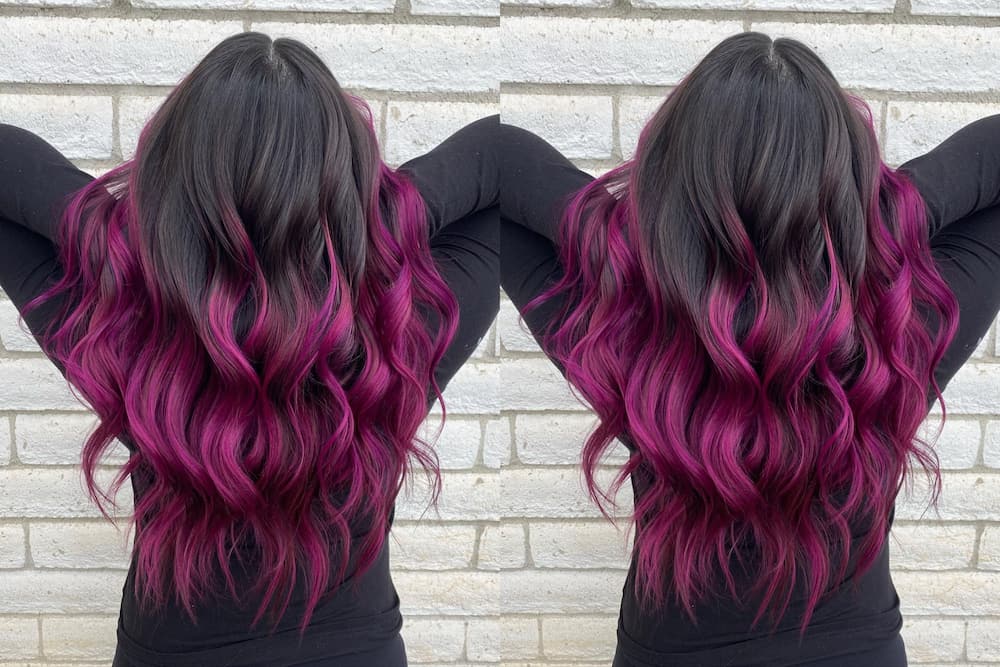 Try out this unusual hair color to give your hair a delightful flash of color. The deep pink hair color is uncommon, even though pink and neon pink hair colors are currently highly fashionable.
That makes it a big fashion craze that must be examined. As the hair dramatically changes from a lighter hue to a darker shade, the color pallet is also fairly striking and will surely highlight your personality.
24. Subtle brown highlights
This style is simply unmatched in its beauty. Although the brown color is discernible, it is so subtly presented that you want more.
25. Dark green highlights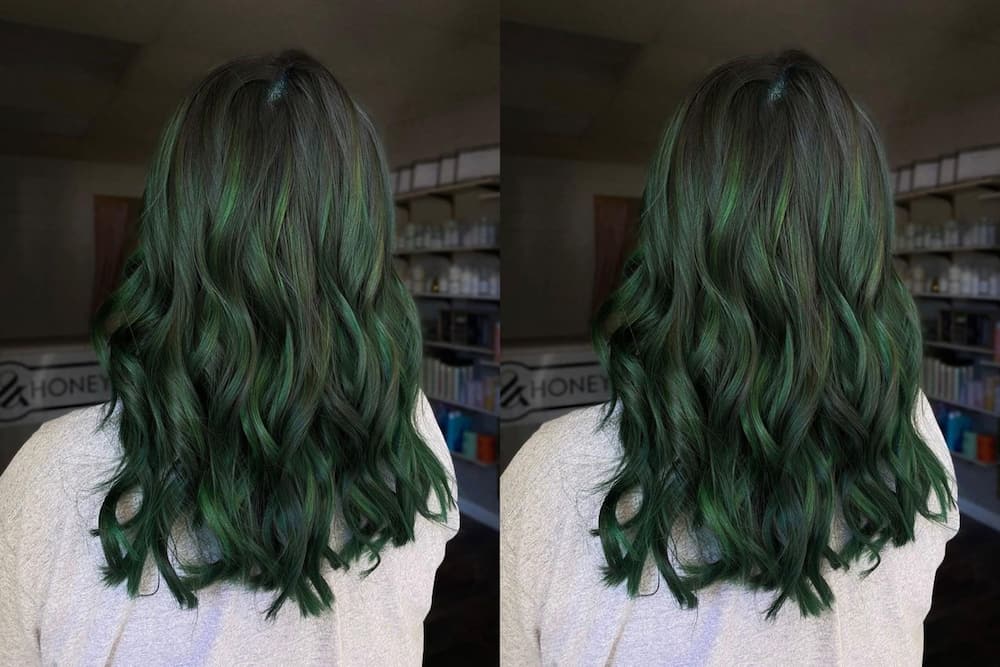 This is a daring look and is perfect for the brave. While using accents of blue is a thing these days, green is still a relatively new hue. However, you have a great chance to test this trending hair color for Morena. You can opt to use gradient highlighting or simply highlight the bottom third of your hair.
26. Dip-dyed blonde hair
You can wear blonde colors creatively and entertainingly by getting your hair dip-dyed. Your appearance is distinctive due to the contrast, and as your hair grows, you won't need to bother touching up your roots.
27. Silver blonde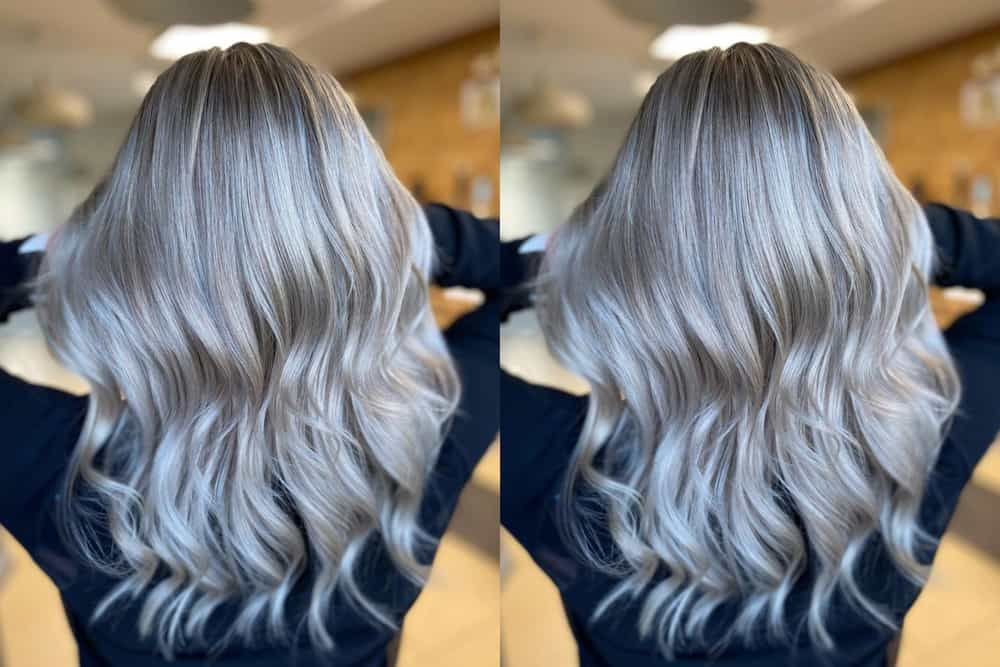 Try silver blonde if you're having trouble deciding between the several blonde hair colors available. It's an additional Morena hair color that might make you look edgier.
Thanks to the contrast between your skin and hair, you will show off your stunning dark complexion. However, bleaching is a requirement if you are to achieve this color.
28. Espresso
Espresso is a little bit darker than your natural black color and is perfect if you're not looking for a radical alteration to your hair color. It is not only an elegant option, but it also gives your hair more depth and offers you a chic brunette appearance. It's a cute dark tint that always keeps you in style.
29. Creamy blonde style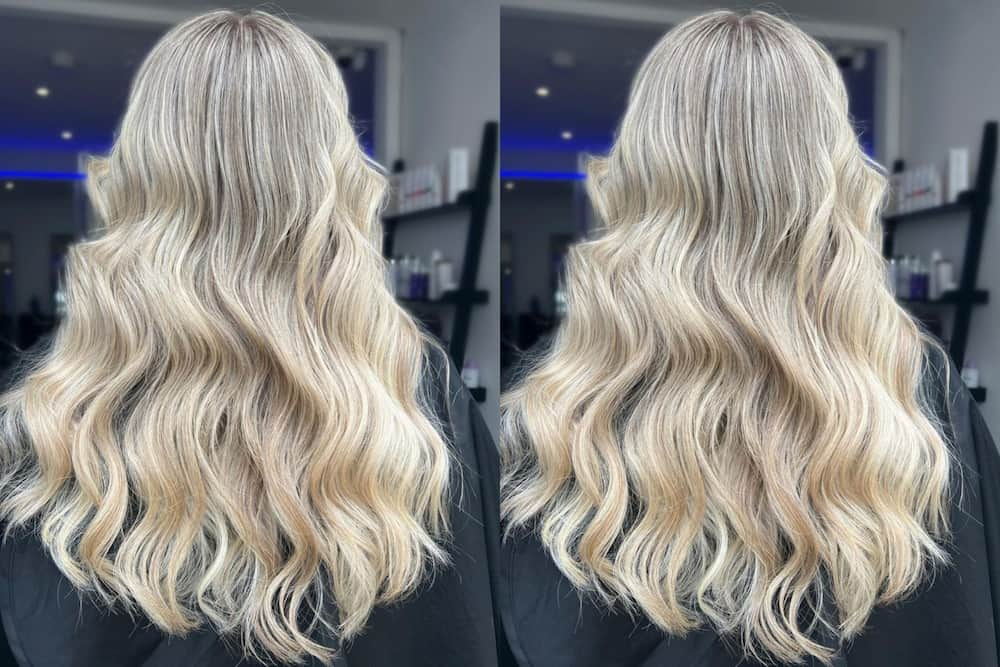 Do you want to try something trendy and cutting-edge? Get creamy blonde style if you can. They instantly change the way you look because they contrast with your naturally black hair.
30. Bob lavender
Thinking that only dark hues might compliment dark skin? Chances are you might be mistaken. The ideal light hair color idea for Morena skin is the lavender shade. This hair color gets a fresh summertime vibe, and the jolly spring may come to mind too.
31. Ginger magic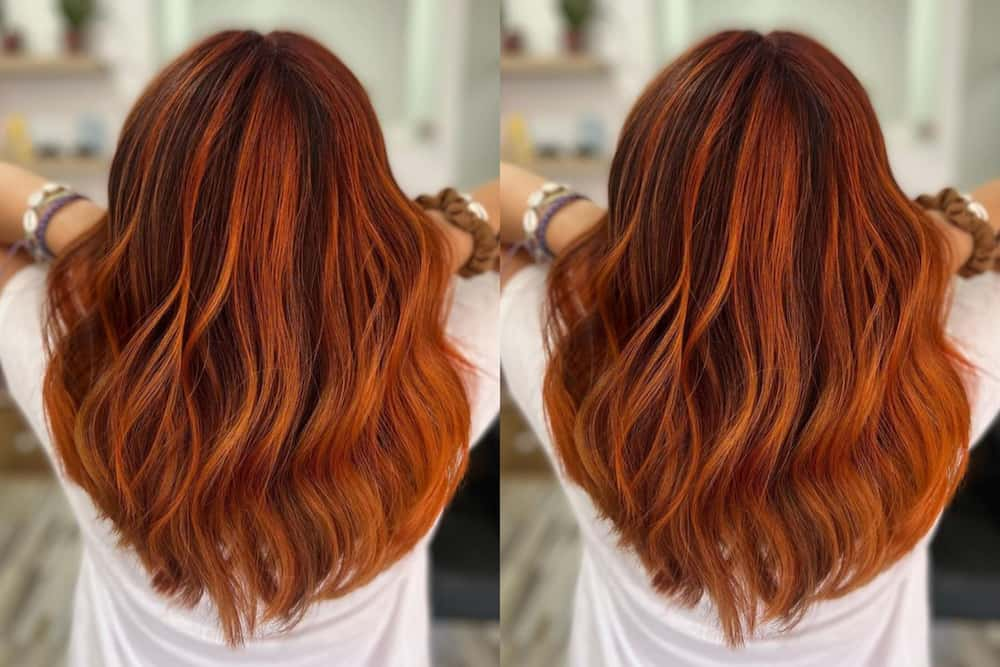 Do you wish to showcase your inner redhead? The usual hue of red may not be the same as the ginger hair color, but on a dark complexion, this warm-toned color looks stunning.
32. Dark mahogany highlights
Compared to blonde hair, brown contrasts morph more brilliantly with deeper root colors like brown and black. In this instance, gradient-styled mahogany brown highlights contrasting the deep black roots will be the perfect highlights hair color for Morena.
What color hair is best for Morena skin?
A golden brown hair shade is best on warm skin tones because it is stylish and gives the face a healthy glow.
What colors look good on Morena?
Hair colors like red can be for everyone, but for Morena skin, however, darker, rich shades like golden brown, burgundy, and silver-blonde accentuate warm skin tones for a stylish look.
What hair color goes with Morena without bleach?
You can achieve chocolate brown hair color for Morena without bleach. This probably explains why it is popular among Pinays.
Despite the saying that only a few shades suit dark-skinned girls, there is always a hair color for Morena girl to choose from. Be proud of your brown complexion and rock these looks this 2023.
Kami.com.ph recently published an article about Kristel Fulgar. She is a well-known actress who has starred in great movies and television shows like Lost Stars Within Us, Can't Help Falling in Love, and Maria Flordeluna.
Born on 29th December 1994 in Manila, Philippines, Fulgar is also talented in singing and has released several tracks, such as Makulay Ang Buhay, Mga Anghel Na Walang Langit, and Love Yourself.
Source: KAMI.com.gh