Inspirational birthday message for wife: 100 ideas
Everybody wants to feel special – whether on ordinary days or on occasions. There are a lot of ways to make someone enjoy being loved, but what if it was their birthday? Sometimes, husbands just run out of ideas on how to please their wives. Why not pamper her on that day and think of the sweetest birthday message for wife?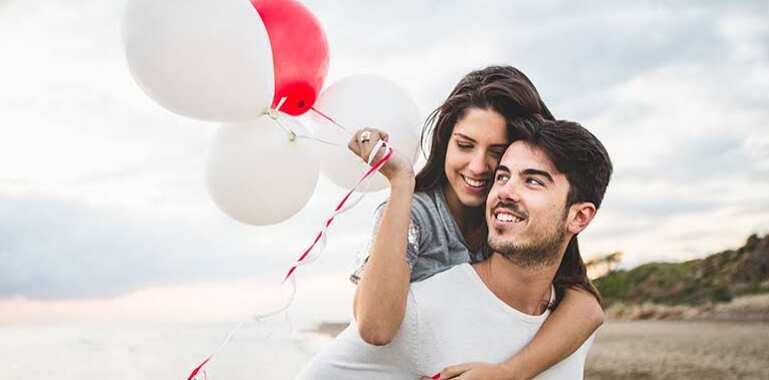 Your wife's birthday is the best day to celebrate not only her life, but also her greatness as a wife and a mother. That is why she deserves the best on that day. You might have run out of ideas on how to surprise her or what gift to present, but you will surely never run out of words to say. Consider giving the best happy birthday message for wife and see her tear up because of happiness.
Sweet birthday message for wife
The best thing to accompany a flower, gift, and a cake for your wife's birthday is a card with a sweet message on it. If you need a cute yet simple birthday message for wife, the list below is for you.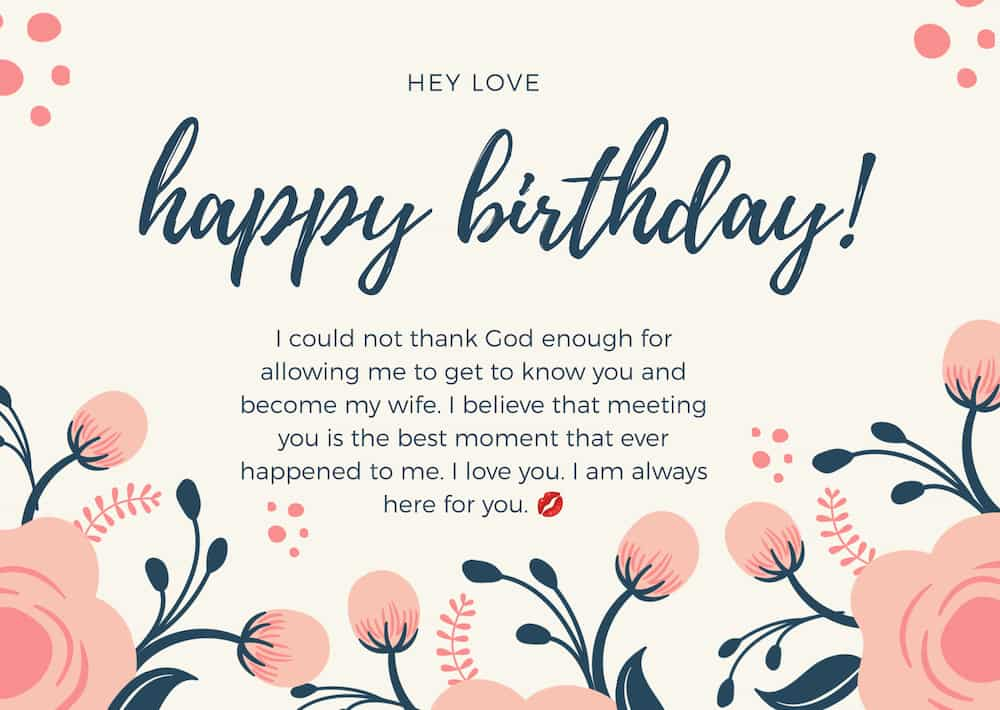 You are celebrating your special day today. I never thought that hundreds of days could feel like a blink of an eye. You are a tough and strong woman. Enjoy this day. Let us celebrate.
You know that I will always be proud of you. You are an amazing woman. God is so good in every season, and I can't thank Him enough that He gave you to me. I'll take care of you the best way I can, I'll battle the lies with you when you feel alone, and I'll always remind you that you will still be worth it. I promise. I love you, my greatest blessing.
Today is your special day, and I just want to tell you that I love you. I will continue to cheer, support, comfort, or whatever else you need me to do because I super love this life with you. Happy birthday.
You give my life a purpose that helps me overcome all the bad moments and all the anxiety. I am so lucky to have a wife like you. Happy birthday, dear!
God loves me so much that He blessed me with His most remarkable creation – you, my beloved wife. I will forever show appreciation to God for bringing us together, celebrating life with you today.
It seems that everyone knows you turned a year older except me. In my eyes, you are precisely the way that you were when I met you for the first time. Never forget that you are loved.
Happy birthday to the one that still makes my heart skip a beat and my stomach do somersaults when she enters a room. I am so proud and blessed to be able to call you my wife!
When I look into your eyes, I still have these feelings of impatience and admiration both at the same time.
After all these years, I surely know that you are the only woman I want to grow old with. Our love will keep us together until death comes between us. Let us celebrate.
To the woman who gives every day the toughest fight to keep our family close together, I love you, and I will always do! Happiest birthday, love.
I could never imagine myself being a father, not even a husband until the day you came into my life and became my wife, the best mother for my children!
You made impossible seem so simple, and you bring the sunshine in my heart! I am so thankful for having you.
The lights from your candles on your birthday cake will never be as bright as the lights that you light our family's lives with. Happiest birthday to the strongest woman I know.
On the day you were born, the world was blessed with your presence. Now your presence is a present to our family.
No need for Facebook to tell me about your birthday, it's written deep in my heart, just like the love I have for you. May you have the sweetest birthday ever!
I want you to know that contrary to popular belief, if I do happen to notice and appreciate all the little things you do every day to make my life so complete. If I happen to forget to mention it, it's because I am busy being stunned by your beauty. Happy birthday, gorgeous!
Instead of thinking of your birthday as getting older, try to think of it as a sweet yearly reminder that we have had so many successful years together. Here's to hopefully having many more.
These last few years may have been rough, but the past has never mattered when my future is so bright with you, through thick and thin.
On your birthday, I want you to know that my best times in life have been with you, and my worst times made all the better by your presence. Thank you for always staying by my side.
From the moment I met you, I knew that you were the one for me. It may have taken a moment to persuade you of the same, but it was worth every second to get to be your husband. I love you, celebrant!
I looked for a woman I could live with, but I ended up marrying the woman I can't live without. I love and cherish you.
When I am in your presence, my heart is full, and I feel stronger, wiser, and more confident. You inspire me to reach deep into my heart and love you with all of the passion I have.
Even after all of this time together, you still give me a thrill when you kiss me. My heart always skips a beat every time you lovingly look at me. I am head over heels in love with you, and this is how it will always be.
I knew as soon as I first saw you that my heart was yours forever. How lucky can someone be when the person he loves also loves him back? You are the best wife I could ever ask for.
We have such a beautiful, magical, exciting life together, and I wouldn't change anything for the world. We have proven to each other that we are indeed soulmates. I love you with all my heart.
I could not thank God enough for allowing me to get to know you and become my wife. I believe that meeting you was the best moment that ever happened to me. I am always here for you.
Never could I imagine that someone like you would fall in love with me. I'm so grateful that things happened the way they did, because now I'm married to my best friend, my lover, and my soulmate. I love you so much.
You fascinate and inspire me. You thrill and excite me. You calm me and give me peace. You are simply amazing, and I will spend my whole life, showing you how much I love you.
I will forever cherish the day that I became yours, and you became mine. It was on this day that my life changed forever, the day that my best dream came true. I love you, and I will never stop showing you how much I care.
No gift could ever be enough to repay or thank you for all you have given to me. I hope this gift, as well the love I have for you, will make your birthday special.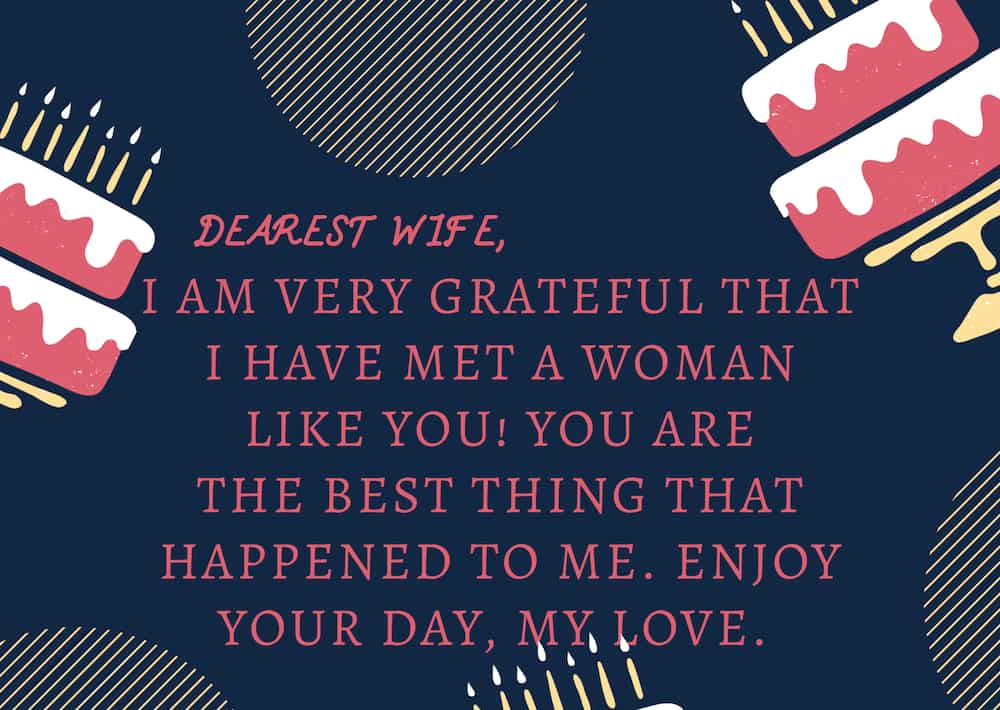 With you, all my days are worth living. You make my life easy and its journey too fantastic. You are my answered prayer and a dream come true. I love you!
If you replace L in life with W, you get a wife. That is because life isn't worth living without a lovely wife like you. I love you, darling.
You came into my life and changed my world. I have lost total control of myself. I am a changed person. My heart does not belong anymore to me. It's given away to you. I am genuinely and madly in love with you. Happiest birthday, my darling.
I often pinch myself to check if I am dreaming. It's unbelievable for me to have such a perfect life and a perfect wife like you. I love you, baby.
Every time I see a smile on your face, every time I get up by your side, I get thrilled. It is impossible not to sleep with you. I want to be with you until we are old men, and although we will no longer be the same, I know that I will love you very much.
Without you solidly and firmly beside me, it would be impossible for me to be half the man I am now. Happy birthday, love.
If we are agreeing or disagreeing, if we are fighting or making love, no matter how extreme the contrast is, you always make it worth the while, my wife. I adore you more than you know.
If loving one to the moon and back is the climax of love, I think I have to make mine a little bit further. I love you to the Andromeda Galaxy and back. That is how much I love you.
Loving you, and having you love me, has made me feel worthy of complete living. I'd rather spend one lifetime with you here than face all the ages of this human earth alone. Love you, my dear.
I have never been so happy in my life the way I am with you. Marrying you is the best decision in life I have ever made.
You've made my imperfections seem perfect, and all my shortcomings appear complete. I don't know how I'll ever be able to thank you for everything you've done. But I promise I'll never stop trying. Happiest birthday.
I know I have communicated to you many times how I feel about you. But the best of it is in my heart. Words cannot explain how much I love you.
When we joined our lives forever, we always knew that many difficulties would appear; however, our love won every battle. My desire is too big for you.
There is an ocean in your eyes, and I can see myself inside of it. It's impossible to measure the depths of the love that I feel for you.
You are worth more than diamonds. If I am given a chance to spend a hundred more lives with you, I will do it. Let us celebrate this special day, my honey.
Inspirational birthday message for wife
Wives have a daily struggle. They have been sad and down for so many days, and their birthdays are those days where husbands can cheer them up and inspire them. Buy them a dress, or makeup, or shoes, and don't forget to greet them in the most inspiring way.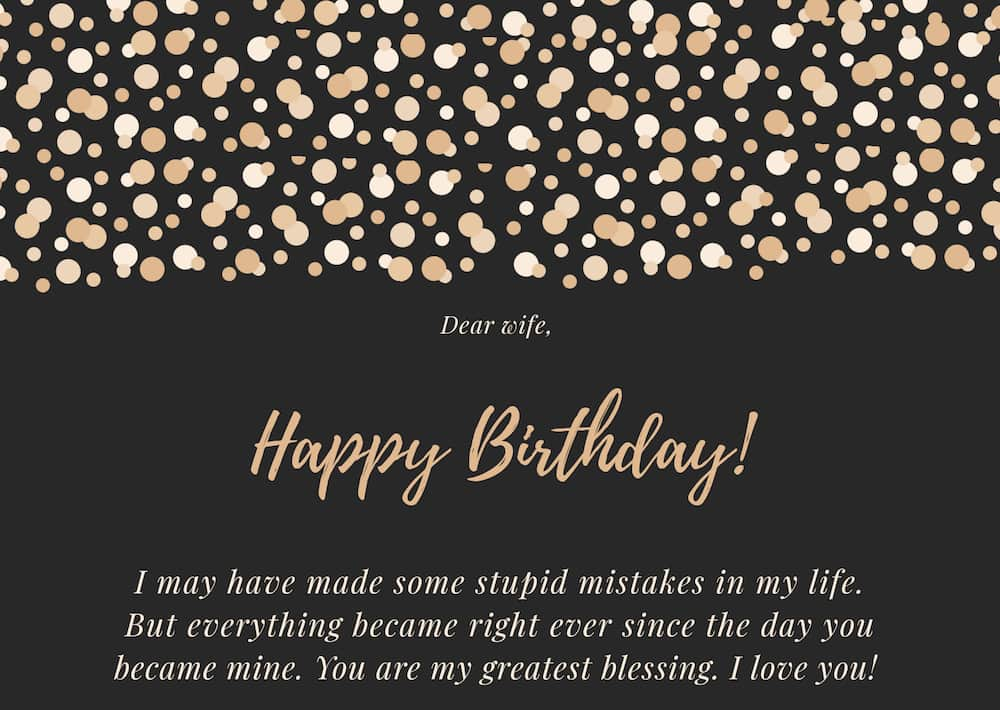 Every relationship has its growing pains. That doesn't sound very romantic, but the important word is growing – I think that was you, and I have been ding recently. Sometimes, it may seem like a little hard work, but I really believe it is worth it – not because of all the wonderful times we've had, but because of the wonderful times that could be waiting for us in the future. Everything alive has its growing pains, and our love is alive, and it is growing stronger. I love you!
The surreal sun-kissed hues of Instagram are nothing new for me. My life was already drenched in rosy tints since the day we got married. Happiest birthday, dear.
Thank you for taking care of our family. Thank you for creating the best home for us. I am inspired to give my best every day because of you. And today, let me just shout to the whole wide world how great of a woman you are. Keep on shining, my sunshine.
If I were granted just one wish, I would ask for longer life. The number of years I am destined to live on this planet may not be enough for me to tell you how much I love you.
No matter how hard and punishing a day has been, I know I'm going home to the most beautiful person there has ever been. Enjoy your day.
I may have made some stupid mistakes in my life. But everything became right ever since the day you became mine. You are my greatest blessing.
From fixing my wrongs to adding value to my rights, you've made life a journey worth all the troubles. I love you.
I saw how much you need to sacrifice for our family. If you were paid with a dollar for all the sacrifices you've made, you could have been a millionaire. I want to tell you that I am so proud of you. So, let us enjoy this day and create memories.
Your smile takes my breath away. It took my breath away on the day we met, on our wedding day, today, and every day in between.
I dream of a world where you and I would live for a thousand years to love each other. I know I'll never be tired of loving you.
When you asked me how sure I am that you are my last, I was startled. But I thought I am very confident that you are my last because I chose it to be that way and nothing will ever change that.
You are beautiful inside and out. And I mean it. But honestly, it's more about your soul. It's more about how you feel something and as if there's a current that radiates from your soul to mine, and it's crazy how I feel what you feel.
You know that I love you and I'm sorry if sometimes, I fail to show it to you. Please don't ever think that I've already changed or that my feelings for you have changed. I have a lot of things in my head lately, and trust me; this is all for our future. I love you, and nothing will ever take that away from me. I will love you as long as you want me, too, and I'm hoping you will want me for a lifetime.
When I'm mad and I panic, and I don't know what to do, you keep your silence and look at me, and hold my hand. I don't know how you do it, but you have a soothing calming effect on me. I love you, dear wife.
READ ALSO: Touching birthday greetings for husband: 120+ ideas
Funny birthday message for wife
If you think that a romantic birthday message for wife is a cliché, then you might want to greet her uniquely. Try these funny messages and make her the happiest girl on her day.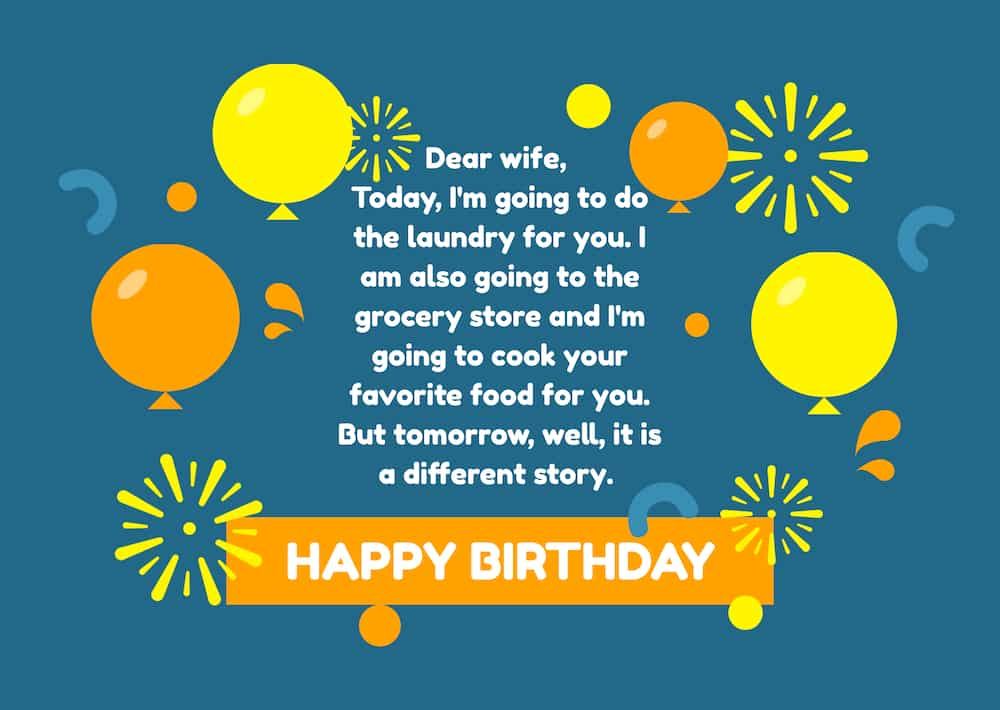 Sweetheart, according to the credit card statements, you love that trendy vintage clothing store downtown. I could save money by finding you something vintage from another place you frequent often. After I dusted off some cobwebs and washed it a couple of times to get the smell of mothballs off – I think this sweater from the back of your closet looks pretty good! Happy birthday, my beautiful trendsetting lover!
If Doc Brown pulled up alongside me in his time machine and asked where and when I wanted to go… I would remember the day we 1st met, so I could fall in love with you all over again... and then I'd probably ask to go back to the Wild West — who wouldn't want to rob a bank with Wild Bill Hickok?!. Happy birthday, sweetheart!
It is hard to believe that it is your birthday because you look way younger every year. Happy birthday my dear wife.
After all these years, you are still my queen. Thank you for being such a benevolent dictator in our marriage. I mean that with all the love (and humor) in the world!
I love your wonderful sense of humor. How you make me laugh effortlessly and how you make jokes and laugh at yourself is so refreshing. You are one who can laugh at anything with your soft and intoxicating type of laughter.
Our kids are so lucky and privileged to have you as a mother. I sometimes envy them. It is that bad. Enjoy your escaped-from-your-mother-womb-day, my silly girl. I love you.
The doctor told me that antioxidants and omega-3 fatty acids are essential for my longevity. But I think that all I need to add years to my life is the love and affection of my dear wifey.
My most brilliant achievement was my ability to be able to persuade my wife to marry me.
Now it's true, I married you for your looks... but not the ones you've been giving me lately, just kidding. Wear your best dress; we will be out for dinner.
If I were a cell phone, you would be the charger. I would be dead without you. I love you. Happy birthday.
I said I would never discuss your age in any way, shape, or form, and I will always keep my promise. And to prove it, I married you when you were 23-years-old and this is the 18th birthday I have kept that promise.
The good news is you are aging like a fine wine. The bad news is I'm giving up drinking. (Although if you were the wine, I'd never stop drinking.) Be ready at 8 pm; we'll go on a date.
Today, I am going to do the laundry for you. I am also going to the grocery store, and I am going to cook your favorite food for you. But tomorrow, well, it is a different story. I love you!
Make your wife the happiest girl on her birthday. Never forget to prepare the best gift and the best birthday message for wife. Also, make sure to stop by a flower shop and buy a long-stemmed rose or a bouquet of sunflowers; this will surely make her day.
READ ALSO: Anime quotes about love: top 30
Source: KAMI.com.gh