Liza Diño shares details of her father Martin Diño's wake: "May we find solace"
- Liza Diño, wife of Ice Seguerra, shared details of her late father Martin Diño's wake
- The former DILG Undersecretary's wake will take place at Loyola Memorial Chapel and Crematorium in Quezon City
- It will start on August 9, 2023, at 4:00 PM, allowing the public to pay respects until August 12, 2023, late Saturday night
- Liza invited friends, family, and well-wishers to honor her father's legacy in a heartfelt remembrance, also providing options for funeral donations to support the family
Ice Seguerra's wife, Liza Diño, has shared the details of the wake of her father, the late former DILG Undersecretary Martin Diño, following his recent passing due to stage 4 cancer. In a heartfelt social media post, Liza Diño provided information about the venue, viewing schedule, and funeral donation options for those who wish to pay their respects.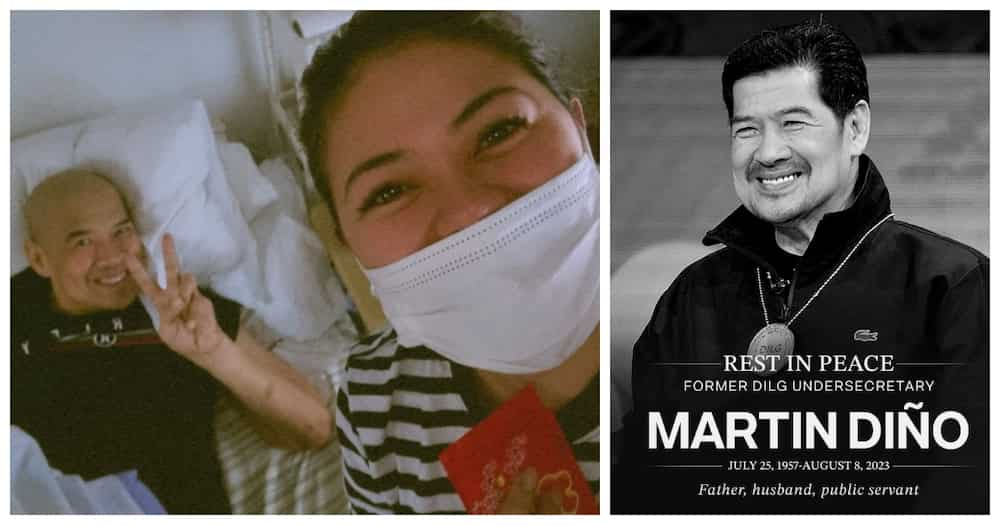 The wake of the esteemed former DILG Undersecretary will be held at the Loyola Memorial Chapel and Crematorium in Commonwealth, Quezon City. The specific room for viewing has been designated as "Premiere 1."
The viewing schedule will commence on August 9, 2023, starting at 4:00 PM. The public will have the opportunity to pay their respects and bid farewell to Martin Diño until August 12, 2023, until late Saturday night.
Liza Diño extended an invitation to friends, family, colleagues, and well-wishers to come together and honor the legacy of her father, who dedicated his life to public service. She expressed gratitude for the outpouring of support and requested the presence of all who wish to pay their respects during this time of remembrance.
In the spirit of unity and empathy, Liza Diño also provided information for those who wish to make funeral donations or contributions to support the family during this challenging period. Donations can be sent to Martin Diño's surviving spouse, Marissa T. Bautista, or his daughters, Mary Liza Diño and Marybell Diño, through designated bank accounts.
Ice Seguerra, or Cariza Yamson Seguerra in real life, is a Filipino actor, singer-songwriter and guitarist. He is also a proud member of the LGBTQIA+ community and the spouse of Liza Diño.
In a previous report, Ice and Liza gave each other ultimate gifts in celebration of their anniversary. They also expressed their thanks for eight years of a strong relationship. The two also shared photos of their bonding moments to show how much they love each other.
Earlier, Ice posted a throwback video showing his family's priceless moment with his late father, Decoroso Seguerra. In the heartfelt video posted on the singer's Instagram page, Decoroso, could be seen singing Filipino lullaby "Sa Ugoy ng Duyan" with Ice and his mother Caridad Yamson-Seguerra.
Source: KAMI.com.gh