Bridesmaid, nakain ang giveaway na sabon dahil mukhang katakam-takam na cake
- A bridesmaid has gone viral after she accidentally ate a giveaway at a wedding
- The token was actually soap, but the design looked more like a sumptuous cake
- It was only after she bit into the soap that she realized that it was not edible
- She also immediately spat the soap out upon realizing it
A bridesmaid has gone viral on social media after a video of her accidentally eating a giveaway from a wedding circulated.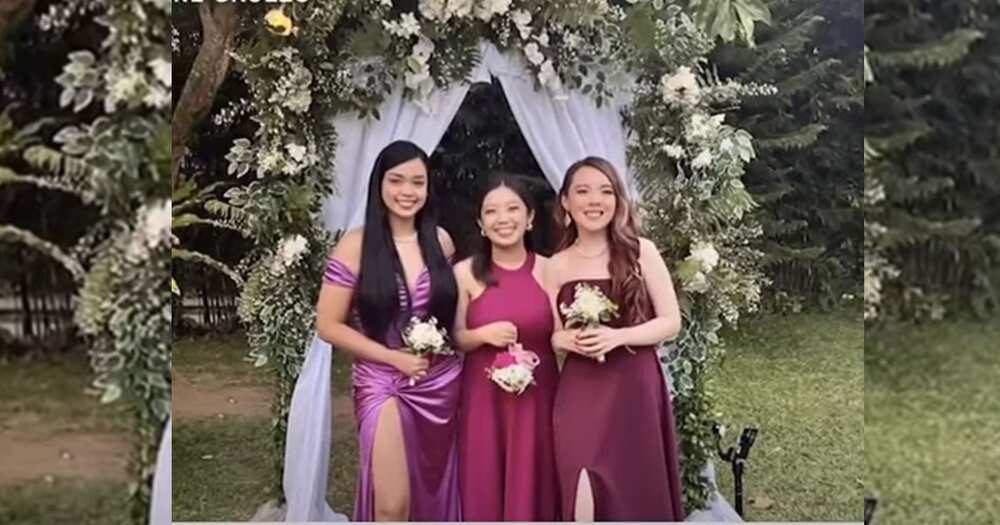 The video was shared with GMA News' Saksi and it showed the bridesmaid having bitten the soap.
As per Kristine Gruezo's story, they were excited to eat the giveaway that they received because it looked delicious.
It was only when she came to bite it that she realized that it was soap.
In fact, based on the look of the bite on the soap, she actually bit it the whole way through.
With the lovely box and the design, one could easily mistake it for a delectable dessert.
There was some sort of caramel-looking design on top with icing that looked like an ube flower.
Posts, such as photos or videos, that arouse the interest of netizens would often go viral on social media. These viral posts appeal to the emotions of netizens, and in rare cases, such could also happen to ordinary people.
One example of a viral photo is that of Pablo Torre, a Fil-Am sportswriter, and his picture wearing a "Sablay." Torre has also explained why he wore a "Sablay" in an event he attended. This was after he earned the ire of some netizens for wearing such in a non-academic event. The "Sablay" is the official sash of the University of the Philippines worn by both graduating students and graduates attending academic activities and functions. He also admitted he never went to the University of the Philippines and the "Sablay" he wore was from his father whom he said graduated from the institution.
On the other hand, an example of a viral video is that of the post about a Grade 12 student in Bacolod City who works as a part-time mime artist and waiter just so he would have money to spend for his school needs. In the post of local media outlet Radyo Bandera Bacolod City, one can see several photos of the student doing his stuff as a mime artist on the side of the road in the said city. According to Radyo Bandera, the student's name is Ritchard and that he is a Grade 12 of the Singcang-Airport National High School. The report also mentioned that after classes, Ritchard would immediately assume his post in the Bacolod downtown area as a mime artist wearing an all-white outfit and entertain passers by.
Source: KAMI.com.gh