E-sabong, sanhi ng pagkalustay ng isang seaman ng P2 milyon; nagsisising marinero, nabaon ngayon sa utang
- A seaman found himself in deep financial abyss after getting addicted to e-sabong and losing some two million pesos in the process
- Reports say that the seaman, whose name was hidden under the alias 'CJ,' kept on betting in e-sabong even if he's already abroad
- 'CJ' revealed that even his co-workers were scolding him because almost his entire salary goes to the online game of chance
- He also said that because of e-sabong, he's sold many of his properties and is now deeply in debt
A seaman found himself in deep financial trouble after his addiction to e-sabong caused him to lose around two million pesos.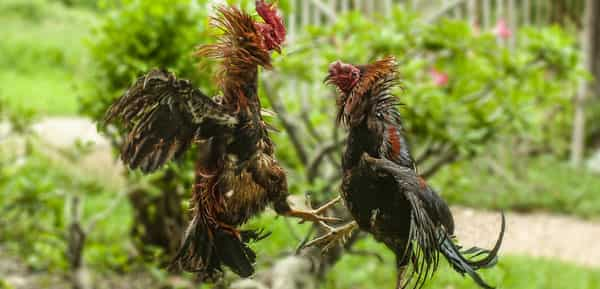 In a report by GMA News '24 Oras,' the seaman, whose name was hidden under the alias 'CJ,' is said to have continued with his vice even while working abroad.
'CJ' said he was able to place bets using e-sabong mobile applications and revealed that among his co-workers, he's the most frequent to play the said game of chance.
"Ako po talaga ang pinakamadalas magsabong sa mga kasamahan ko," 'CJ' said.
He also revealed his co-workers would sometimes scold him because it would seem all his earnings went to e-sabong.
"Minsan pinapagalitan na lang po ng mga kasamahan ko dahil lahat na daw po yata ng sahod ko dinala ko doon," he said.
Because of his 'addiction' to e-sabong, CJ has sold the car given to him by his mom, his wife has also left him and he can't afford anymore his child's needed healthcare.
"Ang hirap naman po na makikita mo ang anak mo na ganoon at wala kang maibigay. Wala ka man lang maipangbili ng gatas o vitamins, gamot sa kaniya. Pero 'yung pagtatalpak mo ang lalaki-laki mong magpatalo," CJ narrated.
He also revealed that it came to the point he wasn't able to buy food anymore because of e-sabong 'addiction.'
Today, CJ said he's very lucky to have a chance in correcting the mistakes of the past. He's also asking the government to suspend e-sabong.
E-sabong is classified by the licensing department of the Philippine Amusement and Gaming Corporation (PAGCOR) as the online placing of bets on live cockfighting events. Such event is broadcasted live from the arena where it is being held. One of the most popular celebrities who is into e-sabong is Gretchen Barretto, oftentimes referred to as 'Lady Tiger' by 'sabungeros.'
Gretchen Barretto called out Sen. Ronaldo 'Bato' dela Rosa for allegedly "grandstanding" during the Senate investigation on e-sabong. La Greta, in a social media post, said that Sen. Bato should just "get down to business." One of those invited by the Senate Committee on Public Order and Dangerous substances panel is Charlie 'Atong' Ang, a 'close friend' of the former actress. The Senate launched its investigation on e-sabong after the reported abduction on separate occasions of more than thirty 'sabungeros.'
Gretchen Barretto has noticed the allegedly expensive watch that Sen. Ronaldo 'Bato' dela Rosa is wearing during the investigation of the Senate Committee on Public Order and Dangerous substances on e-sabong. In a video posted on social media, a voice that seems to sound like Gretchen's pointed out the allegedly expensive timepiece that the senator is wearing. She also questioned the origin of the said watch and appeared to give a hint that a senator might not be able to afford such a timepiece. The video that she posted appears to be a recording of the proceedings of the Senate panel currently investigating the alleged abduction of several 'sabungeros' involved in e-sabong.
Source: KAMI.com.gh