Lolito Go, sinabing nagmakaawa umano kay Moira Dela Torre noon para makautang para sa nakaratay na ama
- Lolito Go, the Pinoy composer who claimed to be the friend of Jason Hernandez and also of Moira Dela Torre, has come out with another post full of information unknown to the public
- In his latest post, he included a screenshot of an alleged conversation with Moira Dela Torre's mom, Racquel, who was identified in the message as "Tita Rocky"
- The Pinoy composer then denied some of the things that "Tita Rocky" claimed in her message, along with the issue of a loan allegedly asked by Lolito from Moira
- He then said that he was begging Moira for financial help then because his father is dying but the singer did not give a single cent and even did not send any donation when Lolito's father eventually died
Lolito Go, the Pinoy composer who claimed to be a friend of Jason Hernandez and Moira Dela Torre, has come out with another post full of information that is unknown to the public.
In his latest post, he included a screenshot of a conversation he allegedly received from Moira Dela Torre's mom, Racquel, who identified herself in the message as "Tita Rocky."
The person who claimed to be "Tita Rocky" alleged some things about Lolito, which the Pinoy composer denied.
One of the claims that "Tita Rocky" made in her message is supposed to be about loans asked for by Lolito from Moira, something that the Pinoy composer denied, saying that there was only one instance that a loan was granted.
He then called "Tita Rocky's" attention to the time when he was begging Moira for help because of his dying father.
"I gave you a chance sa private message para sana ihold back ko na. Pero ayaw nyo po ako sagutin. Nung nagmakaawa rin ako sa kanya dahil nakaratay ang tatay ko, kahit piso di sya nagbigay," Lolito said.
The Pinoy composer then revealed that his father eventually died but Moira did not send even just one peso as donation, saying that she has so many expenses during that time.
"Hanggang sa namatay ang tatay ko, kahit pisong abuloy wala. Marami raw kasi syang gastos," the Pinoy composer claimed in his "resbak" post.
Lolito then lamented that even with such seemingly uncaring attitude, Moira still had the guts to call him friend and comrade.
"Pero lakas ng loob nyang tawagin akong friend, kakampi. Then sa ibang friends, generous naman sya and she gives proper credits," Lolito claimed in his post.
Moira and her camp have still to respond to the latest allegations made by Lolito.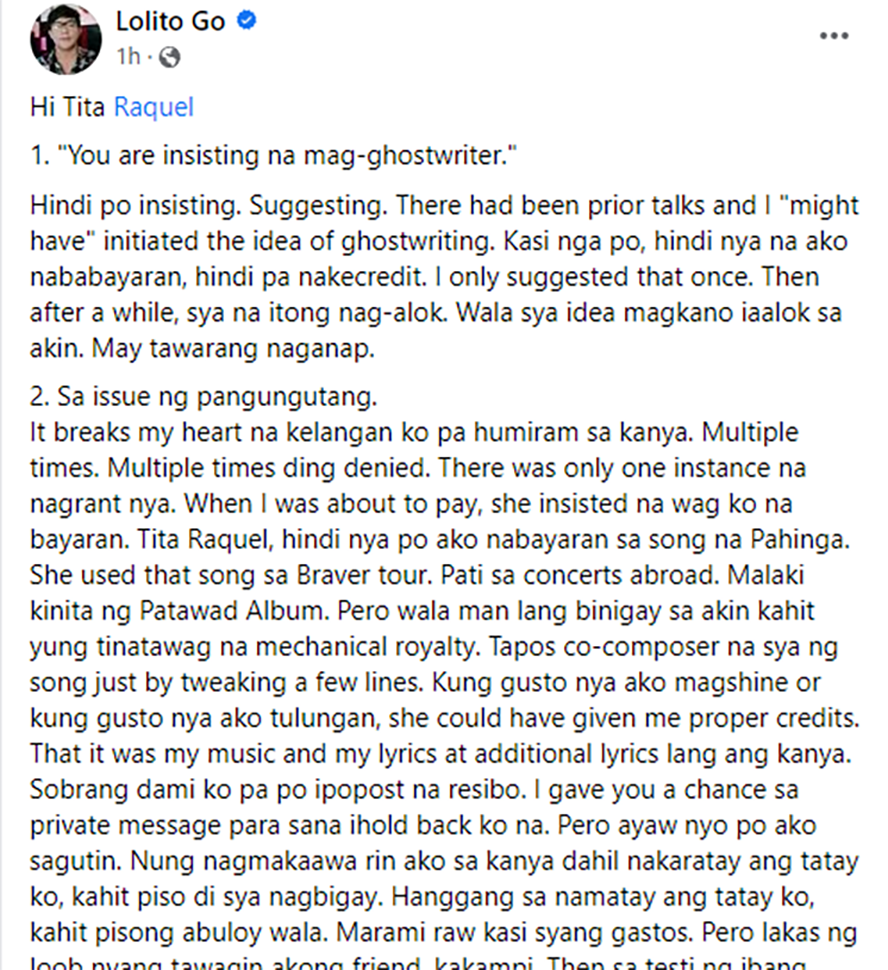 Moira is one of the most popular and in-demand music artists in the Philippines. She rose to fame with her songs "Malaya" and "Titibo-Tibo." Moira, a devout Christian, married singer Jason Marvin Hernandez on January 14, 2019. Last year, the famous singer and her husband Jason decided to part ways. Both Moira and Jason have requested privacy in such a difficult time.
In the same post, Lolito also addressed the issues that were mentioned by Raquel in a comment, where she was defending her daughter from the accusations of the composer. According to Lolito Go, he wrote several songs for Moira, which he did not receive credit for. The composer then named the songs that he allegedly wrote for the singer.
In a related story about Moira, controversial internet personality Xian Gaza, in a Facebook post, said he doesn't care about the issues surrounding Jason Hernandez and his estranged wife, Moira. He also revealed why he discusses the couple's relationship issues online. The controversial Internet personality also revealed what really makes him happy when it comes to similar issues. The separation issue about Moira and Jason again reached another fever pitch after the latter posted some photos with a girl, while on the other hand, an alleged friend of his posted some things about Moira.
Source: KAMI.com.gh