Megan Young mourns death of her cat Salem: "He was with us for 13 years"
- Megan Young is mourning the death of Salem, her pet cat for 13 years
- The Kapuso star is having difficulties processing her beloved cat's death a week after he passed away
- She took to Instagram to recall some of the moments with Salem that she treasures
- Megan also uploaded some of her cute photos with the black cat, who Megan described as a loving and affectionate animal
Megan Young is grieving over the death of Salem, her pet cat for 13 years. The actress is having difficulties processing her beloved cat's death a week after he passed away.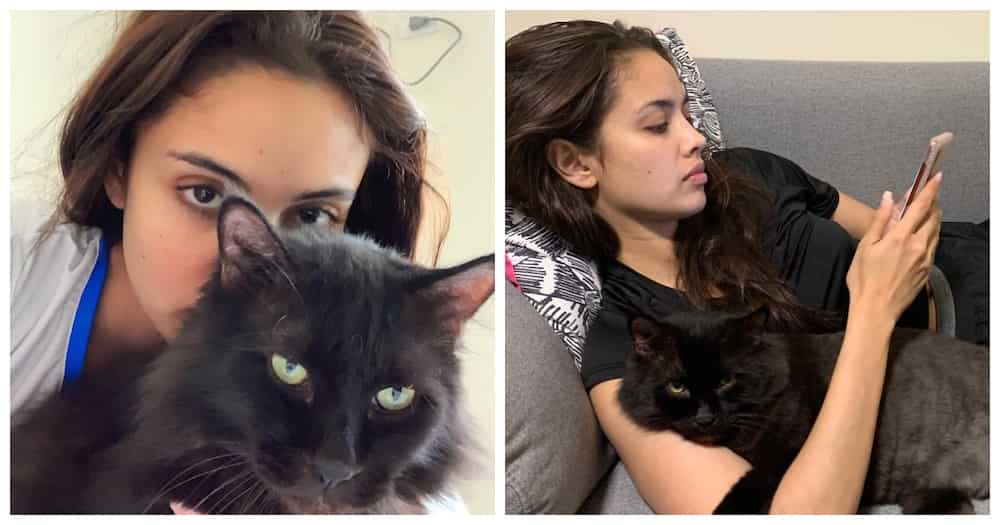 In her new Instagram post, Megan recalled some of the moments with Salem that she treasures. Furthermore, she uploaded some of her cute photos with the black cat, who Megan described as a loving and affectionate animal who likes food.
"My favorite photos of us. Same vibes, same feels, looks sungit on the outside but we're really softies.
"My baby boy Salem was with us for 13 years and I'm so happy I had all those years to be your momma my squishy, sungit pero malambing, matakaw sa pagkain bb
"It's been a week since you've crossed the rainbow bridge but it's been so hard trying to process this… I loved when I would rest my head on you and I could hear you purring loudly. I loved when you would sneak jump on my lap when I was gaming on my pc. I loved when you would be malambing but only wanting to eat my hair hahahah.
"I loved when you would just snuggle with me when I would take a nap. I loved when you would steal the chicken we were prepping to cook. i loved when you would always be by the door when we got home. I love you so much my baby boy Salem. Rest well… rest easy my love," Megan said.
Swipe to see all of Salem's adorable photos:
Megan Young is a Filipina actress who joined and won the title of Miss World 2013. Her career in the showbiz industry started when she joined as a contestant on the reality television show "StarStruck". She tied the knot with actor Mikael Daez in 2020.
In other news, Megan Young and Mikael Daez had a wonderful vacation in Subic. During their vacation, Megan and Mikael feasted on Korean barbeque. They then walked around and accidentally found the chapel – San Roque Chapel – where they got married in 2020. The celebrity couple took photos in front of the chapel to "immortalize their moment of realization."
Previously, Megan and Mikael Daez had finally revealed reasons why they call each other "Bonez" and "Fofo". Mikael calls the actress and beauty queen "Bonez" while Megan calls the Kapuso actor "Fofo".
Source: KAMI.com.gh