Karen Davila, balik studio bilang TV Patrol anchor: "Just like that… My first day back to work in the studio"
- Karen Davila happily shared on her social media account that she's back on TV Patrol after her bout with COVID-19
- The news anchor and TV presenter, along with her co-anchor, Gretchen Fulido, contracted the highly contagious disease in December of last year
- Their other co-anchors, Bernadette Sembrano, contracted the disease last year, while Alvin Elchico got the infection early this year
- In her post, Karen encouraged everyone to get vaccinated for their own selves and for their families
Karen Davila, TV presenter and news anchor, happily shared on her Instagram account that she's back on TV Patrol after her bout with the coronavirus disease.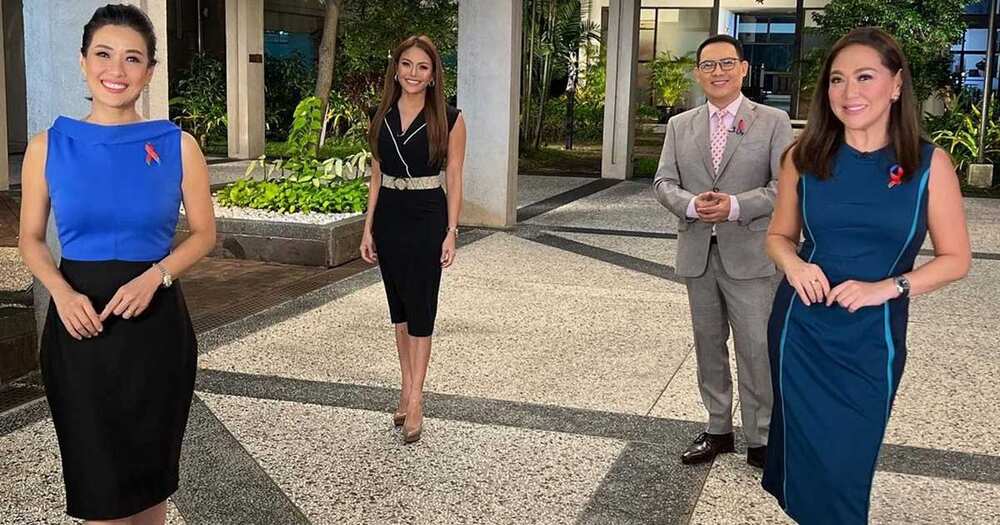 The veteran journalist and broadcaster is a news anchor of ABS-CBN's TV Patrol news.
She contracted COVID in December of last year, along with Gretchen Fulido, her co-anchor in the program.
In her post, Karen said that she's back on the program after her bout with COVID.
"And just like that… my first day back to work in the studio! WE ARE BACK on #TVPatrol," she wrote in her post.
The veteran journalist then shared that she, along with her co-anchors were all COVID survivors.
"Did you know we are all COVID19 survivors? Bernadette caught the virus first - early on last year, Gretch & I together over the holidays and Alvin early this year," Karen wrote.
She then said that most of those she knew also tested positive before or recently, though their symptoms have been mild.
"There is not one family I know who has been spared from COVID but thank God most of the symptoms are mild," she revealed.
She then expressed her gratitude for the gift of life and shared the lesson she learned from COVID infection.
"We are starting the year grateful for the gift of LIFE. Thank you Lord Jesus and our loving Father in Heaven for being the hope in our lives! Love you Jesus If there is one thing COVID has taught all of us, is not to take anyone and any day for granted," the veteran journalist wrote.
Karen also encouraged everyone to get vaccinated to get additional protection from the deadly disease.
"Get yourself vaccinated and boostered already! Do it out for love for yourself & your family!" Karen said.
Karen Davila, in one of her episodes on her vlog, featured the champion of the first edition of The Voice Kids Philippines, Lyca Gairanod. Her main question was how is Lyca now seven years after winning the popular competition. In the vlog, they also discussed a lot of things that included the reason why Lyca sold the house that was given to her as part of her winnings and go back to live where she grew up. The young singer also showed Karen her home and how they live.
Recently, the veteran journalist hit back at a basher who had a rude remark on her and family's recent vacation in Boracay. She received the criticism after she and her family tested positive for COVID-19. According to the basher, all Karen does is to "travel and go out with her family." This prompted the veteran broadcaster to reply why they had the much-needed vacation.
Earlier, Karen reported that she, along with her family, tested positive for COVID-19. She expressed gratitude that they only had mild symptoms and in fact, she was still able to attend her program on ANC while recuperating at home.
Source: KAMI.com.gh