Karen Davila pays tribute to her 89-year-old mother: "Thank you Lord"
- Karen Davila shared a heartwarming post about her mother's 89th birthday
- She shared clips of her mother's birthday lunch with her loved ones
- The broadcaster's mother also had to undergo a physical therapy session on her birthday
- According to Karen, her mother has been diagnosed with mild Parkinson's disease and neuropathy issues
Renowned broadcaster and journalist Karen Davila took to Instagram to share a touching tribute on her mother's 89th birthday, a celebration filled with love, family, and hope. In a post that touched the hearts of many, Karen provided a glimpse into the special day her family had arranged for her mother, who is currently facing health challenges.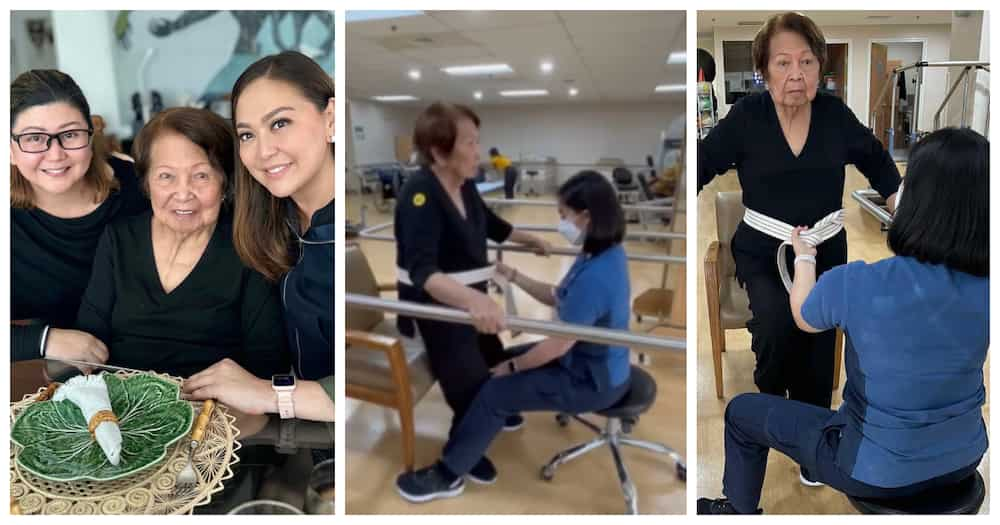 In the Instagram post, Karen shared snapshots and clips from her mother's birthday lunch with the family, where smiles and laughter prevailed. But what truly warmed the hearts of her followers was the inclusion of her mother's physical therapy session, highlighting the determination and resilience that define her spirit.
Karen's heartfelt caption conveyed the challenges her mother faces, being diagnosed with mild Parkinson's disease and neuropathy issues, which have impacted her mobility. Yet, Karen emphasized the family's joy in witnessing her mother's unwavering determination to keep trying.
She wrote, "Diagnosed with mild Parkinson's & neuropathy issues, she isn't walking or moving as fast as she used to but we are happy she is motivated to keep trying. We grew up idolizing our mom. She was responsible and a very hard worker. It's hard to see her at times struggling but old age is a blessing in itself too."
The heartfelt message concluded with gratitude as Karen thanked the Lord for her mother and expressed the deep love the family holds for her.
Swipe to see all of the pics and clips:
Karen Davila is a journalist, radio broadcaster, newsreader and television presenter in the Philippines. She is best known for her news programs on ABS-CBN. Karen has also found immense success as a YouTube content creator. She is now one of the anchors on ANC.
In a past report, netizens praised Karen for her calmness and professionalism amid an earthquake. In a video she shared on her social media account a video showing her doing a live interview as an earthquake rocked parts of the country. She was conversing with Negros Oriental Rep. Arnie Teves, Jr. for ANC's "Headstart" and both of them felt the earthquake. It is also noticeable in the video how the quake shook Karen's condo unit in Makati.
Previously, Karen trended online because of the post of Dennis Padilla, who asked her to be fair to all. The comedian said that the journo also needs to interview him as well after she conducted the same with Dennis' daughter, Julia Barretto. It can be recalled that Karen recently interviewed Julia where the latter unleashed some explosive details about her father. During that particular interview, the 'Expensive Candy' actress said that she's not yet ready to forgive her father.
Source: KAMI.com.gh