Nadine Lustre's boyfriend Christophe Bariou opens up on their choice to be vegans
- Nadine Lustre's boyfriend, Christophe Bariou, explained why they became vegans
- Bariou explained that his love, respect and compassion for animals are the main reasons
- According to him, he does not see a reason to kill animals for food when there is no existential threat or necessity
- Furthermore, Bariou said that veganism provides plenty of health and environmental benefits
Christophe Bariou, the boyfriend of Filipino actress Nadine Lustre, opened up on Instagram about his decision to embrace a vegan lifestyle. The post sheds light on the reasons behind his choice, emphasizing a deep sense of love and compassion for animals.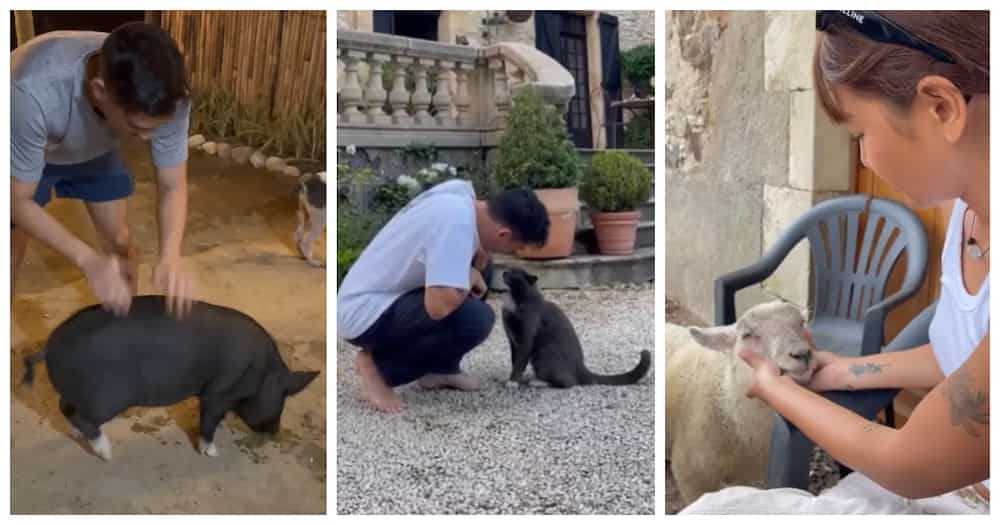 He acknowledged the undeniable health benefits of a plant-based diet, emphasizing its potential to combat life-threatening diseases. Additionally, he highlighted the alarming impact of the animal industry on the environment, noting it as one of the greatest threats to humanity.
However, what seemed to be the driving force behind Bariou's transformation was his profound empathy for animals. He discussed how learning about the hidden horrors of animal industry practices had a profound impact on him, causing him to reevaluate his choices as a consumer. He emphasized that his decision to go vegan was rooted in the belief that every innocent animal deserves a life free from harm and suffering.
Bariou passionately argued that the sensory pleasure derived from consuming animal products pales in comparison to the value of an animal's entire existence. He called for a shift in perspective, challenging the cultural norms that have normalized the exploitation of animals for taste and sensory pleasure. His message resonated with the notion that animals, just like humans, seek love and friendship and should not be treated as commodities for consumption.
In his post, Bariou also addressed the industry's attempts to obscure the harsh realities of animal farming by marketing terms like "grass-fed," "organic," "free-range," and even "humanely killed." He argued that there is no morally justifiable way to take the life of a sentient, innocent being when there is no existential threat or necessity.
"'What inspired you to become vegan?'
"Frankly, there are only good reasons to choose non-violence and go vegan. You can do it for your health, budget, or the environment, but in the end, what makes it a lifelong change & motivation is the love and compassion we all feel for animals.
"Yes, the health benefits are incredible. Yes, a plant-based diet can address most life-threatening diseases we face. Yes, I learned that the animal industry is silently one of the biggest threats to humankind.
"But when I learned & saw the horrors of animal industry practices (something that was hidden and/or romanticized to us our whole life), I could not handle the fact that I was directly voting through my purchases for such nauseating things to happen to loved ones.
"I realize that even if, once upon a time, we were dependent on animals and we grew as a species by exploiting them, this is now all irrelevant. We are literally just killing animals for fun, as in taste/sensory pleasure, sometimes under the cover of gastronomy, culture or habits.
"Vegans are simply trying to say that the entire life of an innocent soul, someone that just wants to be loved & be friends with us, is worth more than a sandwich or any other dish. They matter more than sensory pleasure (that you can get in other ways) that will only last 5 mins for us, while for them, it will cost them their entire existence through immeasurable pain.
"This is not our fault; we were raised & blinded every day to believe it is something acceptable to do & taught to bury deep down what we felt when we were a child, that this is wrong & unfair.
"The industry is trying to confuse us by debating "animal welfare" & making us forget about these atrocities by selling "grass-fed," "organic," "free-range" & the most cynical of all, "humanely killed" animals.
"There might be fewer worse ways to do something, but there is never a good way to do something fundamentally harmful and violent. When there is no existential threat or need, killing & taking the life of a sentient, innocent being cannot be morally justified," Christophe explained.
Nadine Lustre is a popular Filipina actress who rose to fame after appearing in Diary ng Panget: The Movie. She also starred in various 'teleseryes,' including On the Wings of Love, which became popular not only in the Philippines but also abroad. She used to be the girlfriend of actor James Reid. Nadine is now dating a non-showbiz guy named Christophe Bariou.
Last May, the actress stunned the netizens with her lovely photo that has been making rounds online. Her boyfriend, Christophe Bariou, initially uploaded it via Instagram stories. Afterward, their fans reuploaded it on various social media platforms, such as Facebook. Then, many netizens reacted to it and showered Nadine with heartwarming comments.
Her previous post about her boyfriend also sent kilig vibes to her followers. Her post contains photos giving glimpses of their recent romantic date. The couple's look for the date and the food they ate were seen in the heartwarming snaps. The multi-awarded actress' post immediately received thousands of likes and positive comments on IG.
Source: KAMI.com.gh