If you're an avid user of social media websites such as Facebook, Twitter, and Instagram, then there is a huge chance that you have read a post with a "hugot" line or two. Hugot lines love are catchy and clever phrases that come from deep sentimental emotions, usually pertaining to love and friendships. What are the best hugot lines to make you fall in love?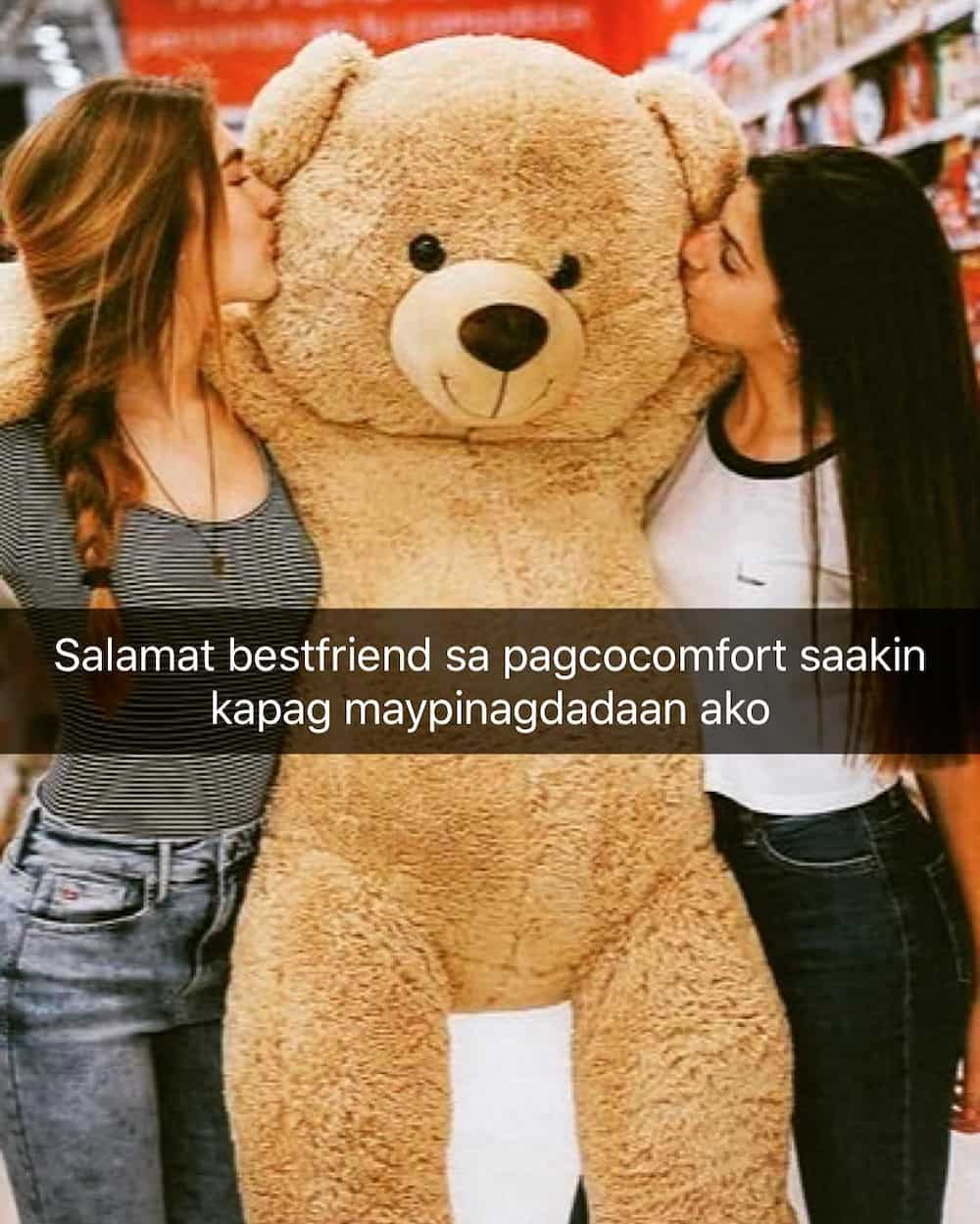 The quick emergence of hugot in our culture can perhaps be attributed to the classic romantic drama films that Filipinos are so fond of binging. "One More Chance" (2007) and its sequel gave us a taste of the most heavy-hearted hugots known to man. Of course, who can forget the recent "Hello, Love, Goodbye" for bringing us the most relatable hugot to make us cry our hearts out?
What is hugot lines?
"Hugot lines" or just "hugot" has a very loose definition. In one hand, they are brief phrases and catchlines that are written with a deeply-rooted emotion typically the result of a broken heart or another kind of problematic or inconvenient situation. On the other hand, hugot lines are simply dramatic quotes taken from movies, music, or quotes by popular people.
On the rise of Filipino cyber pop culture, creative hugot lines found their place in social media platforms such as Facebook and Twitter. In these platforms, the users' hugot quotes can be spun from almost anything unrelated. Here's an example of a hugot lines tagalog:
"Ate, pabili po ng kape" "Anong kape?" "Yung matapang. Yung kaya akong ipaglaban". ("Miss, I would like to buy some coffee" "What kind?" "The strong kind. The kind that's strong enough to fight for me.")
During the early period of their trend, the creation "hugot lines love life" was a competition of quick wits and creativity between friends in social networks to see who can turn the most unrelated subject into something melancholic and overly sentimental. Here's an example of a cleverly hilarious hugot tagalog about a Halloween costume.
"Alam mo kung anong costume ko ngayong Halloween? Commitment. Doon ka takot 'di ba?" (You know that my Halloween costume is? It's commitment. That scares you, doesn't it?)
As you can see, the early versions of hugot lines begin as a seemingly normal statement then takes an overdramatic turn, such as this one:
"Naramdaman mo ba yung lindol? Siyempre hindi. Manhid ka kasi." (Did you just feel the earthquake? Of course not. Because you are emotionally numb.)
READ ALSO: Nakakalokang "hugot lines" ng isang estudyante tungkol sa love life at pag-aaral, viral
Needless to say, hugot lines drawn from popular movies and music made a major contribution to the spearheading of this trend. Almost everyone you ask knows about the classic film hugot lines such as:
"She had me at my worst. You had me at my best. Pero binaliwala mo ang lahat... and you chose to break my heart." (She had me at my worst. You had me at my best. But you took what we had for granted... and you chose to break my heart.") - One More Chance (2007)
"Mahal mo ba ako dahil kailangan mo ako? O kailangan mo ako kaya mahal mo ako?" (Do you love me because you need me? Or do you need me because you love me?) - Milan (2004)
We, Filipinos, just do not seem to have enough feelings bottled up and make a hugot about. After all, hugot is the root word for the phrase "may pinaghuhugutan" which means "drawing emotions from a struggle".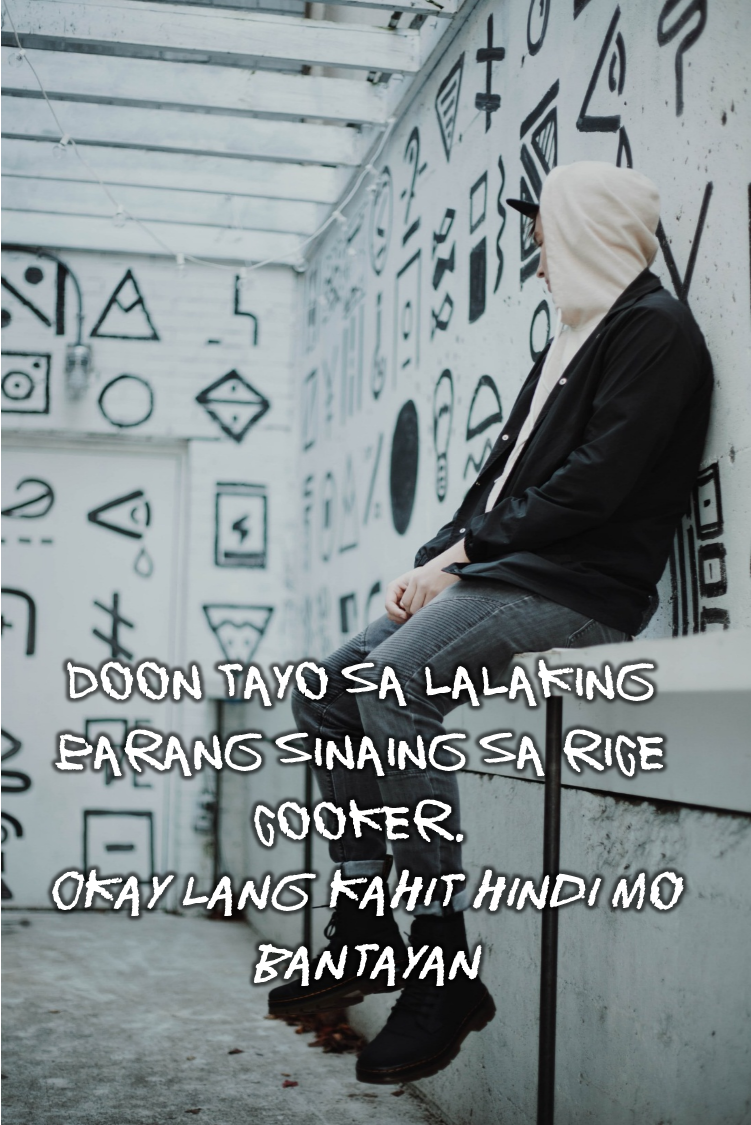 How to write hugot lines?
The definition of what hugot is has changed drastically over the past few years. Writing hugot used to be a craft that utilized quick wits and sharp humor. Fortunately, today, it is a much simpler task that only requires writing about sadness and heartbreak. For most of the time, the words hugot and quotes can be used interchangeably because of how synonymous they seem.
In social media, just write about anything that correlates to nostalgia and loneliness and use a background with sad aesthetics and warm, orange-ish tone. Here's an example: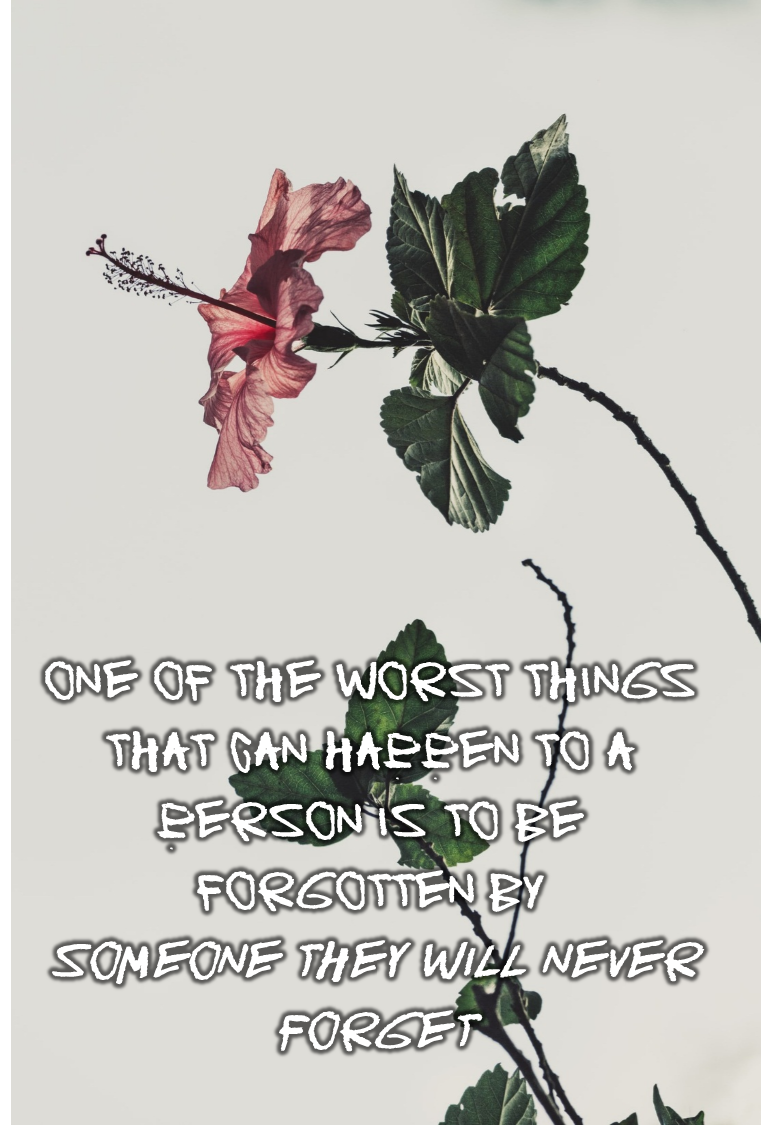 You can also write hugot lines love life tagalog quotes in plain text. Most hugot lines love Tagalog 2019 are written this way.
Hugot lines love: Top 50
Love can be a difficult and painful endeavour and as such, others may fail in search for it. In this failure that results in a broken heart, we find our most downtrodden hugot lines love Tagalog. Here are some great hugot lines to remember about one-sided love:
Hindi ka tanga kung nagmamahal ka nang sobra. Mas tanga ang taong minamahal na nga, pero nakukuha pang maghanap ng iba.
Kahit anong gawin mo, kung kaibigan lang ang turing niya sa iyo, huwag ka na umasa. Dahil kung umasa ka, ikaw lang ang masasaktan.
Minsan may mga taong iniiwasan mong pansinin pero ang puso mo gustong-gusto siyang kumustahin.
Mas okay na ang mahulog sa mabahong kanal, kaysa naman sa taong hindi ka naman mahal.
Love parang barya lang po sa umaga. Alam mo naman na di ka masusuklian nagbigay kapa ng buo.
Minsan may mga taong iniiwasan mong pansinin pero ang puso mo gustong-gusto siyang kumustahin.
Taken na nga, for granted naman hahaha
Sa pag-ibig, walang bulag pipi at bingi, pero tanga madami.
Bakit pag siya, call, sa'kin text? Pag siya laugh, sa'kin smile? Siya 'take care,' sa'kin 'okay.' Bakit siya, love mo – ako friend lang?
Darating yung araw kung saan masasabi mong sana hindi na lang tayo nagkakilala.
Recent original Pinoy music (OPM) has some great and unforgettable love quotes Tagalog playing in the local radios, too. Here are some from musicians This Band, Ben&Ben, Moira, and December Avenue.
Alam kong mali na, pero 'di ko kayang bumitaw, ika'y masasaktan, dahil pangako ko'y walang iwanan.
Ako'y gigising na sa panaginip kong ito, at sa wakas ay kusang lalayo sa iyo.
Kaya sa natitirang segundong kayakap ka, maaari bang magkunwaring akin ka pa?
Ang hirap 'pag 'di mo alam ang 'yong pupuntahan, kung ako ba ay pagbibigyan? O nalilito lang kung saan?
Kung hindi rin lang ikaw ang dahilan, pipilitin ba ang puso kong hindi na masaktan?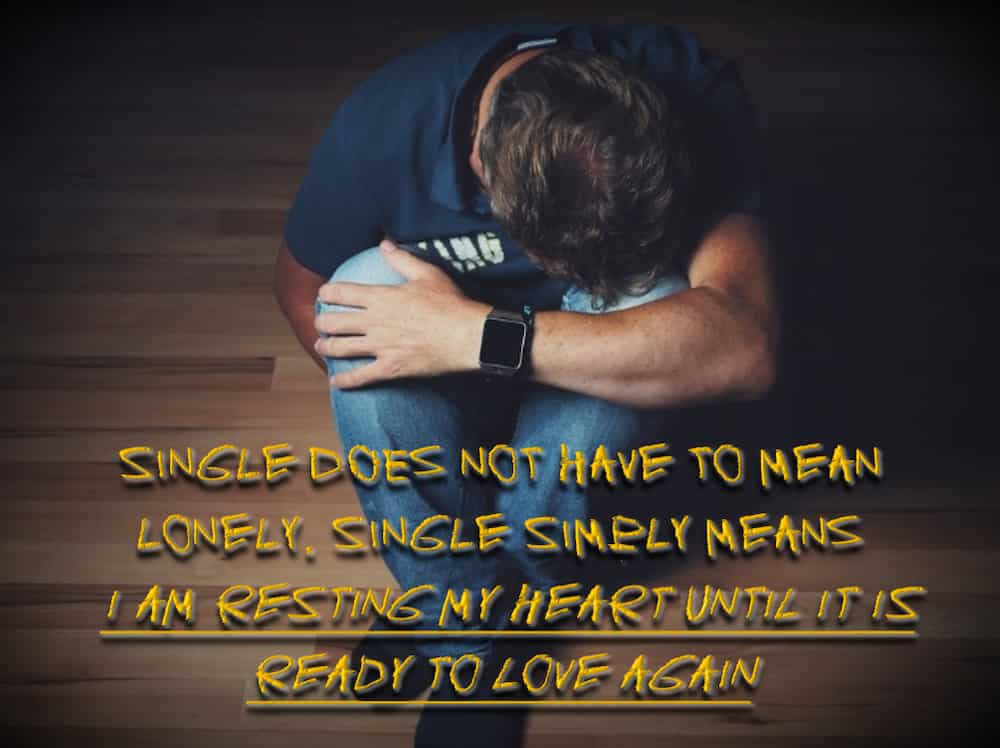 Filipino romantic drama flicks are the biggest avenues for the exploration of dysfunctional relationships and broken friendships. Here are the most memorable hugot lines in Filipino films of all time:
"I deserved an explanation. I deserved an acceptable reason." - Starting Over Again (2014)
"Oh yes, kaibigan mo ako. Kaibigan mo lang ako.. And I'm so stupid to make the biggest mistake of falling in love with my best friend." - Labs Kita... Okey Ka Lang? (1998)
"May mga maswerteng tao na nahanap na yung taong para sa kanila. May mga tanong patuloy na naghahanap at may iba na sumuko na. Pero yung pinakamasaklap, eh yung na sayo na pinakawalan mo pa." - My Amnesia Girl (2010)
"Kasi ang totoo, umaasa pa rin akong sabihin mo: Sana ako parin. Ako na lang. Ako na lang ulit." - One More Chance (2007)
"Huwag mo akong mahalin dahil mahal kita. Mahalin mo ako dahil mahal mo ako. Because that is what I deserve." - Barcelona: A Love Untold (2016)
"Wala naman magbibilang kung ilang beses kang nagpakatanga 'di ba? " - English Only Please (2014)
"Sana lumayo ka na lang! Eh kaso, syinota mo ako eh! Syinota mo ang best friend mo" - Paano na kaya, (2010)
"Kung mahal mo ako, bakit pinapapili mo ako?" - Hello, Love, Goodbye (2019)
"You made me believe. You made me believe we had a chance." - Minsan Minahal Kita (2000)
"Isang beses lang akong nagtanong kung kaya ko pa ba. Isang beses lang akong nagkaroon ng lakas ng loob para sabihin kung ano talaga 'yung nararamdaman ko - na nasasaktan na 'ko, na nauubos na 'ko." - The Hows of Us (2018)
READ ALSO: Nakakaaliw na mga test folders na may mga hugot tungkol sa "cheating", viral
Some people go through the journey of life in a much more difficult path than others. In their way, there might be sorrow and loneliness. Here are the most relatable hugot lines English to take a note of in these times.
Sometimes, we need to be hurt in order to grow, fail in order to know, lose in order to gain. Some lessons are best learned through pain.
You can't go back and change the beginning. But you can start where you are and change the ending.
I'm selfish, impatient and a little insecure. I make mistakes, I am out of control and at times hard to handle. But if you can't handle me at my worst, then you sure as hell don't deserve me at my best.
Relationships are like glass. Sometimes, it's better to leave them broken than try to hurt yourself putting it back together.
Let my soul smile through my heart and my heart smile through my eyes, that I may scatter rich smiles in sad hearts.
The pain you feel today can be the strength you gain tomorrow.
If you don't like the road you're walking, start paving another one.
Some days are just bad days, that's all. You have to experience sadness to know happiness, and I remind myself that not every day is going to be a good day, that's just the way it is!
Moving on doesn't mean you forget about things. It just means you have to accept what happened and continue living.
Being sad and being depressed are two different things. Also, people going through depression don't look so, while someone sad will look sad. The most common reaction is, 'How can you be depressed? You have everything going for you. You are the supposed number one heroine and have a plush home, car, movies... What else do you want?"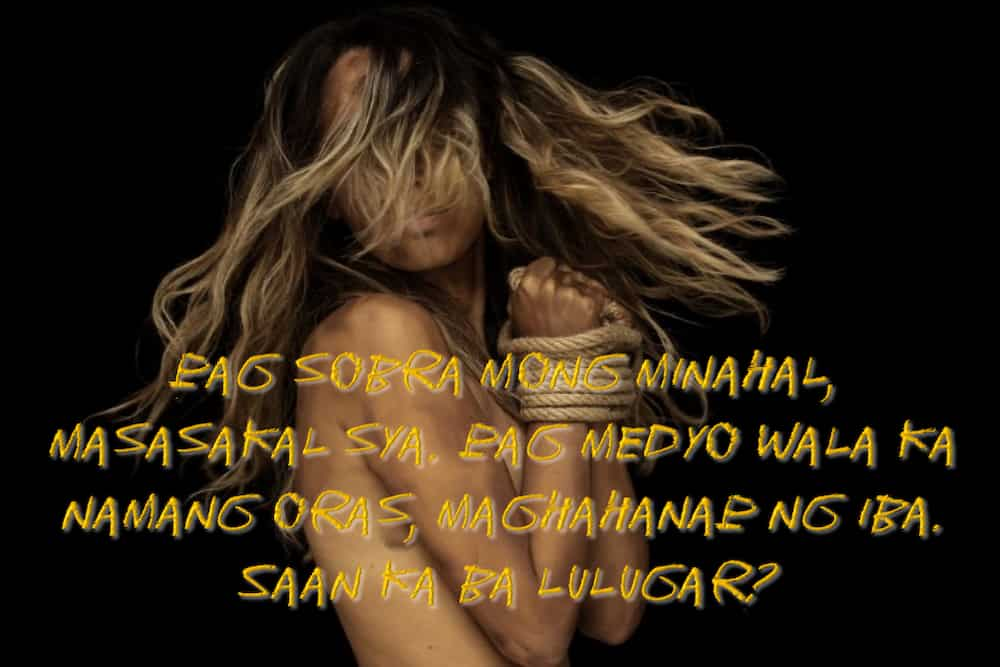 Naturally, Hollywood romantic drama films are also a sanctuary for forbidden relationships and unrequited love. Nobody can forget the deepest, most heart-wrenching hugot lines love quotes English from Hollywood films of all times:
"I wish I knew how to quit you." - Brokeback Mountain (2005)
"We accept the love we think we deserve" - The Perks of a Wallflower (2012)
"It doesn't matter if the guy is perfect or the girl is perfect, as long as they are perfect for each other." - Good Will Hunting (1997)
"But, Gus, my love, I cannot tell you how thankful I am for our little infinity. Hold on.. You gave me a forever within the numbered days, and for that, I am eternally grateful." - The Fault in our Stars (2014)
"Promise me you'll survive. That you won't give up, no matter what happens. No matter how hopeless." - Titanic (1997)
"When you realize you want to spend the rest of your life with somebody, you want the rest of your life to start as soon as possible." - When Harry Met Sally (1989)
"Call me by your name and I'll call you by mine." - Call Me By Your Name (2017)
"In my opinion, the best thing you can do is find a person who loves you for exactly what you are." - Juno (2007)
"The greatest thing you'll ever learn is just to love, and be loved in return." - Moulin Rouge! (2001)
"I don't know if we each have a destiny, or if we're all just floating around accidental—like on a breeze—but I think maybe it's both. Maybe both is happening at the same time." - Forrest Gump (1994)
Talking about music, the hugot lines love English in Filipino songs are just as heartbreaking as the ones in English.
We just have to say our love was true but has now become a lie
Because you've gone and left me standing all alone and I know I've got to face tomorrow on my own
You were just a dream that I once knew, I never thought I would be right for you
Your love is something no one ever can replace, I can't imagine life with someone else
Even if there is pain now, everything would be all right, for as long as the world still turns, there will be night and day.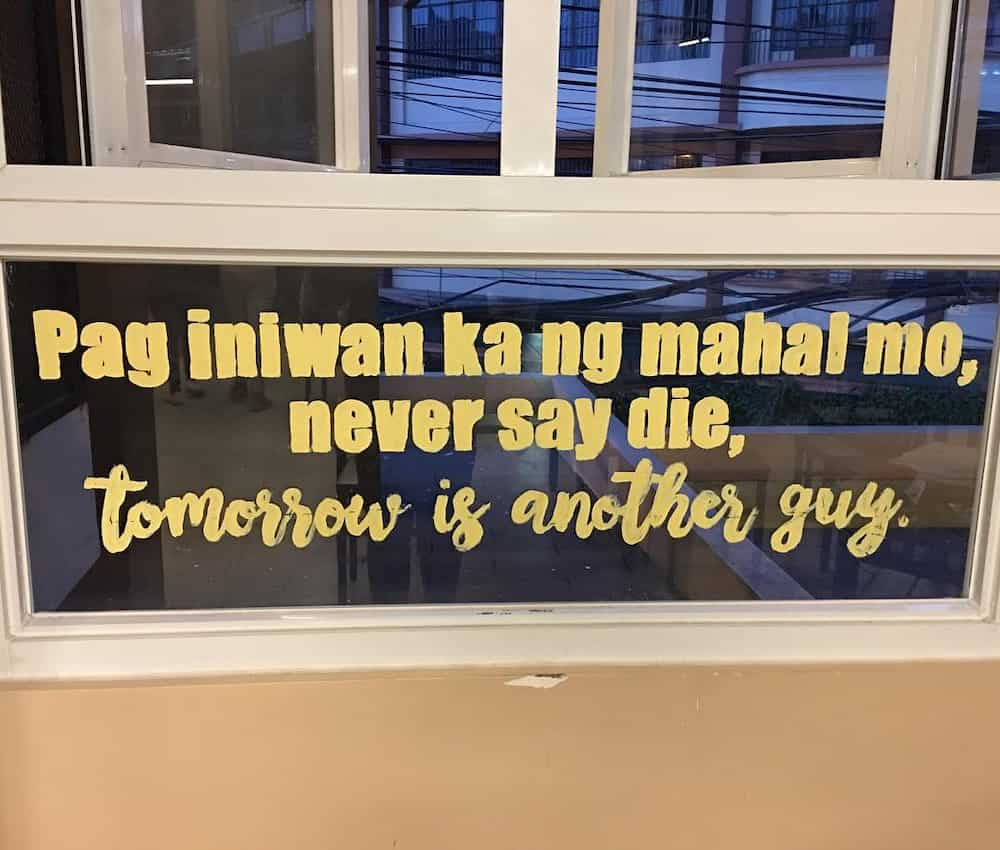 Stressed? Broken? In love? Whatever you're going through, you can be certain that there is always a perfect hugot lines love for every emotion.
READ ALSO: Top 10 Filipino movie quotes that will make you feel everything all over again
Source: KAMI.com.gh