Beware! A young man was hospitalized after instant noodles and cola binge
-A young man named Xiao Chao was hospitalized after taking instant noddles and cola together
-Chao consumed two packets of noodles and two bottles of soda
-The poor young man's intestines and stomach were inflamed with lots of gas
PAY ATTENTION: Click "See First" under the "Following" tab to see KAMI news on your News Feed!
Instant noodles are very convenient when we are dealing with busy schedules or when we are just simply lazy preparing a proper meal. Soft drinks, on the other hand, are necessities especially during hot summer days. But, what would possibly happen if you consume instant noodles and drink soda at the same time?
The story of Xiao Chao, a 25-year old man from Hangzhou, China, went viral after eating too much of these foods. He cooked himself a supper that contained two packets of noodles and two bottles of soft drinks. Soon after, he experienced abdominal pains and massive bloating that caused him to quickly rush to the hospital.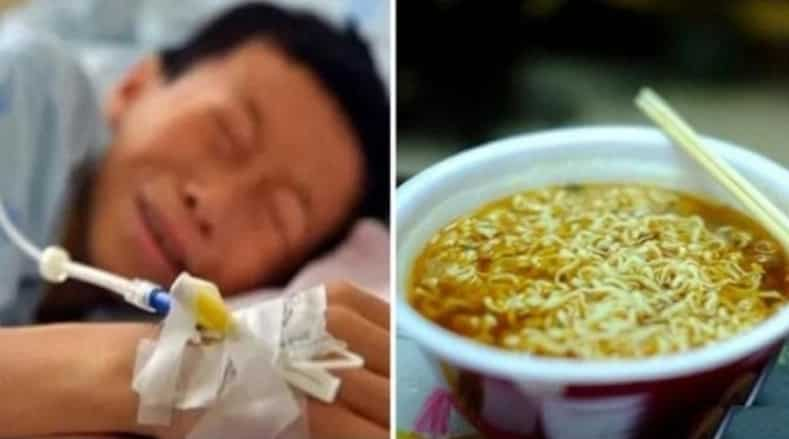 The doctors found out that his intestines and stomach were inflamed with lots of gas. At last, they had to make use of the tube for transferring the gas out and oust it from Chao's body. His heart rate returned to normal and his condition regularly became stabilized after the operation.
Consistent with the story, the severe abdominal pain that Chao experienced was due to the carbonated drink and instant noodles he consumed the night before. He was reported to have trouble sleeping due to the pain in his stomach. As per the explanation of a Science professor from Chongqing Technology and Business University, this disastrous incident was mainly because of the strong acid-base reaction. Soft drinks are acidic while instant noodles consist of alkaline substances such as edible glue.
So, it is always important to watch out for your diet, otherwise, you could just puff up like a balloon!
Can you help me cheat? We asked this crazy question to random people on the street during our social experiment time. Let's check their answers.
Philippines Social Experiment: Who Will Help You Cheat On Your Wife? - on Human Meter YouTube Channel
Source: KAMI.com.gh