Taob kayo kay Daddy! Paul Jake Castillo humors netizens on comments about Baby Joaquin's safety
- When Kaye Abad posted a photo of Baby Joaquin, some netizens think they are risking his safety
- The photo received lots of comments from concerned parents and netizens
- Paul Jake Castillo responds to their comments
As a parent, we all have our different views and takes on how we raise our children.
It is normal to have different opinions on what is right and what is wrong, as long as we engage in healthy discussions.
KAMI reported earlier that first time mom Kaye Abad's recent post on her Instagram gained netizens' attention.
She posted a photo of baby Joaquin sleeping on his crib with pillows on his side and on the topmost part of the crib, near his head.
The photo received comments from netizens reminding Kaye that it is not safe to put pillows while the baby is sleeping, as it could accidentally fall on his face and lead to suffocation.
Read some of their comments below: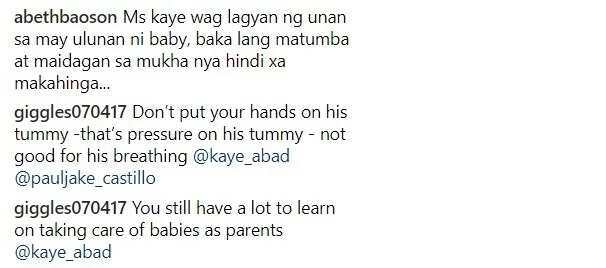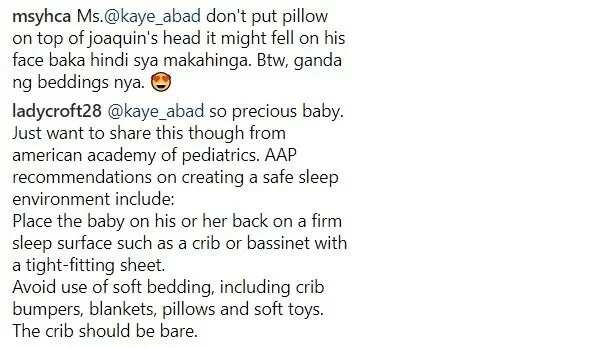 Her husband Paul Jake Castillo, came to the rescue and replied to them.
He wrote: "picture purpose guys... si Joaquin na tutulog naka tayo Yan. Hindi naka higa."
He sarcastically replied, saying that baby Joaquin does not sleep that way, as shown in Kaye's picture, but by standing up.
Paul Jake also said "picture purpose guys," meaning they only placed the pillows there for the sake of taking pictures.
It seems that after they took the photos, they also removed the pillows which can cause accidents.
Read Paul Jake's super funny reply to the netizens who questioned their baby's safety.

Paul Jake and Kaye officially got together on April 14, 2014 and they admitted their relationship a month after.
The couple got engaged last May 2016 and tied the knot on December 9, 2016, in a wedding ceremony held in Cebu.
Learn about the inspiring story of Cheneleng Pili, who was able to reach her dreams through hard work and determination..
Road to success: I cried a hundred times - makeup artist and business owner Cheneleng Pili - on KAMI YouTube Channel
Source: KAMI.com.gh