Cost of Isabelle Duterte's grand debut is not for the faint of heart
- Isabelle Duterte's grand coming out party was every bit luxurious
- It made headlines all over the country
- The total cost of which runs in several millions
Isabelle Duterte did not pull the stops when it concerned her grand debut party. It was something akin to those you see in movies, fit for princesses of the royal family. Only this time around, Isabelle is the granddaughter of Pres. Rodrigo Duterte, daughter of former Davao City Vice Mayor Paolo Duterte.
The President was a no-show at the much-celebrated debut despite the fact that Isabelle was dubbed as one of the favorite "apos" of the Pres. Duterte by Mannyandpie Calayan where the debutante got her pampering.
Now considering that the luxury was quite evident from every angle, many people couldn't help but wonder how much all of it cost?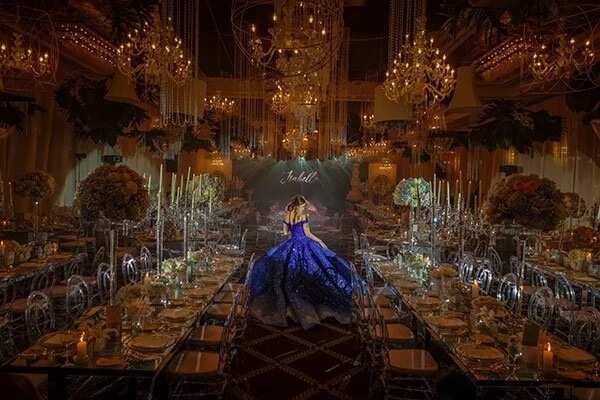 A video on YouTube gave a breakdown of the total cost of her debut, from the gown, venue, embellishments, decors, setup, professional fees, etc.
Here's a short rundown of the overwhelming cost of her debut.
First item on the list is Rita Neri Events Planners (RNEP), which according to PEP, the group charges between P80,000 to P150,000.
Next in the list is event stylist Rob Blancaflor. He filled the grand Rigodon Ballroom with lovely flowers ranging from Ecuadorian roses, Parrot tulips, liliums, hydrangeas, peonies, hyacinth and a lot more.
So how much does Rob charge? Sources have it that it's a whopping P300,000 up. A PEP source stated he could have charged P500,000 for Isabelle's debut.
Now that the venue is settled, it's time to have a look at the gown worn by the debutante.
It was an ombre cobalt blue ball gown designed by Michael Cinco. It was shimmering considering it had "full degrade Swarovski crystals."
An estimate of the gown is at least P1.5 million, a little less than the cost of the bridal gown of Marian Rivera pegged at P2 million.
Celebrity stylist Jeff Galang was also part of it, and the package rate he charged was between P80,000 to P100,000.
Her shoes were also custom designed by designer Jefferson Si, and with three pairs, it was estimated that her shoes were at P60,000.
The hair and makeup of the debutante was done by Winn Ramos, with a price range of P50,000 and up.
Of course, the Rigodon Ballroom at the Manila Peninsula charged a whopping P1 million which was a consumable amount.
Forsck Ink's services took charge of the lights and sounds at an estimated cost of P250,000.
Since it is opulence that Isabelle wants to present, she got the Philharmonic Orchestra for the music. The charge is somewhere between P30,000 to P50,000.
To ensure that music will please the youth as well, DJ David Callum was hired, and based on reports, he normally asks for a fee of P80,000.
As for the photography, it was Lito Sy, the same guy who took the shots for Isabelle's controversial Malacañang pre-debut shoot. The photo and video coverage plus the Artist's Choice album range at around P290,000.
The wines given for 250 guests were estimated at P250,000. The customized perfumes given were pegged at P100,000.
As for her LED invitations made by Print Divas, a total was estimated at P750,000.
Now that the cost has been itemized, a total cost of P5.1 million was estimated to have been spent by the debutante on her grand debut. That is simply overwhelming!
Would you steal money from a blind man? on Kami YouTube channel This video will show the propensity of people to take undue advantage of the weakness of others.
Source: KAMI.com.gh