Nag "48 hour challenge" nga ba? Netizens speculate about Ica Policarpio's disappearance
- Ica Policarpio's made headlines because of her disappearance on Thursday night, December 21
- Even celebrities healped in reposting the message to ask help in finding the teen
- On December 24, Ica is finally reunited with her family but netizens have speculations on the real reason why she went missing
After three days of her disappearance, Ica Policarpiowas found in San Pablo, Laguna by the police. Bea Policarpio, Ica's sister who posted the message about asking help to find Ica posted an update on Sunday.
Bea expressed how thankful they are for the concern everybody gave by reposting her message. She also said that the investigation is still on going and asked to give them privacy.
Before she went missing, Ica was last seen at a coffee shop in Lakefront Sucat mall in Parañaque. Her parents were supposed to pick her up, but only found her belongings on one of the cafe's tables.
CCTV footage showed her standing up after a phone conversation with her father. She was then seen at the cashier, asking for change for her P1,000-bill. After that, she went to a convenience store where she bought a bottle of water, presumably to get smaller bills, according to the police. From there, she was seen walking away. According to the Muntinlupa police, the parents confirmed that they scolded Ica on the night she went missing.
Some netizens speculated on the reason why Ica left. They link her disappearance with the '48-hour challenge' which is a trend among kids.
In a report by Yahoo, KAMI learned that this trend requires pretending to go "missing" for days.
While the child vanishes for two days, families and friends who are worried about them would ask for help via Facebook. They earn "points" for any Facebook updates, shares, comments, or likes regarding their whereabouts. Then, after 48 hours, the child reappears, safe and sound.
Here are some of the netizens statement.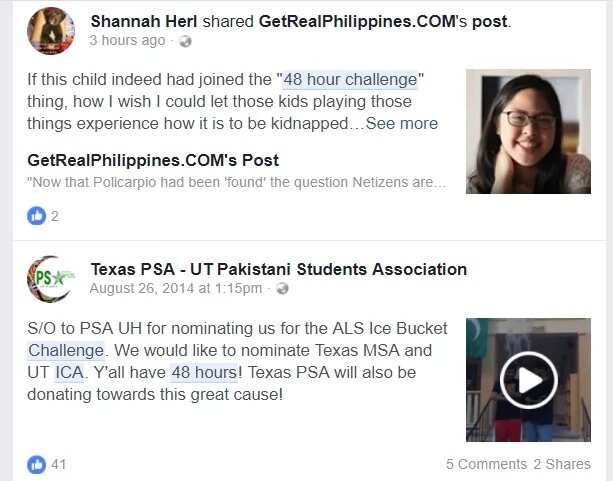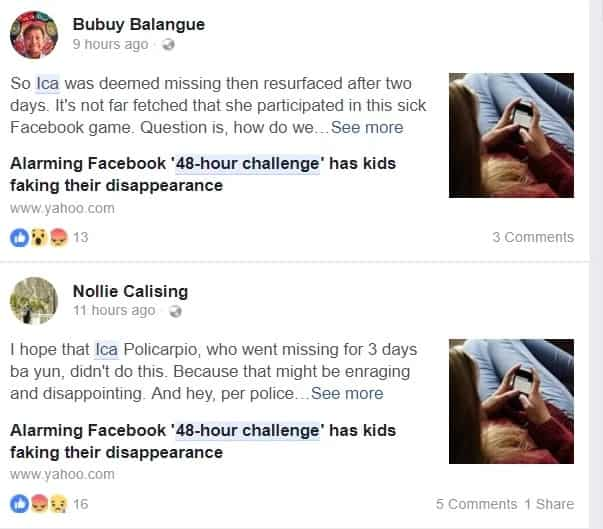 Are you willing to do an act of kindness to a stranger? Find out more in this video.
Social experiment: Would you hug a homeless man? - on Kami YouTube channel
Source: KAMI.com.gh