Binat is a myth! Michelle Madrigal's determination to lose the baby weight is very inspiring
- Michelle Madrigal started to workout just four weeks after giving birth
- She doesn't believe in "binat" and thinks that you should just listen to your body
- She's really determined to shed off the unwated fats
Actress Michelle Madrigal gave birth to daughter Anika Austin last October 20, 2017.
Her recent Instagram updates inspires us to be more fit and active because just four weeks after giving birth she already started to workout.
Big thanks to her partner Troy Woolfolk, who played a big role in pushing and motivating her to look and feel her best.
On November 19, she was thanking her partner Troy for the motivation.
"My man put me to work this am. Thanks for the push and helping me snap back to my pre MOM Bod. Weighing at 130lbs(4weeks postpartum), Goal is to be at 120lbs with lean & toned muscle with bigger and flat abs."
According to her, "binat" is just a myth. What matters is that you listen to your body. (Binat means becoming sick again because of prematurely returning to normal activities)
"Listen to it and of course stop and rest whenever your body tells you to.
"We are all different, enjoy the journey."
Clearly she knows what she's doing as she was cleared by her doctor first before doing her workout routines.
"Before I hear y'alls unsolicited advice... yes I am cleared by my OB for those who are wondering .
"I have been resting on my off days and don't usually force myself if I'm dead tired or feeling sick.
"Working out isn't just to look good, I feel great after I sweat my a** off at the gym. "
She said that her weight loss journey is still a long way to go.
"I am still at 130 lbs. feeling soft all over my waist... I still look 2months preggo but I am a work in progress. I am in no rush to loose it right away because it took 9months to gain all these baby fats! I am taking it one day at a time."
Michelle Madrigal joined ABS-CBN's reality talent search, Star Circle Quest and ended as a finalist in 2004.
She is the younger sister of actress Ehra Madrigal.
Troy Woolfolk is a former football player and son of record-setting football player Butch Woolfolk.
On July 27, Michelle shared on her Instagram that Troy already proposed to her.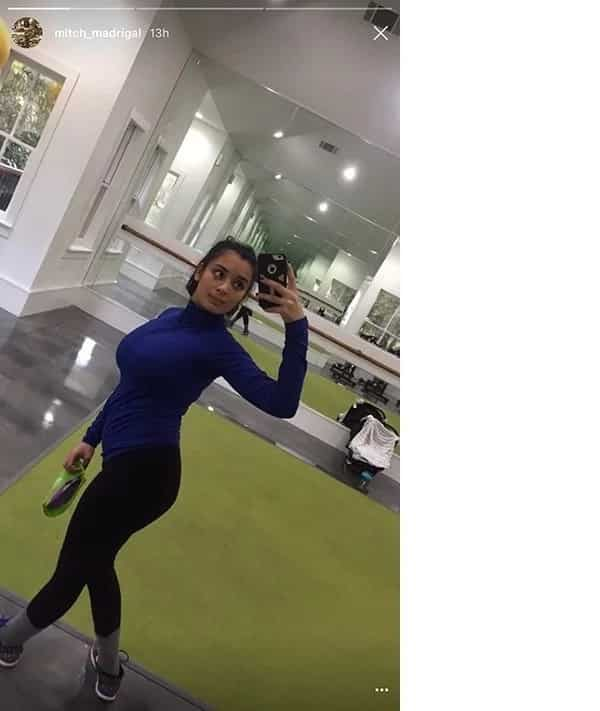 KAMI thinks that Michelle's determination to stay healthy and fit after giving birth is really admirable.
Source: KAMI.com.gh