Under daw si Robin? Netizens bash Robin and Mariel Padilla after Catholic baptism of daughter
Maria Isabella, daughter of Robin and Mariel Padilla was baptized twice, one in the Catholic church and the other one in Muslim tradition called Aqiqah.
Mariel posted:
"My Isabella was baptized yesterday. welcome to the world of faith my angel @mariaisabelladepadilla pls remember that I am a Catholic. Robin is a Muslim and yesterday Isabella also had her Aqiqah. In Islam there is no compulsion. When Isabella is older she can decide what her religion will be. As parents it is our duty to teach our children how to respect ALL religions. It is also our responsibility to guide them but never to dictate to them. I know for sure that I will see to it that Isabella grows up knowing and believing that there is only one GOD! special thanks to @edwintan_ph for Isabella's beautiful Christening gown."
Photos from Instagram: @marieltpadilla
Mariel posted photos taken during Isabella's baptism on her Instagram account and netizens flooded her post with comments of mixed reactions.
Some were saying that Robin as a Muslim should have not allowed the Catholic baptism to happen because it's against their law.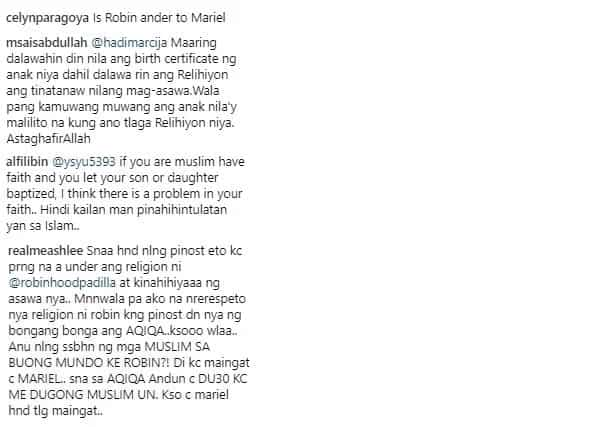 However, some of the netizens, understands the couple's decision and thinks that Robin and Mariel, knows what's best for their child.
What do you think KAMI readers? Do you think Robin should have not allowed this to happen?
Source: KAMI.com.gh