Video of Enormous snake found in drainage went viral!
- An enorous snake was found slithering in a drainage in Batangas
- Three men tried to catch the snake in the most action-packed way
- The snake was finally caught and was enclosed inside a sack
Many might have their hair raised just on the thought of our not-so-friendly reptile, snakes.
Because of the notion that these animals are deadly and venomous (which is true for some species), many don't ever dare touching or even getting near snakes.
However, some brave men proved that a huge snake cannot make them hide and run back to their houses.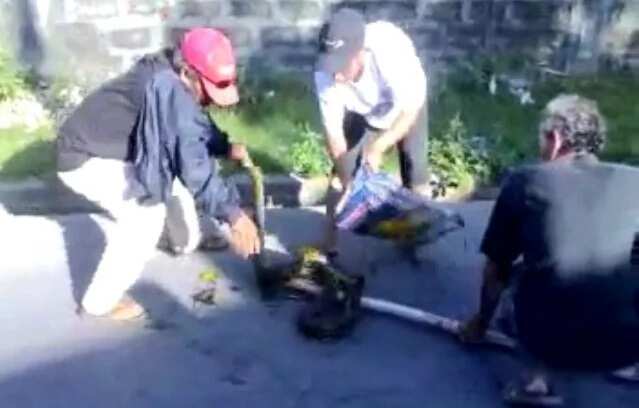 READ ALSO: 9 scary photos of snakes that will haunt you
Locals were shocked when an enormous snake was found slithering in a drainage in Batangas.
Facebook user Orlando Piamonte posted the heart-pounding video and wrote in the caption:
"Lesson 101: how to catch big snakes.. The batangueno way."
It was such an action-packed captivity as three men tried to capture the fast and furious reptile.
One man attempted to get the snake out of the drainage but the animal slipped and got back to the water. On his second attempt, the man finally gripped and threw the snake to the grown leaving panicked reactions from bystanders.
Two other men came to the rescue, one was holding a long and thick bamboo and the other was holding a sack.
READ ALSO: Brave Filipina cuddles with gigantic snake. Watch this video now!
Luckily, the three successfully enclosed the snake inside the sack.
The video already gained more than 60K views with more than 1K shares on Facebook.
Watch the video here:
READ ALSO: Deadly Snake With Legs Was Caught In Phillipines
Source: KAMI.com.gh