57 villages in Greater Metro Manila must prepare for the earthquake
- The Philippine Institute of Volcanology and Seismology (PHIVOLCS) released a map of the delicate fault line
- Based on the map, some houses and subdivisions appear to be existing above the fault line
- Check this list of the subdivisions and villages that are subject to severe damage
The Philippine Institute of Volcanology and Seismology (PHIVOLCS) once again raised awareness and alerted the public regarding "The Big One" earthquake that is projected to come soon.
READ ALSO: Vice Ganda teases Chokoleit during concert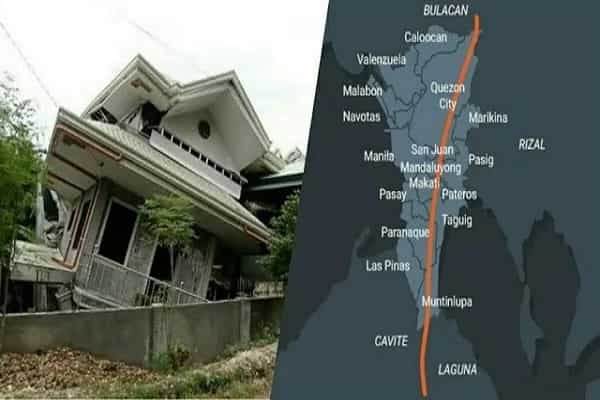 Fifty-seven residential villages in Greater Metro Manila were found to be situated on the West Valley Fault, a 100-km active fault feared to produce the strong 7.2 magnitude earthquake.
A list of these residential villages was released by Rappler which was based on the maps released by PHIVOLCS to instill awareness to the public.
READ ALSO: Vice Ganda teases Kris Aquino moving out from ABS-CBN
According to PHIVOLCS, these residential structures were either built near the fault line or those which failed to follow current building codes. Based on statistics, 40% of these residential structures in Manila will be "heavily or partially damaged, said Director Renato Solidum Jr.
Here is the list of the residential areas on the West Valley Fault:
READ ALSO: Vice Ganda allegedly kicks out Negi from GGV because of illegal activities
Rizal City
- Amity Ville
- Christine Ville
Marikina City
- Loyola Garden Village
- Loyola Subdivision
- Monte Vista Village
- Industrial Valley Subdivision
- Cinco Hermanos Subdivision
- Wood Crest Subdivision
Quezon City
- Sunnyside Heights Subdivision
- Doña Anna Village
- Fil-Heights
- Filinvest Homes II and Villa Amor Uno
- Northview Subd
- Loyola Grand Villas
- White Plains Subdivision
- Queensville Court
- Green Meadows
- Blue Ridge B
Pasig City
- Valle Verde 6
- Valle Verde 5
- Valle Verde
- Valle Verde 3
- Valle Verde 1
- Kawilihan Village
Makati City
- Eats Rembo
- Pembo
- Rizal
Taguig City
- Pinagsama
- Pinagsama Phase II
- Pan-Am Village
- North Signal Village
- Central Signal Village
- South Signal Village
- Maharlika Village
- Camp Bagong Diwa
Paranaque City
- Posadas Village
Muntinlupa City
- Solid Mills Village
- Embassy Village
- Liberty Homes
- Carmina Compounds
- L&B Subdivision and Compound
- UP Side Subdivision
- Country Homes Alabang
- Planas Ville
- Camella Homes Alabang 3
- Country Homes Subd and Jose Marey Subdivision
- Camella Homes
- Susana Heights Village 1
- Susana Heights Subd Phase I
- St Anne Homes
- Real Ville Subdivision
Laguna City
- Adelina 1A Subdivision
- GSIS Village
- Elnor Homes
- Sampaguita Village
- United San Pedro Subdivision
Cavite
- Wedgewoods Subdivision
Share this list to your family and friends to raise awareness!
Source: KAMI.com.gh