Gay couple shares video of magical kiss
- A video of a sweet gay couple kissing while inside a car has gone viral on social media recently
- The video features the two kissing each others' lips to express their love despite the judgment they'll get upon sharing the video in public
- The video has been shared by netizens who think that love should be the most important thing in any relationship, not standards
Love is blind.
We often hear this from people who express their disgust once they see couples with which one of them didn't pass their definition of what a couple should be like.

This is as if there really is black and white when it comes to which attributes are acceptable over the others in the context of romantic relationships.
READ ALSO: Viral Pinay caught using super sharp chin to cut paper into two in epic video
This is as if our perception of what's acceptable matters to two people who are madly in love.
In any relationship, the most important aspect is the love that serves as a glue and binds the two of you together regardless of the struggles along the way.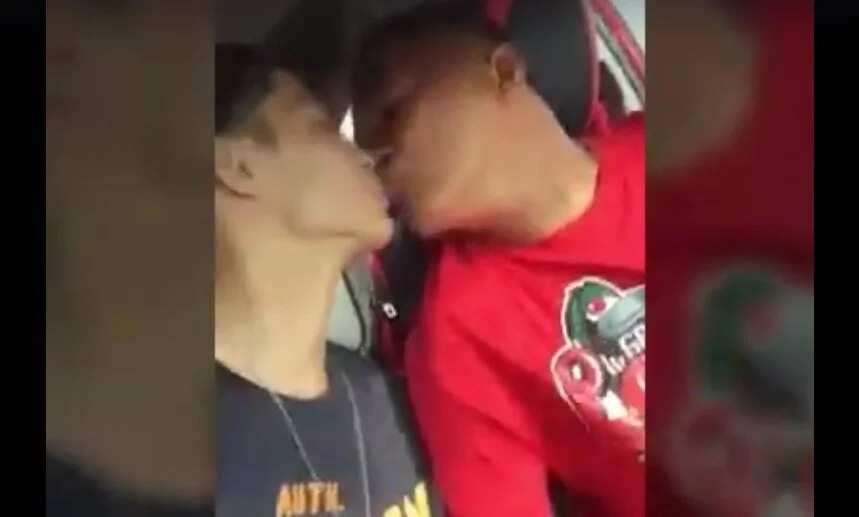 In no way anyone will be justified in judging couples just because they didn't pass your myopic standards of what an ideal couple should be. That is bitterness at its finest. These two will prove a lot of judgmental people wrong.
READ ALSO: Young gay singers in Tacloban shares powerful cover of 'Sana Ngayong Pasko' in viral video
A video of a sweet gay couple kissing while inside a car has gone viral on social media recently.
The video features the two kissing each others' lips to express their love despite the judgment they'll get upon sharing the video in public.
The video has been shared by netizens who think that love should be the most important thing in any relationship, not standards.
Source: KAMI.com.gh