7 reasons why you don't want to date James Reid
- James Reid is undeniably the #BoyfriendGoals of a lot of Filipinas in all ages
- However, there are 7 justifiable reasons why you will think twice before thinking of going out with him
- In the meantime, you don't have to worry about dating him just yet because he's still in a relationship with Nadine Lustre
When VIVA launched James Reid as their newest talent, admirers who have followed him from "Pinoy Big Brother" (PBB) couldn't have been any more proud.
Although this time around, he wasn't just a solo act. Together with him was the Filipina beauty Nadine Lustre who can also sing, dance, act, and has a face you can't take away your eyes from.
READ ALSO: 5 signs you're a die-hard James Reid fan
Alone, they were talented artists on their own merits but together, they were unstoppable. It was bound to happen and when it did happen, their followers couldn't be happier that they ended up together in real life.
However, we may have found 7 reasons why it's not ideal to date someone like James Reid.
1. You can't be productive around him
Imagine that you're having a date with James Reid in a coffee shop and every single time you would look up, you'll have to see that face. Can you still remember what you're studying for? Why memorize the 'Wonders of the World' when it looks like the missing one in the list is right in front of you?
READ ALSO: James Reid confesses that Nadine is 'the One'
2. You won't be able to appreciate the sceneries
Every couple's goal now is to travel together. This serves as a chance for you to spend some quality time with your partner while enjoying the amazing view. But even if you're gazing at the breathtaking architectures of Greece, can you really concentrate on it instead of him?
3. You'll be willing to do embarrassing internet challenges and it's okay
Even though you enjoy watching trending challenges uploaded on Facebook, you don't have any plan on joining the bandwagon. But when your boyfriend James Reid does it so adorably, good luck on saying no.
READ ALSO: James Reid injured by fan
4. You'll be so busy organizing events for him
Since you already know him so well, you have the perfect idea for what kind of party he wants and what band he will appreciate. It doesn't matter how busy you will be, you will still find a way to make his dream birthday happen just to see that smile on his face.
5. You'll always laugh in public and people will think you're crazy
James Reid has a bad boy image everyone seems to love. However, it was proven over time that there's more to him than what meets the eye. When he's with people he's really comfortable with, he makes the wackiest faces. If he does it in front of you, we know you can't resist laughing.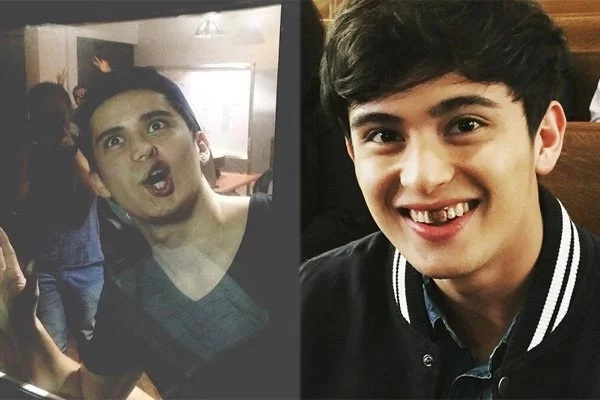 READ ALSO: LOOK! James Reid thanks Nadine with a kiss
6. You'll always want to be in front of the camera
You might not like it when people take candid photos of you. But can you still decline when James Reid insisted on it? The actor also has a good eye for photography among his many talents.
7. You know he finally found his perfect fit
While you enjoyed imagining yourself as his girlfriend in the last 6 items, you know that he has already found the perfect partner. *Sighs* Let us just wish we all find our very own James Reid in the future.
READ ALSO: James Reid: 'I'm more in love with her'
For his latest album, Reid was excited about the tracks he wrote himself. He wasn't shy on admitting that some of his songs were about his girlfriend.
Source: KAMI.com.gh