Adorable foreign kids disgusted with Pork Blood Stew, but not with the taste
- Foreign kids tasted Pork Blood Stew or Dinuguan for the first time and actually like it
- Some kids became unsure when they learned that the dish has pig's blood in it
- Dinuguan is a staple Filipino dish and is considered a delicacy in the Philippines
Foreign kids tasted Pork Blood Stew for the first time and they like it!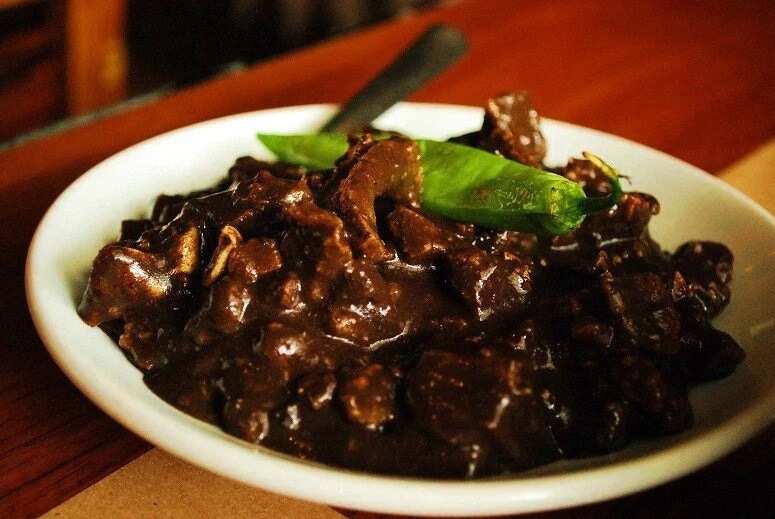 Pork Blood Stew or Dinuguan is a staple Filipino dish served in most homes. One of its main ingredients is pig's blood. The dish must be cooked until the blood coagulated and has no fishy smell.
Based on the reaction video, the kids were disgusted by the look of the stew. Pork Blood Stew is in the shade of brown, which is very unappealing for the kids. The adults served the food to the kids on top of some rice, although some kids still find the dish gross.
READ ALSO: Top 10 weird food combinations pinoys love
As expected, the kids took miniature bites anticipating bad taste in their mouths. While some kids pinch their noses while taking an anxious bite of the dish, it is surprisingly that most of the kids like the taste of the stew until they learned that one of its ingredients is "pig's blood". Kids said that only vampires and cannibals eat blood. In the end, some of the kids said they will not recommend the dish to anyone, but five kids voted otherwise.
Dinuguan was featured in Food Network's "Bizarre Foods with Andrew Zimmern" as a Filipino delicacy. The show features weird dishes around the world.
READ ALSO: 6 common foods that might poison you to death. Your life won't be the same
Watch the hilarious reaction video below.
Source: KAMI.com.gh