Law student details first-hand experience of police brutality
- A post detailing a law student's terrifying first hand experience of police brutality has gone viral on social media
-  The post features the story of San Beda law student Karlo Jennuel Antonio who recalled how policemen threatened him after supposedly trying to intervene in what appears to be a violent arrest
- The post now has thousands of shares from netizens who expressed concern on how this incident, isolated it may seem, can create a wrong message of fear and violence which is contrary to how the police should operate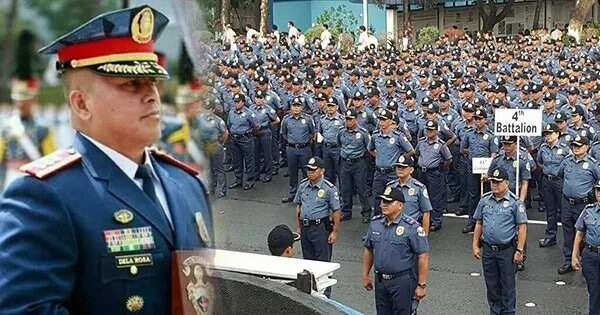 The role of policemen is to always uphold peace and security in situations where it's warranted. While doing so, it is also important to make sure that rights will be respected.
This is regardless if dealing with alleged criminals or day-to-day peace issues. This is why, before entering the ranks, the process of studying relevant laws and operating procedures can be very difficult.
President Rodrigo Duterte, as early as campaign season, capitalized on going after illegal drugs and criminality. He has declared a war against them the moment he was elected.
READ ALSO: Binaril in public! Violent security guard shoots dead defenseless farmer leader in Palawan
In the process however, issues started surfacing dragging the war against drugs to be culprit of the rising number of summary executions, violent arrests and violations of some human rights.
In legitimate police operations, suspected drug criminals who supposedly resisted arrest were gunned down. On top of that, a vigilante group is also said to be behind the killings of thousands of people. This however doesn't only cover killings in the name of change. There were also stories of police brutality and aggressive arrests. Take this story for example.
A post detailing a law student's terrifying first hand experience of police brutality has gone viral on social media. The post features the story of San Beda law student Karlo Jennuel Antonio who recalled how policemen threatened him after supposedly trying to intervene in what appears to be a violent arrest.
READ ALSO: Mag-brad sila? Witness Matobato and Duterte shockingly inked with the same tattoo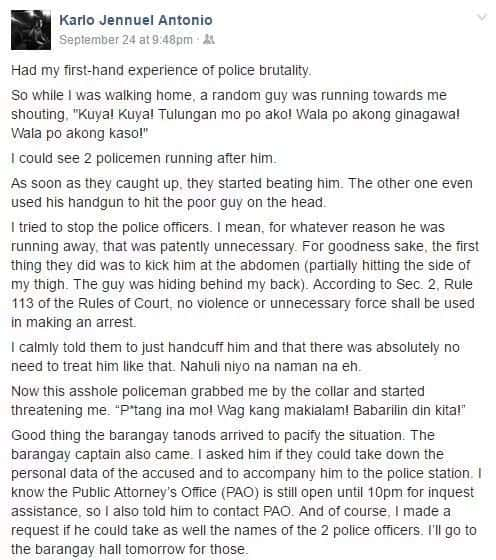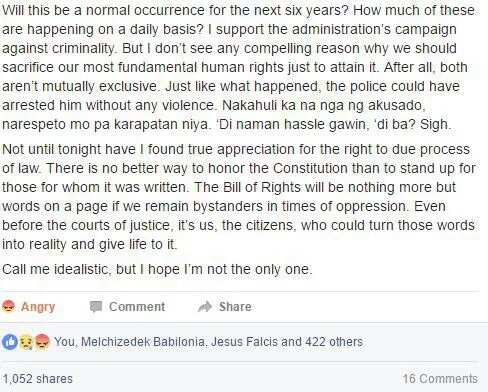 According to Antonio, two policemen were trying to arrest a random guy who happened to have asked his help. He said that he saw the policemen beating the guy. "As soon as they caught up, they started beating him. The other one even used his handgun to hit the poor guy on the head," he said.
"I tried to stop the police officers. I mean, for whatever reason he was running away, that was patently unnecessary," Antonio recalled. "I calmly told them to just handcuff him and that there was absolutely no need to treat him like that. Nahuli niyo na naman na eh," he added.
"Now this asshole policeman grabbed me by the collar and started threatening me. "P*tang ina mo! Wag kang makialam! Babarilin din kita!". The post now has thousands of shares from netizens who expressed concern on how this incident, isolated it may seem, can create a wrong message of fear and violence which is contrary to how the police should operate.
RELATED: Si Duterte ang bahala! Defensive Yasay tells world not to mess with PH bloody drug war
Source: KAMI.com.gh