Abandoned Cebu Zoo full of hungry animals
- Animals in Cebu Zoo are dying as no personnel will feed them as mayor decided not to renew their contracts
- After their contracts ended on Aug. 31, caretakers stopped coming in to feed the animals and clean the cages
- Osmeña has thought of donating the animals to Cebuano businessman Michel Lhuillier, but nothing is set in stone yet
Almost 300 animals housed in Cebu Wildlife Resources Conservation and Protection Office (CWRCPO), formerly known as Cebu Zoo, were now hungry and orphans after Cebu City mayor Tomas Osmeña kicked out all the zoo personnel and caretakers.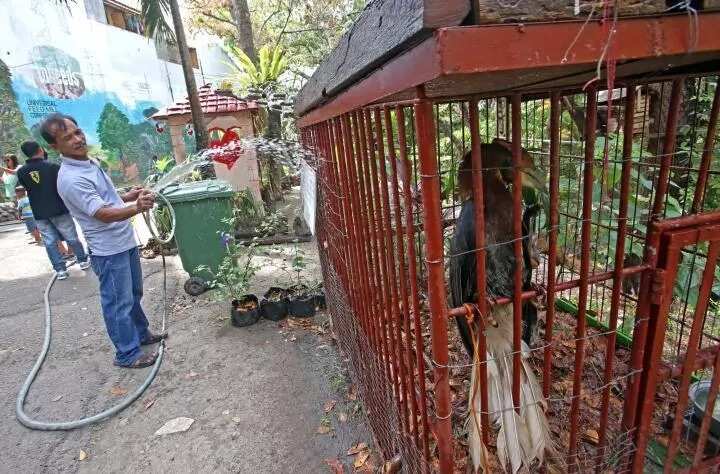 READ ALSO: Nakakalungkot! Heartless fishermen ruthlessly slaughter dolphins for sport
The city's former veterinarian and is currently the officer-in-charge of the zoo, Pilar Romero, said that the personnel contracts ended on Aug. 31 and the mayor decided against renewing the contracts leaving the zoo with no one to feed the animals and clean the cages. Yesterday, Romero fed the animals with the help of two volunteers.
The zoo houses 117 birds, chicken and turkey; and one Philippine Brown Deer, four civet cats, 14 saltwater crocodiles, 30 turtles, five alligators, 5 hammerhead sharks, six pythons, six goats, a sheep, 34 rabbits, a monitor lizard; and numerous ornamental fish.
READ ALSO: Shocking footage baby tigress mercilessly ripped into pieces by grown tigers at Chinese zoo
Some of the personnel kept on coming at the facility located in Barangay Kalunasan. However, until yesterday, the remaining three workers decided not to come altogether.
Osmeña stated in a press conference that he has no intention to shut down the zoo, but the mayor also left out his plans on the facility.
"I have not gotten that far. We will donate it to (Cebuano businessman) Michel Lhuillier. I do not know. I will discuss it when we get to the point. Maybe the province wants it. I don't know. I'm just gonna give it to them," he said.
READ ALSO: A crazy man jumps into the lions' den at a zoo. What happens next shocks all visitors!
Source: KAMI.com.gh