Cristine Reyes shows new hair style
- Sexy mom and actress Cristine Reyes flaunted her new blonde hair on her Facebook and Instagram account
- Cristine with her sisters in law had a hair overhaul and dyed their hair blonde
- Cristine is married to Ali Khatibi and they have a daughter named Amarah
Sexy actress Cristine Reyes and now Mrs. Khatibi flaunted her new gorgeous hair color in blonde.
The sexy mom posted on her Facebook and Instagram accounts her new hair overhaul courtesy of Aveda Salon together with her sisters-in-law. "She wrote in the caption: CHALLENGE ACCEPTED, CHALLENGE COMPLETED!!! We finally did it we have gone blonde! You know what they say, blondes have more fun!!!"
Cristine also promoted their upcoming video blog on Youtube to "let you guys see all our craziness."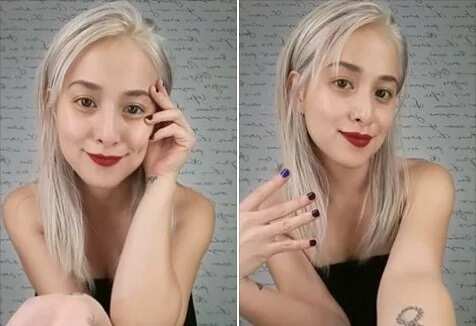 READ ALSO: 6 Pinay celebrities that caused foreign artists to have a double (and triple) look
The Tubig at Langis actress also shared how her daughter Amarah approved her new hairstyle. She wrote, mentioning her husband, Ali Khatibi: "Wala nabago. So sweet my baby Amarah. Missing our daddy."
Netizens loved Cristine's new daring hairstyle and many reacted positively on her Facebook and Instagram photos.
One user compared Cristine's new look to America's Next Top Model contestant Allison Harvard. She commented: "Wow. Looks like the alluring Allison Harvard. Love the hair color. Cristine Reyes is heart heart."
READ ALSO: Notable scenes from Isabelle Daza and Adrien Semblat's lavish wedding
Another Facebook user admired Cristine's beauty. She said: "Grave ur soo goergoes!!! Ur really awesome hands up aq sa beauty mo.....god bless may gid akways guide u guard u &protect u &ur love ones &families...stay fit &healthy idol khit anong ayos mo stil u look stunning!!!"
An avid fan of Cristin also shared her admiration to the sexy actress. She commented: "HAYST ANG GANDA GANDA TALAGA SOBRA NG IDOL KO...HAHAHA PROMISE PO AKO YUNG LOYAL NYONG FANS..KUNG MERON PANG PO AKO INSTAGRAM EHH,FINOLLOW KO NA PO KAYO...SANA TALAGA MAKITA KITA MINSAN SA FRONTROW INTERNATIONAL..LOVE NA LOVE PO TALAGA KITA KAYSA SA IBANG ARTISTA..PUMAPANGALAWA PO YUNG IDOK KO NA SI SARAH GERONIMO NA MAGALING PO KUMANTA...LOVE YOU PO SO MUCH SANA MAKAPAG PAPICTURE AKO SAYO."
Christine Reyes married Ali Khatibi on January this year and they have one child, Amarah.
READ ALSO: Do these celebrity girls have fake butts? Get the photos of the fancies behinds in the world!
Source: KAMI.com.gh