18 Former Child Stars who turned insanely Gwapo
Almost every year, there's a new star rising in ABS-CBN, GMA Network, or TV 5. Most of these stars come from the rampant reality shows and talent searches, but not a lot of people know that some of them started pretty young.
Some child stars that started out in the commercial industry, in kiddie pageants, and small TV or film roles have turned out to be some of the brightest actors in the showbiz industry. Here's a list of some of the former child stars who transformed from their little cute selves to their most gwapo versions yet.
1. CJ Navato
CJ Navato is a 19-year-old Goin' Bulilit graduate. His career started when he became a finalist at Star Circle Quest: Kids Edition in 2004. Now he doesn't only act, but he can also make the girls squeal with his dancing and singing skills.
READ ALSO: #LookAtMeNow: Paul Salas now a HOT teen heartthrob
2. Ryan Christian Recto 
Another Goin' Bulilit kid is Ryan Christian Recto. He didn't graduate from the show but he had a few appearances. Ryan is the son of Vilma Santos and Ralph Recto and Luis Manzano's half-brother. Unfortunately he has no interest in pursuing a career in acting but he might just be a future politician. He is eloquent and an intelligent speaker whenever he is tasked to give a speech.
3. Juan Karlos Labajo 
Juan Karlos Labajo was discovered when he joined The Voice Kids as a solo singer. Recently he joined PBB Lucky Season 7 Celebrity edition wherein he showed us how much of a big handsome boy he has become.
4. Carlo Lacana
This 17-year-old boy started acting in 2006 and has continually been doing so until now. He also bagged around 15 consumer product commercials when he was still a cute little kid.
 READ ALSO: 24 Pinoy celebrities with the HOTTEST abs                      
5.  Francis Magundayao
 Francis also started out as a commercial kid model and eventually got into the acting scene. His first acting gig was with GMA's first Darna series where he played the character of Iking. He has also started acting indie films last year and currently he already has two indie films under his belt.
6. Kurt Perez 
Kurt Perez didn't pursue his career in acting but when he was a kid he got a nomination from FAMAS as a 'Best Child Actor.' He's currently living and studying in Australia.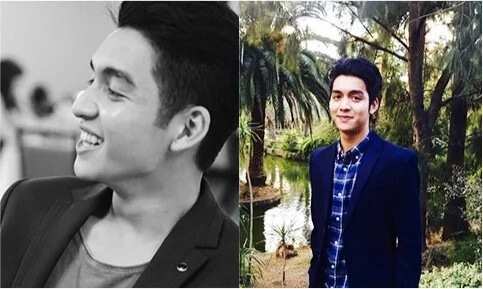 7. Joseph Andre Garcia
16-year-old Joseph was cast in ABS-CBN shows like Kung Fu Kids, A Very Special Love, and Dyosa. He transformed from a Goin' Bulilit graduate to a full-fledged actor.
READ ALSO: PH celebrity kids who are future hunks
8. BJ Forbes
 You may remember him as 'Tolits,' the little boy who was one of GMA Network's prized gems. He was discovered from Eat Bulaga's That's My Boy as a contestant but he soon became a host. He's currently focusing on studies so he's not a full-time actor, but he's able to sneak in some acting gigs in different stations.
9. Jairus Aquino
Jairus Aquino has been with ABS-CBN since 2006. He has never run out of projects, which can attest to his abilities as an actor.
 10. Renz Valerio
Renz Valerio started very early, at the age of 3; he was already a commercial model. He's always been with GMA Network.
READ ALSO:  Netizens found Patrick Garcia's son, Alex Jazz, more 'GWAPO' than his father
11. Julian Marcus Trono
Julian started out as an actor but soon discovered that he also had a talent in dancing, choreographing, and hosting. He also got many nominations a few years ago and won 2 awards as "Most Promising Male Star" and "Most Liked Dance personality."
 12. Miguel Tanfelix
Miguel Tanfelix is another loyal Kapuso star that started out in 2004. Until now, he has many projects under his GMA contract. After many years of getting supporting roles, he has a leading role gig with actress Bianca Umali for Wish I May.
13. Jake Vargas
Jake started out as a teen star as a performer for the late Kuya Germ's show Walang Tulugan. He has come a long way since then as he was able to bag a contract with GMA Network.
READ ALSO: Pinoy Pride! Filipino hunk gets "Man of the Year" title in pageant
14. Maverick Legaspi 
Maverick or Mavy, is the son of Carmina Villaroel and Zoren Legaspi. He has a twin sister and both of them have started out as commercial twin models. Wouldn't you say that he got both of his parent's good looks?
15. Phytos Ramirez
Phytos also started out as a commercial kid model that eventually got projects in ABS-CBN. Two years ago, however, he moved to GMA Network where he got more daring projects.
 16. Billy Crawford
 At the age of 3, Billy was already discovered as a star. Since then, he became a singer, moved cities, and also tried acting. He returned to the Philippines not long after and gave fame another shot.
READ ALSO:  Tom Taus on returning to showbiz and being a dj
17. Tom Taus
He was known as Prince Cedie but Tom wants to be known now as DJ Tom Taus. He doesn't want to come back as an actor, unfortunately, but at least he can still hype up parties.
 18. Paul Salas
The most recent heartthrob to come up to people's radars is Paul Salas. He has posted selfies showing his hard rock abs and people just can't handle how hot he is. He's been a Kapamilya actor since 2008.
Source: KAMI.com.gh