Road rage in Novaliches QC caught on video, went viral
- A video of another road rage incident in Tandang Sora Avenue, Quezon City has gone viral on social media
- The video features some men in the middle of the road who were initially arguing and later on ended a fistfight
- The video has since gone viral with many netizens reminding of the dangers of being irate when dealing with road issues, this is not the first time that a video of a road rage incident went viral
The presence of cameras and other gadgets paved the way to clips we see online showing everyday activities of people from different parts of the world.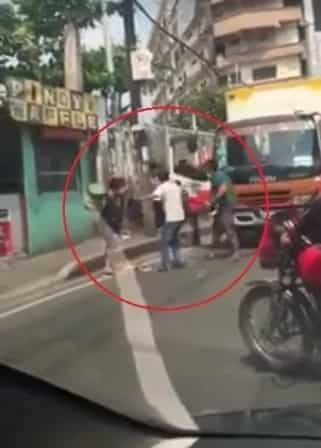 As part of the growing trend, manufacturers and car enthusiasts alike started utilizing technology to improve their day to day road activities. This is the reason why dash cameras or even adventure cameras like GoPro made it to the spotlight.
Apart from recording our experiences on the road, these cameras are also useful when it comes to recording pieces of evidence.
READ ALSO: RECKLESS driving: Unsuspecting delivery man VIOLENTLY hit by a car in a subdivision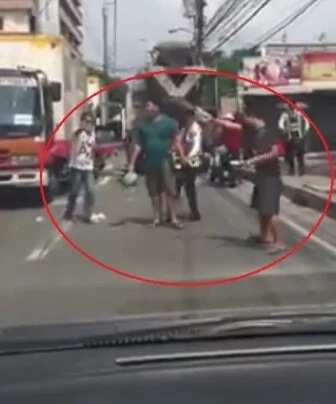 In the Philippines, car accidents and road rage are common items we hear in the evening news.
This is why the use of these devices not only help the authorities figure out who's to be blamed and who will be liable for damages caused by what people do when they're controlled by their emotions.
That technology will once again be subjected to a test.
READ ALSO: Terrifying footage cement tanker rolls over on the busy road and crushes car flat!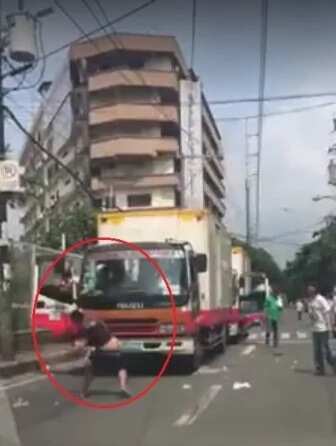 A video of another road rage incident in Tandang Sora Avenue, Quezon City has gone viral on social media. The video features some men in the middle of the road who were initially arguing and later on ended a fistfight.
The video appears to have been recorded by a motorist who happens to be passing by the area. The incident is believed to have happened in front of Dr. Carlos S. Lanting College in Tandang Sora Ave, Novaliches, Quezon City.
The video has since gone viral with many netizens reminding of the dangers of being irate when dealing with road issues. This is not the first time that a video of a road rage incident went viral.
RELATED: Two policemen beat helpless truck driver and his passenger for allegedly violating traffic rule
Source: KAMI.com.gh