Schools near Palace hit by bomb threat
- School campuses at the University Belt Manila received bomb threats a few days after the Davao City explosion
- San Beda College, Centro Escolar University (CEU), College of the Holy Spirit-Manila (CHSM), Eugelio "Amang" Rodriguez Insitute of Science and Technology (EARIST) which all got threatened are located near the Malacañang Palace
- The threat turned out to be a hoax after a thorough search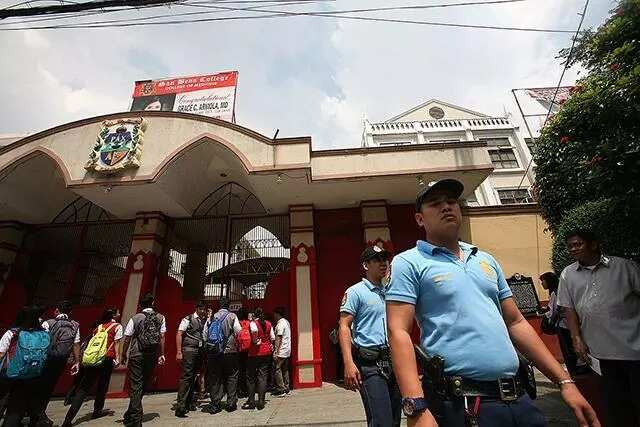 READ ALSO: Duterte threatens Abu Sayyaf: 'I will eat you alive'
An alleged bomb threat on Monday has shocked four campuses located near the area of Malacañang Palace.
The threat came just when the classes were about to start in San Beda College, Centro Escolar University (CEU), College of the Holy Spirit-Manila (CHSM) and Eugelio "Amang" Rodriguez Insitute of Science and Technology (EARIST).
Reports from the radio also confirmed this and quoted Manila Police District (MPD) Station 8 commander Senior Superintendent Olive Sagaysay regarding the news.
READ ALSO: 6 most unforgivable crimes that Abu Sayyaf Group has done
The said schools were thoroughly searched by the authorities but there were no bombs found.
EARIST received the threat first on the night of Sunday. The MPD along with the Ordinance Division worked hand in hand to check the entire campus.
On the other hand, the three other colleges all got the hoax bomb threat on Monday morning.
READ ALSO: Heartbreaking story of Fatima Manalo, SURVIVOR of Davao bombing
The CEU received a Facebook message from an alleged Abu Sayyaf member at 4:34 am. The message said that a bomb was planted on four schools near the Malacanang.
At 7am on Monday, CHSM got a phone call and a text message that there will be an explosion at their campus.
Sagaysay said that by 9am, the abovementioned schools were all safe after bomb squads checked the area.
READ ALSO: "Bato:" State of Lawlessness is NOT martial law
Another call shocked Emilio Aguinaldo College at 3pm. The caller claimed that a backpack containing bomb was left at their gate. When checked, thesis paper and other personal belongings were found inside the bag.
Another bomb scare happened to the University of the Philippines (UP) in Diliman on Thursday. The campus received a text message noting that there will be explosions in the area but was later on debunked.
"Let us not forget that the terrorists' bombings are mainly intended to paralyze society through fear. Rumors can be as bad as the bombs in creating that atmosphere of fear," UP Diliman chancellor Michael Tan noted.
RELATED: Old lady in black warned people in Davao night market minutes before the explosion
Source: KAMI.com.gh