Japanese PM Shinzo Abe says Duterte is famous in Japan
- Japanese Prime Minister Shinzo Abe said that Duterte is quite famous in Japan
- The remarks of the Japanese leader were made during their bilateral meeting at the ASEAN summit
- Abe also extended his sympathy to Duterte over the bombing incident in Davao
Japanese Prime Minister Shinzo Abe praised Philippine President Rodrigo Duterte during their bilateral meeting in the ASEAN Summit held in Vientiane, Laos, September 6.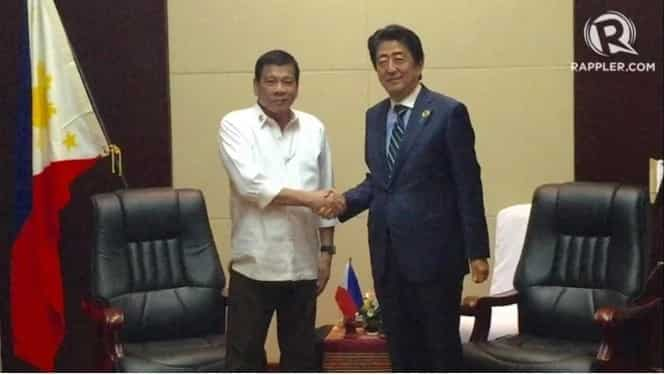 The Japanese PM said with excitement that Duterte is "very famous" in Japan.
"President Duterte, I would like to congratulate you on assuming the Office of the President of the Republic of the Philippines. Mr. President is quite a famous figure also in Japan and I am very excited to see you in person," said Abe through a translator.
READ ALSO: Duterte regrets OFFENSIVE remarks on Obama
With Abe's remarks for Duterte, the room was all of a sudden filled with laughter from the government official and diplomats, including the cabinet officials of the Philippine leader.
Moreover, the Japanese prime minister addressed the recent bombing incident that killed at least 14 people in Davao City and extended his sympathy to Duterte.
"First of all, I would like to underscore that Japan firmly deplores the terror incident which took place in Davao the other day. I would like to take this opportunity to express my heartfelt condolences for the victims and their family members and also I'd also like to reiterate my feelings of sympathy for you," Abe stated.
READ ALSO: Obama calls off first meeting with Duterte
Duterte is bound to meet several leaders at the ASEAN Meeting, which is his first debut on the international stage.
Shinzo Abe is one of the leaders that Duterte is meeting to discuss the bilateral relations between the Philippines and Japan.
Meanwhile, Duterte was also supposed to have a meeting with United States President Barack Obama. However, the US leader cancelled their meeting after Duterte slammed him due to his remarks over the extrajudicial killings in the Philippines.
READ ALSO: Duterte to Obama: 'You must be respectful'
After apologizing for his remarks to the US President, Duterte said that his meeting with Obama will be reset.
Duterte will call for cooperation among the ASEAN community to unite towards a drug-free region.
Source: KAMI.com.gh