VIDEO: Girl dedicates song to OFW mothers
- A video featuring a young girl dedicating her song to OFW mothers has gone viral
- The video features Dhel Horest's Kahit Ako'y Bata Pa which was arranged by Tex Cimafranca
- The video has been viewed 80 thousand times and has been shared across social media
Filipinos are known worldwide because of their skills in many different fields. That's why, you could hardly find a country not dominated by Filipino workforce.
Countries like Canada prefer Filipino caregivers. This is primarily because Filipinos are known worldwide for going beyond what the job requires when it comes to looking after someone's health.
Filipino caregivers consider their patients to be their own relatives, thus, they go beyond what the job requires them to do.
READ ALSO: VIDEO: Duterte vs USA? President slams KILLINGS of African-Americans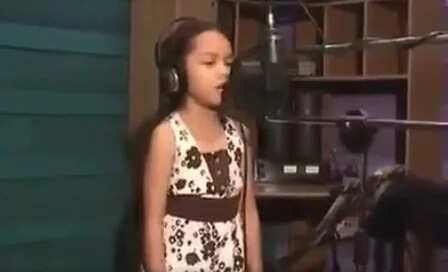 There have been many stories told about the lives of Overseas Filipino Workers (OFWs). While many people believe that it's easy to work abroad because of the financial benefits and the experience. If asked however, OFWs will disagree.
They say that it's difficult to leave your family behind and live a thousand miles away only to earn money.
There are also cases when families eventually become broken.
READ ALSO: Outraged netizens slam 60 Minutes Australia; here's what the report says about Duterte
Given that, a simple gift of music to OFWs which remind them of the good things they do for their families, is something they would really appreciate.
A video featuring a young girl dedicating her song to OFW mothers has gone viral. The video features Dhel Horest's Kahit Ako'y Bata Pa which was arranged by Tex Cimafranca. The video has been viewed 80 thousand times and has been shared across social media.
Watch the video here and see for yourself. -Kami Media
RELATED: Its more FUN in the Philippines: Famous HUGOT lines every Filipino commuters can relate to
Source: KAMI.com.gh