"Satanic ritual" in a research facility is captured in video
- A creepy video of an alleged cult performing "Satanic ritual" is circulating on social media
- The footage was taken inside CERN, the European Organization for Nuclear Research in Geneva, Switzerland
- In the clip were eight figures in hooded black robes surrounding a "human sacrifice" who was stabbed many times in the chest by the "occult leader"
Watch actual video below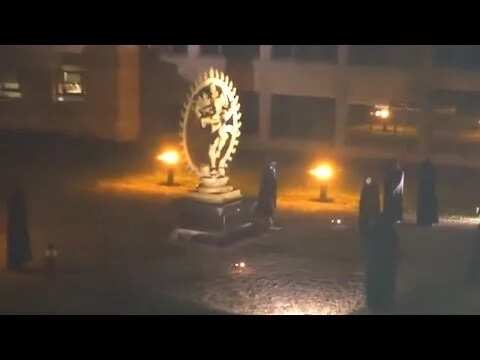 READ ALSO: Ghost love story: Woman reunites with lover after 50 years
What you see is what you get?
An eerie video showing a "Satanic ritual" in the grounds of a particle physics laboratory in Geneva, Switzerland has been making the rounds on social media.
The alleged ritual was performed inside the European Organization for Nuclear Research known as CERN.  It is a research organization operating the largest particle physics laboratory in the world.
READ ALSO: Couple thought they were alone at the beach but then they saw this in the ocean
In the middle of the night, eight figures wearing hooded black robes can be seen gathering around a statue which is identified to be Shiva, a Hindu deity.
The group, as if gracing a ceremony, formed a circle while one "human sacrifice" went to the center.
In the clip, one of the hooded individuals took off the robe of the human sacrifice to reveal a woman in white dress.
READ ALSO: A collection of ghost photos accidentally taken by the camera. They are surely spooky
The woman then knelt and lay down before the "occult leader" approached her. A silver object that looked like a small sword was being held by the leader. Without any cue, the leader has lifted the sword and began stabbing the woman lying on the ground.
The video clip ended wobbly with the one capturing the footage panicking and letting out expletives upon witnessing the ritual with own eyes.
On the other hand, CERN denied the ritual saying that it was only a prank made by scientists working in the facility.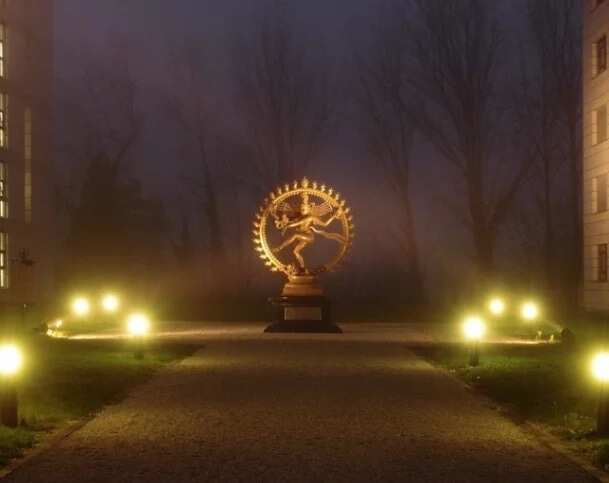 READ ALSO: Creepy footage shows eerie ghost walking through a TV studio in night!
CERN released its official statement regarding the bizarre ritual that was captured inside their premise.
On its website, CERN said the "video is a work of fiction showing a contrived scene. CERN and its on-site accommodation fill up with scientists from across the world coming to CERN as part of their work."
The hooded figures appeared to be the scientists working in the facility and were just having fun.
"Persons that are authorised to access the CERN site sometimes let their sense of humour go too far, and that is what has happened on this occasion. The video was filmed from an office building; strict safety systems are in place to prevent any unauthorised access to technical and experimental facilities."
READ ALSO: If you look closely at this spooky photo it will send chills down your spine!
CERN is also set to conduct an investigation to identify who recorded the "Satanic ritual" and had it uploaded on the internet.
"CERN does not condone this kind of spoof, which breaches CERN's professional guidelines, and is currently carrying out an internal investigation," the statement read.
Looks like there's more than what meets the eye. - Kami Media
Video from Paranormal Crucible
RELATED: Students possessed by evil spirit; what happened after won't make you sleep
Source: KAMI.com.gh