'Heartbroken' man assaults 12-year old boy
- A post containing photos of a boy nursing multiple wounds has circulated on Facebook
- The 12-year old boy was assaulted by a man who reportedly lost his sanity after facing love-related problems
- Although there were claims that the suspect had already died, netizens were still doubtful
It seems that the popular phrase 'hell hath no fury than a woman scorned' no longer applies to only one gender as a man from Nueva Ecija proved it.
A Facebook user who goes by the name Ai Ai Vergara shared photos of her nephew on a fanmade page of Philippine National Police (PNP) Chief Ronald 'Bato' dela Rosa. The post contained snaps of her relative identified as Luke Andrew Menor, who appeared to have undergone several stitches all over his body – with cuts marring the side of his face, head, and even his limbs. Vergara narrated that the injuries were caused by a man named Chester Lumbang, who suddenly proceeded to stab the 12-year old boy with the intent to kill.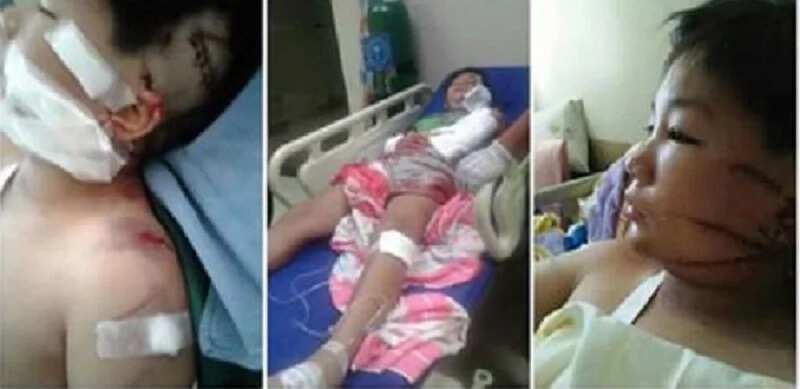 Fortunately, Menor survived the ordeal but remains in the hospital to speed up his recovery. Vergara noted that the incident happened at the similar time the public was focused on the road rage killing that occurred in Quiapo.
READ ALSO: 15-year-old boy receives first 3D printed nose after almost dying from this
Vergara urged web users to spread the word, in the hopes that Lumbang would come clean if the post would become viral. Included in the post were photos of the suspect.
The post sparked an uproar among netizens, whose primary question was what could have prompted Lumbang to commit the crime.
Eventually, an account under the name of Richel Soliman wrote a comment on the thread, informing them of Lumbang's death. Soliman clarified that Lumbang's 'temporary insanity' was not the effect of being involved with drugs, but rather from problems related to love. He assumed that after returning to his normal state, Lumbang realized the mistake he has done and chose to end his life instead. The suspect's body was reportedly found floating in a river along Pampanga.
READ ALSO: Girl killed by drug addict in public after refusing to surrender bag


Two more netizens supported Soliman's claims; Noemi Gonzales Clemente and Susan Agustin quipped that his remains were in Maligaya, Cabiao.


However, netizens were unconvinced and were seeking for proof regarding their statements. But Soliman was firm and responded that it would be too impolite for him to visit the burial place just to simply take photos.
READ ALSO: The story of this 63-year old woman driving UBER will touch your heart!
Aside from sharing the story on a Facebook page of Dela Rosa, Vergara also posted it on her own timeline. As of this writing, both posts have gone viral with 11,000 reactions on the PNP Director's page, and over 21,000 shares on Vergara's.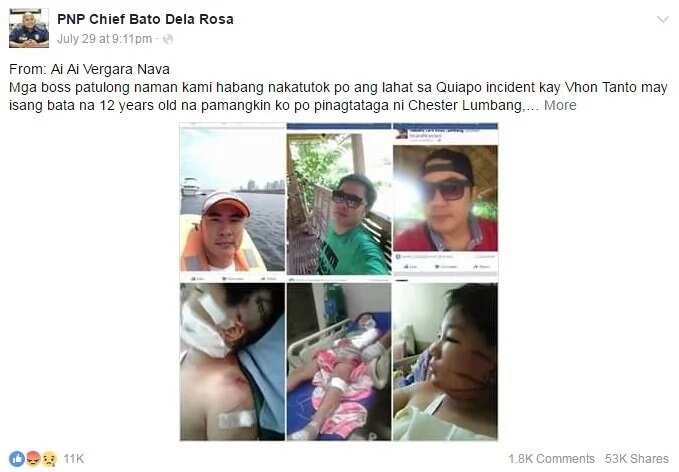 Source: KAMI.com.gh