5 employees of Leyte mayor caught dealing drugs
- Last Thursday, at around 5:30pm, undercover policemen initiated a buy-bust operation in Barangay Benolho, Leyte
- The 5 apprehended suspects were found to be working for Leyte Mayor Albuera Mayor Rolando Espinosa, two of who were the mayor's personal bodyguards
- More than P1.9 million worth of shabu were confiscated
The mayor of Leyte has gone on leave as two of his body guards and three other employees were apprehended in a drug bust operation, with more than P1.9 million worth of shabu confiscated.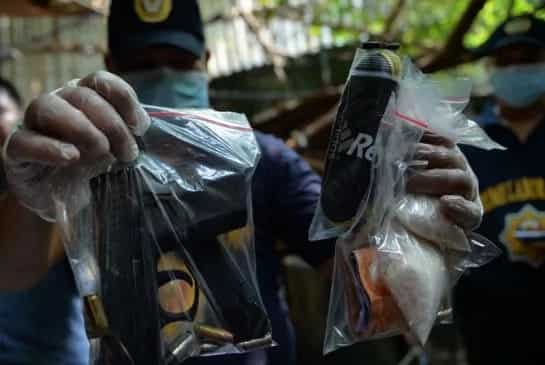 Last Thursday, at around 5:30pm, undercover policemen initiated a buy-bust operation at a tennis court near the house of Leyte Mayor Albuera Mayor Rolando Espinosa and his son Kerwin Espinosa.
READ ALSO: Crime war inmates crowd PH jails
The undercover authorities bought P300 worth of shabu, after which they announced that they were from the police.
Realizing it was a sting operation, the suspects ran in different directions.
During the operation, two of the mayor's bodyguards (Jessie Ocares, 34 and Marcelo Adorco, 40) and three employees (Jose Antipuesto, Jeffrey Pesquera, and Ernesto Dumalat) were arrested during the operation. The guns seized from the two bodyguards were covered by licenses and permits to carry the firearms.
READ ALSO: Taclobanon artist paints one of a kind 'tuba' portrait of Duterte
However, four suspects were able to escape after running into the house of Kerwin Espinosa, who locked the gate.
The police refused to charge into the house because they had no warrant to the compound.
'We want a fair fight. We don't want martial law,' said Chief Inspector Jove Espinido, the Albuera Police Chief.
Espinido will be compelling the mayor's son to surrender the suspects through legal means.
READ ALSO: What this officer did for a little girl will make your heart melt
One of the arrested, Antipuesto, was the target of the buy bust. The 36-year-old, who was in charge of the mayor's fighting cocks, was accused in anonymous tip to be selling shabu.
Antipuesto was caught with 14.8 grams of shabu while Dumalat was apprehended with 3.7 grams. In total, the value of the shabu amounted to P1.9 million.
The five suspects stated that the shabu did not belong to them.
REA ALSO: Alden and Maine reveal relationship status
Currently, the suspects are being held at the Albuera police station. They are being charged for violating the Comprehensive Dangerous Drugs Act of 2002.
Source: KAMI.com.gh