Chinese woman threw a tantrum and accidentally pulled down her boyfriend's pants after he refused to buy the jewelry
- A new viral video shows a Chinese woman pulling down her boyfriend's pants and revealing his underwear inside a jewelry store
- It turned out that the woman threw a tantrum when her boyfriend refused to buy her expensive jewelry
- The man gave into her girlfriend's demand in the end
A video of a woman having an epic tantrum and pulling down her boyfriend's pants inside a jewelry store has gone viral!
The video starts off with the Chinese couple looking at several pieces of jewelry inside a Gucci store. When the boyfriend found out that they are too expensive, he told his girlfriend that he cannot buy the jewelry.
READ ALSO: These 10 clips of violent LIONS attacking humans will terrify you!
For this reason, the girl started to throw a tantrum.
As the boyfriend tried to leave the store out of embarrassment, the woman's tantrum got worse. She started crying and begging her boyfriend to buy her some jewelry.
When the boyfriend did not listen, the woman sat on the floor and started pulling down her boyfriend's pants which showed to the public the man's blue underwear!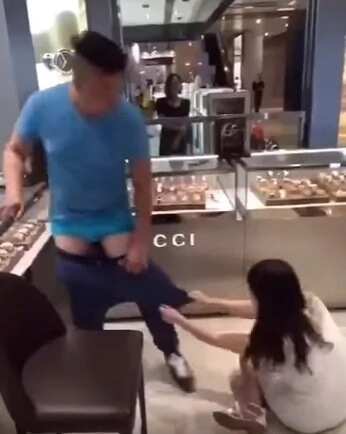 READ ALSO: Unbelievable black bear walking like a human caught on video
The guy tried resisting but his girlfriend had a great grip on his pants. He then seemed to give into her girlfriend's demands as he pulled her back up to start looking again at the pieces of jewelry.
As many relationship experts would tell you, finding a woman who is not materialistic and superficial will help you avoid these kinds of situation. A woman who knows how to save money and live within your means can help you become more financially stable and help make your relationship grow.
Women who throw tantrums when they do not get the unnecessary material things that they want will throw even greater tantrums when you face more difficult trials and problems in life. If you want a joyful relationship that will last a lifetime, choose a woman who values virtues and values above superficial things.
SHARE this sad but funny video with your family and friends! -Kami Media
READ ALSO: 6 Scariest pranks that will make you scream!
Source: KAMI.com.gh