Woman gave birth to a snake in Cotabato
- An unnamed woman in Cotabato allegedly gave birth to a snake
- Reports say that the parents and some other witness attest to the birth
- Neighbors and doctors, including the staff of the Municipal health care center doubts the authenticity of the photos that circulated online
A woman in Brgy. Palkan, Polomolok, South Cotabato has allegedly given birth to a water snake.
According to reports, the 36-year-old wife, whose name was withheld for privacy, has allegedly given birth to a 2-foot long snake.
She has allegedly experienced morning sickness at first. Other symptoms, including loss of appetite and unbearable stomach pains also followed. The woman went to hospital for a pregnancy test and it came out positive. However, the ultrasound scan that followed showed the image of a long-shaped object instead of a normal fetus. She was then taken to faith healers for "treatment" which lasted for almost a month, until she reportedly gave birth to a snake, which eventually turned out to be a freshwater eel, in front of her parents, relatives, and several witnesses.
READ ALSO: LOOK! After encountering a giant snake, Sarah Geronimo gets a kiss from Matteo!
Though the snake was still alive when it was born, the woman's mother allegedly had it killed using a sharpened bamboo before having it burned.
Actual pictures of the snake were also posted online.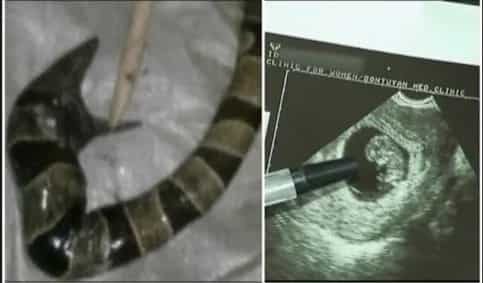 Despite the photos, subsequent reports question the authenticity of the birth of the snake.
READ ALSO: What they found inside this giant anaconda will shock you!
While the woman's family claim that the birth of the snake was brought forth by evil spirits, some neighbors believe that the woman and her family used the snake to cover up an actual pregnancy from an extra-marital affair.
Even the doctor who did the ultrasound confirmed that there is already a fetus on the woman's uterus. According to him, "The second opinion of Dr. Quinto already confirmed that there's really a fetus on [sic] the uterus."
READ ALSO: LOOK: Woman marries a snake!?
The oldest herb doctor (albularyo) in Polomolok also said that it is impossible for the woman to have given birth to a snake as it is impossible for the snake to live in a woman's womb.
The story has long been concluded, but the woman's mother is thankful that the birth of the snake has halted what could have been a disaster in the family. - Kami Media
RELATED: WATCH: Pet owner makes his small dog fight a deadly cobra; their brutal fight will shock you!
Source: KAMI.com.gh