Celine Dion shared teenage boy's video of "The Power of Love"
- A 17-year-old African boy's video has gone viral after Canadian superstar Celine Dion shared the post on Facebook
- Samuel from Libreville made a rendition of Dion's "The Power of Love" and gained attention from netizens and the singer
- The video gained almost 2.3 million views after Dion shared the post
Internet sensations have been emerging, gaining attention from people all over the world. Many still attempt to be recognized through the internet, given that it reaches millions of people. Apparently, some believe getting fame through the world wide web is a matter of luck.
But for this aspiring singer, it has been "The Power of Love". Samuel, 17, is from a poor family in Libreville in Africa. He left school because of lack of money and he never had singing lessons.
But then, possessing the innate vocal talent, Samuel made a rendition of the song "The Power of Love" by the famous singer Celine Dion, while sitting on a staircase of his building in Libreville, barefoot. The video garnered more than a million of views on Facebook after it has been picked up by a Gabonese blogger.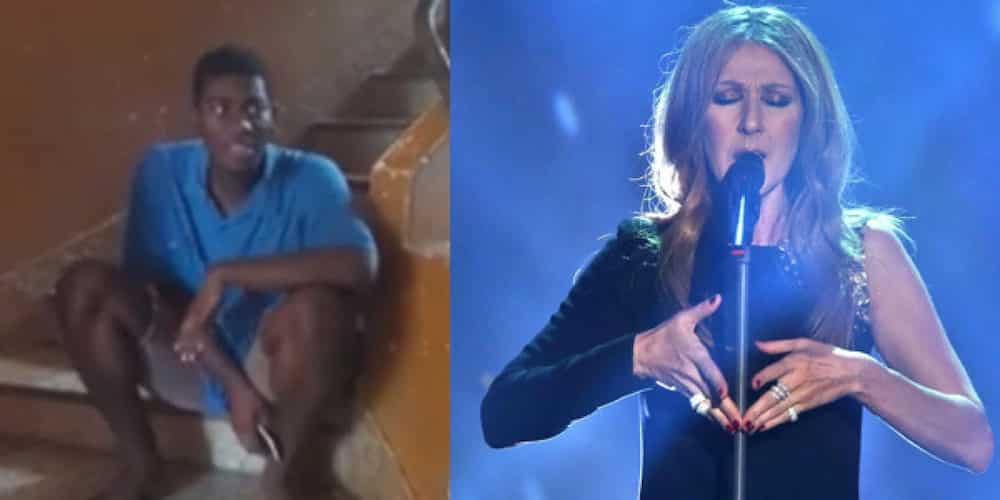 READ ALSO: Jessica Sanchez shines at the American Idol Finale
But that did not end to that. The original singer of the song, Canadian superstar Celine Dion, shared his video and immediately doubled the number of views to almost 2.3 million.
"Samuel, your talent is as big as your voice. I'm touched my songs have traveled all the way to you and hope we have the chance to meet one day," Celine Dion posted on Facebook. "May all your dreams come true. Keep singing like you do. When music comes from the heart, it knows no borders!"
Samuel said that he is overwhelmed and surprised when he was told about his video and Celine's message to him. He shared that he has never had a phone or a Facebook account and he learned about it through his brother.
READ ALSO: Is YouTuber Marina Joyce in harm's way? Fans were convinced so
"I just hope that one day I can meet her for real," Samuel said in an interview. "I'm not used to this (success). I feel good when I sing in the staircase, and now people recognize me in the street."
According to him, he has already been approached by singing contest producers from France and Ivory Coast but the internet sensation said that stardom is an unfamiliar experience for him.
READ ALSO: WATCH: Vet pulls out monster insect from poor kitten's nose!
Source: KAMI.com.gh