Noynoy Aquino doesn't shake GMA's hands at Palace
- In an Instagram video, Aquino is caught not shaking GMA's hands
- He shakes current president Duterte and former president Fidel V. Ramos
- Aquino and Arroyo have been known to be in not-so good terms
On July 27, a few days after President Rodrigo Duterte's State of the Nation Address, another unforgettable event occurred. The four former presidents posed with the President Duterte, the current president.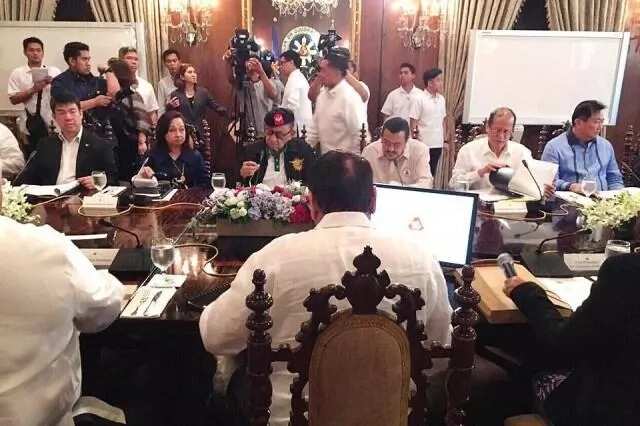 Fidel V. Ramos, Joseph 'Erap' Estrada, Gloria Macapagal-Arroyo, Benigno 'Noynoy' Aquino III, and Rodrigo Duterte have all met up for the National Security Council (NSC) meeting to align strategies and create plans for the future at the Palace.
It truly is a sight to see four former presidents and the current one to work together for the future of the Filipino people.
READ ALSO: JUST IN – PH leaders unite: Duterte, 4 former presidents join NSC meeting
However, in a video posted by Radio-Television Malacanang (RTVM), Noynoy Aquino was seen to not have greeted Arroyo. Before Aquino took the presidency seat, Arroyo served as the president from the years 1998-2001.
During that afternoon, before Noynoy Aquino entered the room, former presidents Gloria Macapagal-Arroyo and Fidel V. Ramos were seen chatting and shaking hands with each other.
Upon arrival, he shook the hands of Ramos and Duterte but has ignored Arroyo and proceeded to go to his place for the photo call. Just a few steps behind him, past president Erap Estrada also greeted everyone before going to his respectful spot for the picture taking.
READ ALSO: LOOK! Duterte shook De Lima's hand before delivering the SONA
It seems that former president Aquino isn't taking GMA's acquittal very well. While Aquino was president, he took a few jabs on Arroyo during his speech on some of his Statement of the Nation Addresses. In his speeches, he blames the Arroyo's administrations for the hardships that the country was facing during his time.
It was during Noynoy Aquino's term where his administration arrested Arroyo and placed her under hospital arrest because of her spinal problems. She was under custody of Veterans Memorial Medical Center in Quezon City for about 5 years.
Will the bad blood between Arroyo and Aquino continue? - Kami Media
READ ALSO: READ: Arroyo talks about life in detention, her plans for the future
Source: KAMI.com.gh