Identical twins marrying another identical twins
Imagine the following scenarios:
Scenario # 1 - Your best friend is getting married. And you are also getting married to the best friend's groom.
Scenario # 2 -  Your sister is getting married. And you are also getting married to the brother of the groom. Many consider this a coincidence, yet a beautiful one.
Scenario # 3 - Your twin is getting married. And you are also marrying the other half of the twin.
Scenario # 4 - Identical twins marrying another set of identical twins. Now, that is rare.
We have compiled seven identical twins marriages from all over the world. For sure they are not the only ones in the world, but they sure are unusual. What we have for you here are the top bizarre stories of double weddings. It does not happen too often, but when it does, it will mean double bliss and a lot of second looks.
1. Barbi and Cheryl Kantor and Bruce and Barry Goldenberg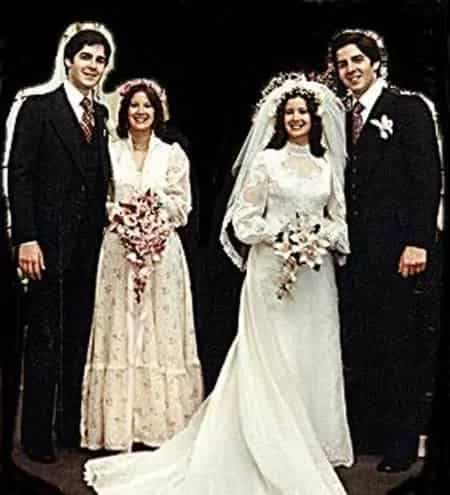 Barbi Kantor from New York married Bruce Goldenberg whilst her twin sister Cheryl Kantor married Barry Goldenberg. Barbi and Cheryl are identical twins, and so are Bruce and Barry. They married each other almost 3 decades ago and have 5 kids between them. Genetically, the Goldenberg children are considered full siblings, a rare occurrence when identical twins marry identical twins since identical twins share the same DNA.
2. Ginna and Gaylen Glasscock and Erich and Nicholas Schmidt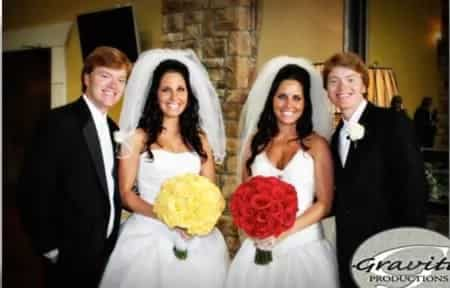 Two identical twins shared the same wedding guests, the church, and the reception. The difference is one couple walked down the aisle at 4 p.m. and the other set of twins at 5:30 p.m. The bridesmaids of the other wore yellow while for the other, they wore pink. The reception was also split – one side yellow and the other pink. And of course, the girls were each other's maid of honor and the boys are each other's best men.
They are Ginna and Gaylen Glasscock, both 22 at the time. They both dated Erich and Nicholas Schmidt, respectively. Yes, you guessed it right - they are identical twins as well. They knew they were for a time the talk of the campus being two sets of identical twins dating each other. But Ginna felt Erich is the one and Gaylen felt the same way for Nicholas too.
3. Lilia and Liana and Alexei and Dimitry Semyonov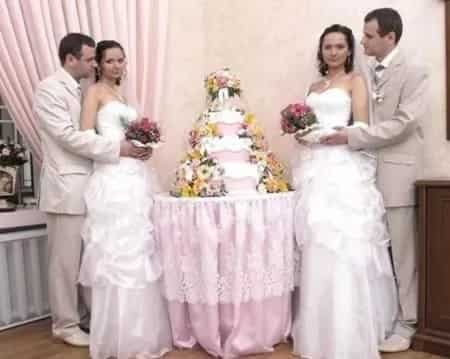 In Russia, two sets of identical twins held a double wedding ceremony that made friends and relatives confused, especially the groom's mother. Identical twins Alexei and Dimitry Semyonov married identical twin sisters Lilia and Liana. But what's odd is that even the twins themselves admitted that there are times when things become too confusing. The twin brothers shared that they met the twin sisters at a dance party in St. Petersburg.
4. Chinese restaurant owners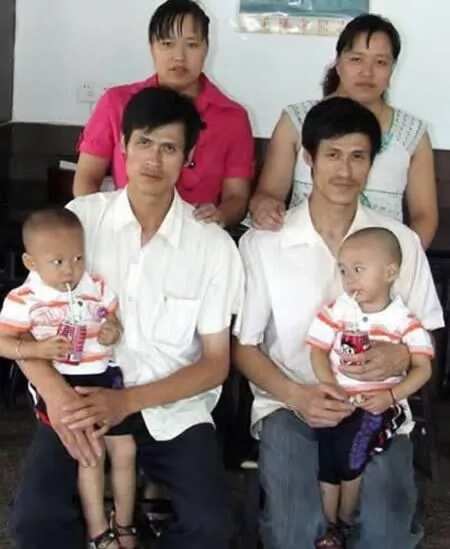 In China, there is a restaurant that runs 21 hours a day. People are wondering how the couple owner managed to run it 21 hours straight. They even called it the robot couple restaurant. But thanks to the journalist from Today Morning Post who revealed the secret mystery to the world. The restaurant is run by two sets of identical couples who take shifts during the day. "Many diners thought we worked too hard and are like robots, but they don't know that we are actually four people,"said one of the boys.
5. Mandy and Brandy; Kris and Daniel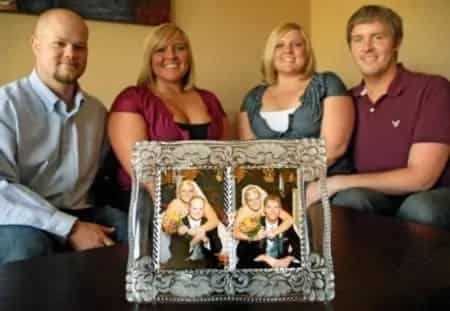 They have much more similarities than hair and features. They have the same proposal date, same wedding, same honeymoon, same house, and same furniture? This is the scenario of the identical twin brothers Kris and Daniel who married Mandy and Brandy, identical twin sisters, respectively. A year after they got married, they bought their house just close to each other. But what surprised them is when they found out they have the same taste for furniture. It is simply hard for them not to match, after all.
6. Sinton and Evans twins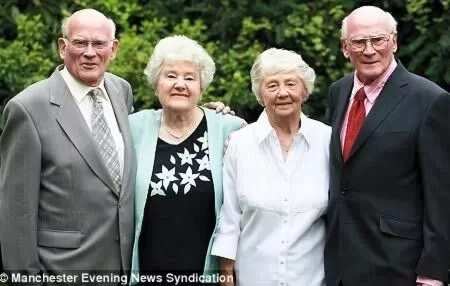 When Frank Sinton asked Irene Evans' hand in marriage in 1947, he had completely no idea that his twin brother Roy proposed to Irene's twin sister that same day. They married on the same day and they are celebrating their diamond wedding anniversaries together!
7. Yang Jian and Jiang Juxiang sisters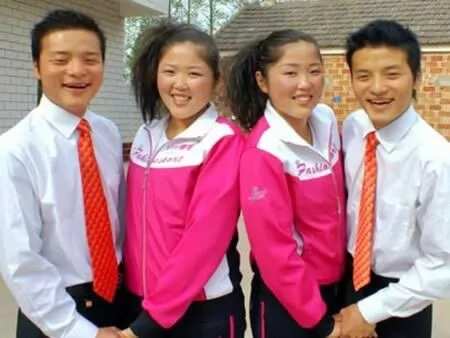 Another set of identical twins in China got married to another identical twins. Yang Jian and Jiang Juxiang met at their twin brother and sister's engagement party. They fell in love and scheduled their wedding date the same day as their twin's, hence a beautiful double wedding. On their wedding day, the boys sported different haircuts, and the girls wore dresses of different colors, for one single reason which is already obvious. -Kami Media
Source: KAMI.com.gh