Boyfriend being shared by world's most identical twins
- Australian twins Anna and Lucy DeCinque, who were regarded as the World's Most Identical Twins, have proven that aside from having the same looks and matching outfits they can also have the same boyfriend
- The twin sisters also shared that their boyfriend treats them equally and it apparently works for the three of them
- The identically 'perfect' bodies of the twins cost them thousands of dollars and they have also stated that they want to be pregnant at the same time
Hailed as the World's Most Identical Twins, the Australian twin sisters Anna and Lucy De Cinque have proven that they do not need to hate each other and to fight for the attention of one man, as they revealed that they can share everything including a boyfriend.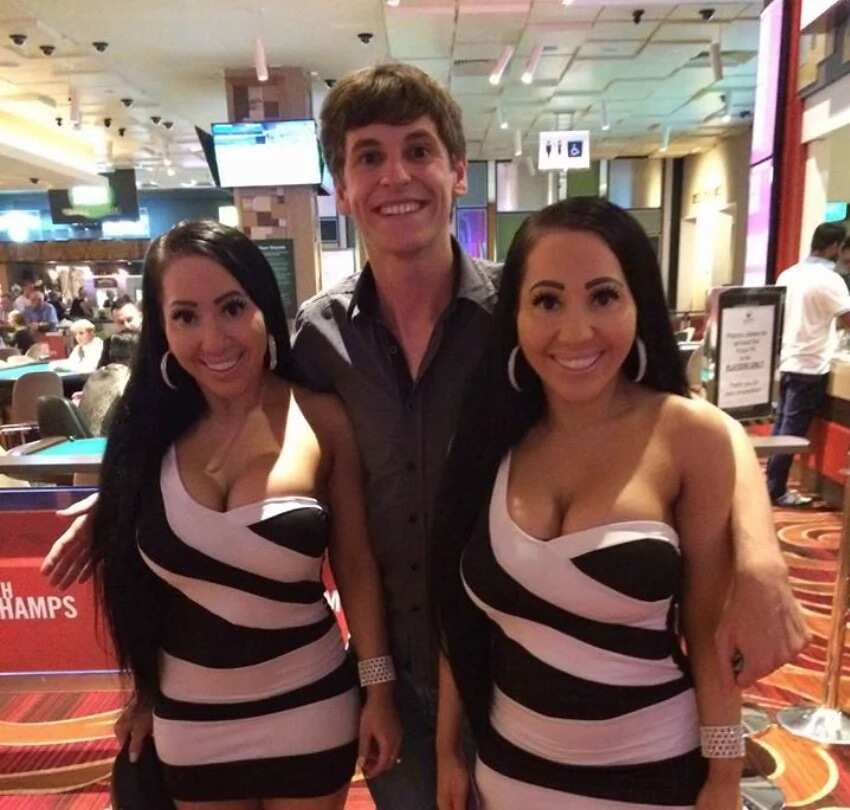 Ben Byrne, a 32-year old mechanic also from Australia, has been in a weird but very romantic relationship with the 30-year-old twins from Perth, Australia. The twins met Byrne on social networking site Facebook when he added them after seeing that they had mutual friends. After a series of conversations, the three developed mutual romantic feelings for each other and Byrne began living with the twins and their mother since 2013.
READ ALSO: She ran untill her legs became like this! Amazing photos of strong legs
"Ben treats us completely equally. If he kisses Anna, he kisses me right after and holds both our hands when we're out," Lucy, who is older than Anna by one minute, explained in an interview how they share Byrne.
Lucy added with confidence: "We never feel jealous because we know he loves us the same. We all sleep together, but it's not like a threesome as we don't get involved with each other. Some people say it's disgusting, but it works for us."
Thousands of dollars have been spent by Anna and Lucy for their surgeries because they apparently want to have identically 'perfect' bodies. They also expressed their desire to be pregnant at the same time.
READ ALSO: Is this the most savage prank ever? I think so!
Twins, most of the time, have the same outfits and same things while growing up. Anna and Lucy also did the same since their childhood - they have put on the same outfits, went to the same high school and both have enrolled in a beauty course. The two reported that they went out with different men before but now that they have found Byrne, they believe that they already found their true love as well.
"People stop us for autographs and no one has been negative to our faces. We've had some trolling online, where people have said we're 'fake' and called us 'blow-up Barbie dolls,' but we block them," Anna, the younger twin, narrated.
With nearly 15,000 followers, Anna and Lucy have emerged as social media stars on both Facebook and Youtube.-Kami Media
READ ALSO: This kid thought his dad forgot his birthday, what happened next will melt your heart
Source: KAMI.com.gh