VIDEO: Girl swims with a giant snake in the pool
- A video of a young girl swimming in the pool with a large snake has gone viral
- The snake is called a Burmese python, one of the largest snakes in the world
- These snakes are known to be docile toward humans but there are also recorded cases of humans being attacked by their pet Burmese pythons
A video of a young girl swimming in a small plastic pool has gone viral. The main reason why the video became a viral sensation is because the young girl was swimming and playing with a giant snake!
According to viewers, the giant snake in the video is called a Burmese python.
The Burmese python is considered as one of the five largest species of snakes in the world. This kind of python usually has a length of about 12 to 19 feet.
READ ALSO: What these snakes can do will creep you out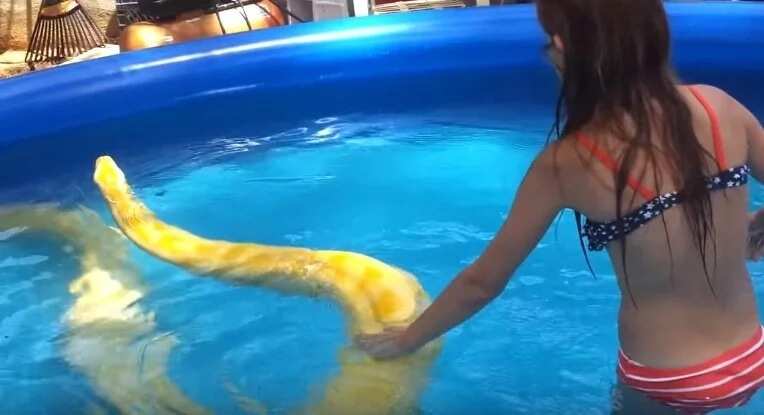 This snake is usually found near water and is considered as semi-aquatic reptiles. Some of these snakes could also be found dwelling on trees.
Burmese pythons are common Southern and South East Asia. They can be found in countries such as India, Nepal, Bhutan, Bangladesh, Myanmar, Thailand, Vietnam, Cambodia, Malaysia, China, Hong Kong, and Indonesia and Taiwan. However, Burmese pythons can also be found in Florida, USA.
Its diet consists of birds and mammals such as mice, rats, rabbits, deer, pigs, goats and other poultry. It has also been known to have attacked alligators in the wild.
READ ALSO: WATCH: 5 Creepy crawlers' attacks that will make you scream
As pets, Burmese pythons need to consume large amounts of food and big custom-built enclosures. This species of snake is also known for being opportunistic feeders, eating any food offered to them even if they have just eaten a meal. This can lead to obesity problems for Burmese pythons in captivity.
This species of snake has become popular pets because of their docility towards humans. However, these pythons can still deliver strong bites and have been recorded for killing its owner by constriction. The majority of Burmese pythons kept as pets can easily adjust to living with humans. - Kami Media
RELATED: WATCH: These snakes couldn't keep their scales to themselves, get into a tangle from a ceiling

Source: KAMI.com.gh